All of us are going to witness the most spectacular time of the year, the holiday time.
During the holiday time, we have many exciting occasions lying ahead of us.
 From Black Friday to Cyber Monday and from Christmas to the New Year, we all will have plenty of reasons to celebrate your time like a true partyholic.
To double the celebration, many of you must be planning to have a New Year's Eve wedding.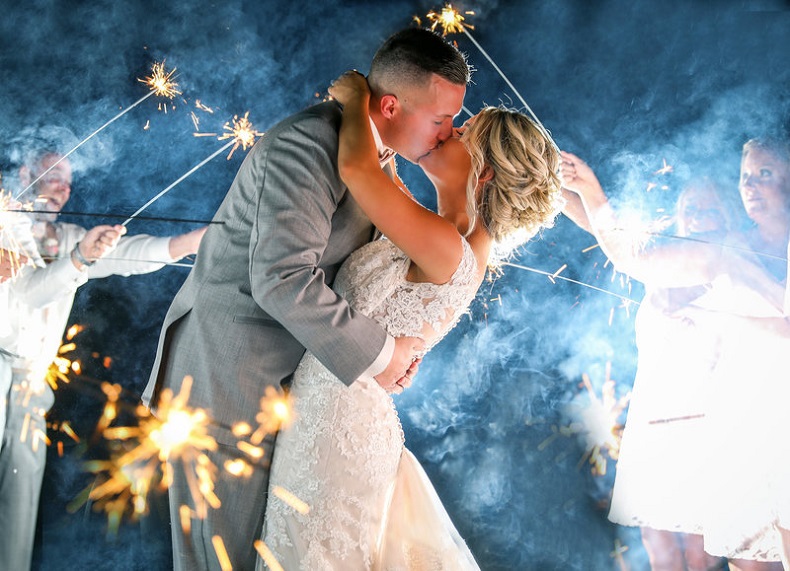 On the one hand, you have super exciting shopping days such as Black Friday and Cyber Monday, while on the other hand there is a lively Christmas spirit which is all set to elevate your joy.
To compliment your ecstasy there is a New Year Eve, the time when you tie the knot and make every moment of your celebration worth counting.
Marriages during the time of New Year are always memorable. They always come with tons of sequins, extravagant gala and lots of fireworks.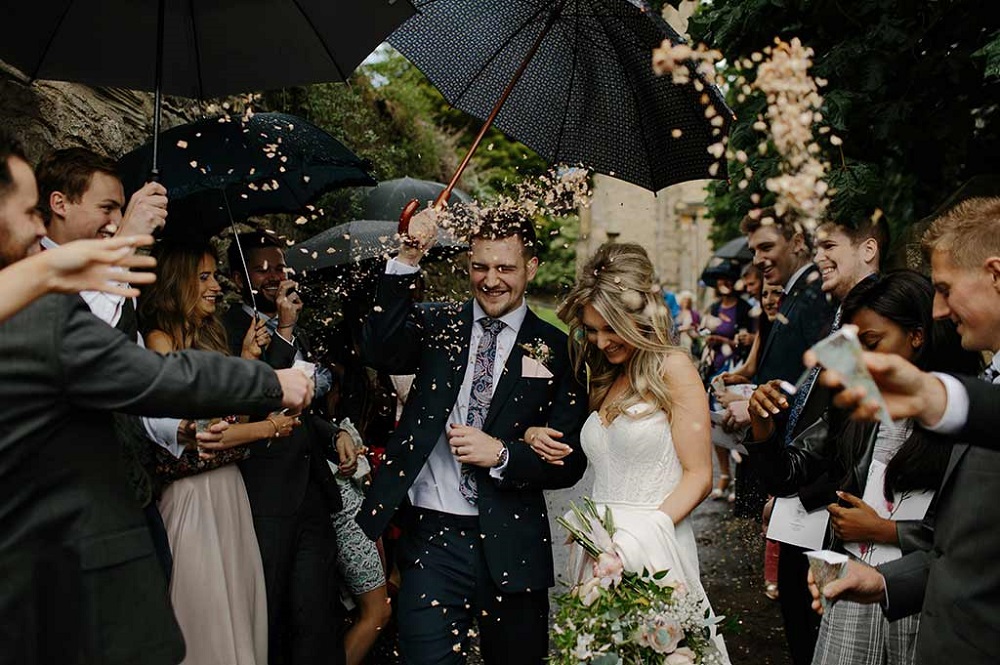 All these factors set a perfect picture for New Year Eve's Wedding.
No matter how well-planned you are, you always get worried about the arrangement of the wedding day planning.
To lessen your burden and give you all sparkling New Year's Eve Wedding ideas, we have come up with the list things which you can include on your wedding day.
This list of fun and stylish New Year's Eve Wedding Ideas would not only prove pocket-friendly but also make your wedding day filled with such memories that last forever.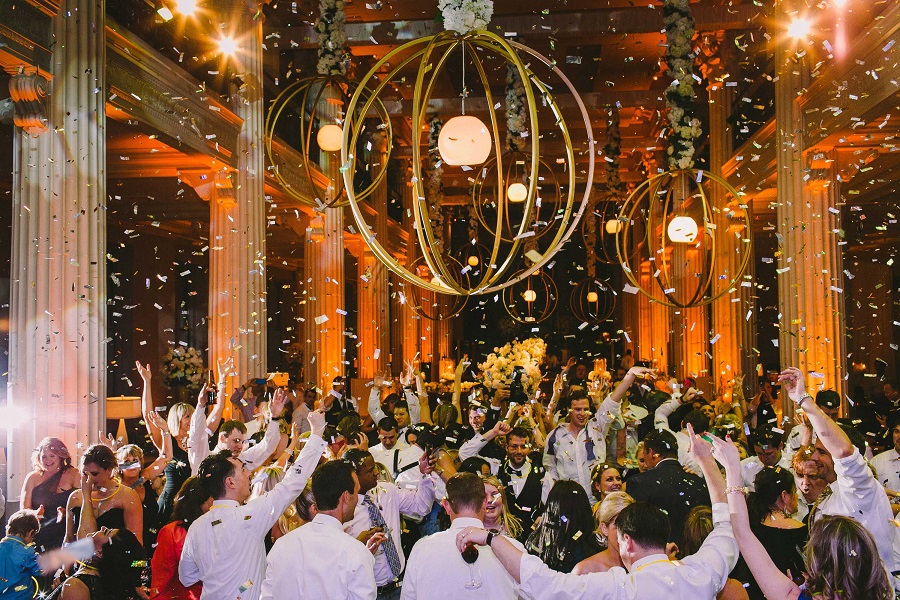 Let us move ahead and make this once in a lifetime moment extremely memorable for you and your guests.
Get some glitter & glam to your wedding
Having New Year's Eve Wedding at the time of the holiday season opens the door or opportunity and creativity.
You can leverage this opportunity and embrace the glitter and glam for your New Year's Eve Wedding.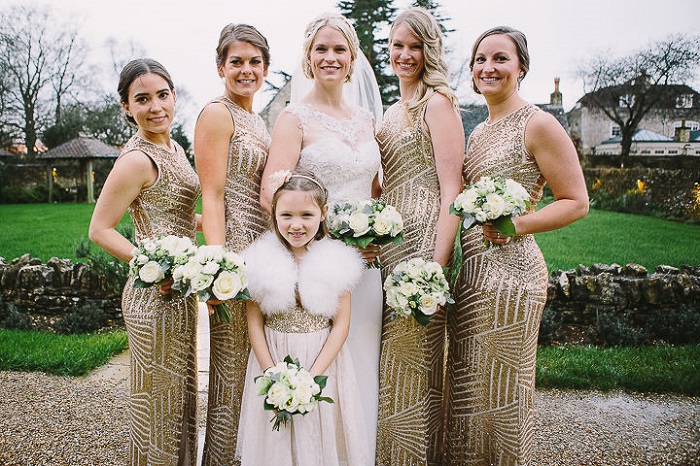 In general, the eve of New Year is all about glitz and glamour and you do not want to miss this opportunity to include both in your wedding and bridal party outfits.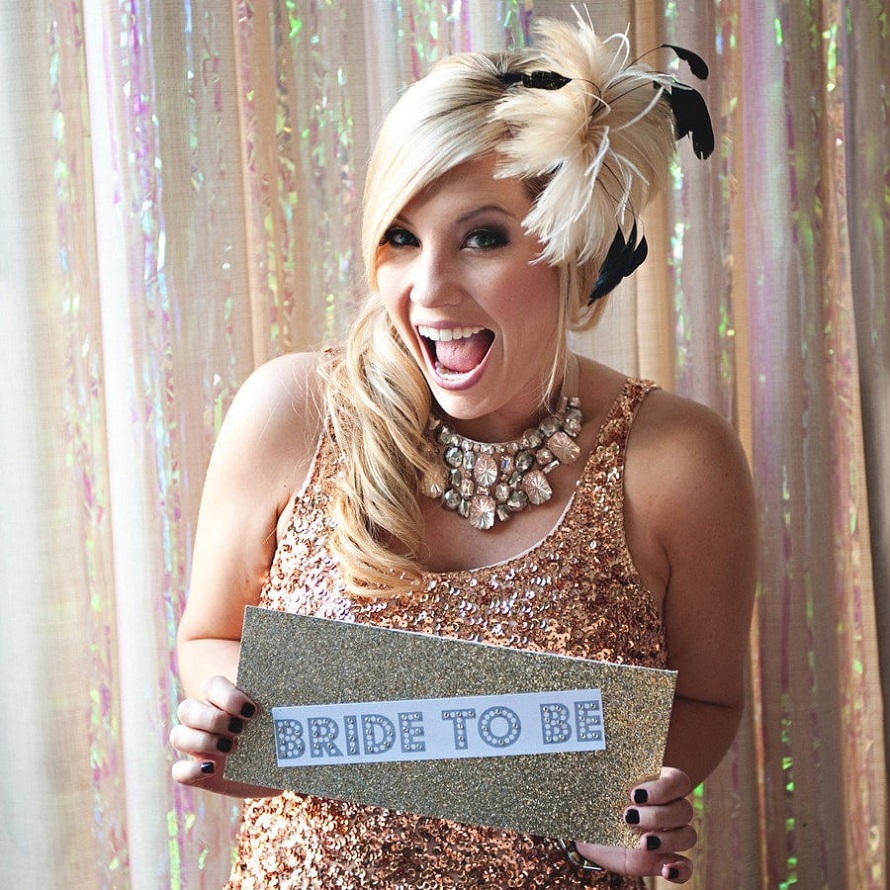 A jet black wedding gown with the amalgam of sparkle can create wonder.
Something for New Year wishing
It is the New Year's time and most of us wish for one or the other thing. How about if you take the ceremonies of wishes to the next level on the occasion of your New Year Eve's wedding?
You must be wondering how?
Well, worry not; you can simply have an artificial wall of wishes lined up with envelopes. Your guests can fill their wishes in envelopes for the newly-wed couple.
You can also ask your wedding planner to arrange a designer to create an entire wall of candles. Guests come and light up the candles with a warming wish in their hearts.
To bring some magic to your New Year's Eve wedding you can bring in wish lanterns, and ask your guests to make them fly and make the sky above sparklingly marvelous.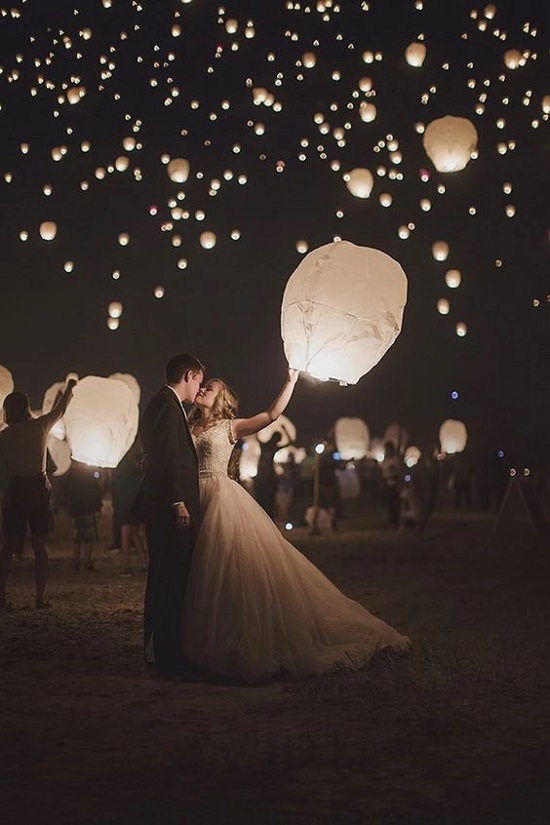 Remember the little guests
The time of wedding during New Year's Eve is the time when everyone from young to old gets drenched in the party mood.
Therefore, when you do your wedding planning you should not forget your little guests who come along with their parents.
Since this is the time of New Year's Eve so, you definitely do not want to let your little guests let down.
Arrange for a midnight treat for the kids also.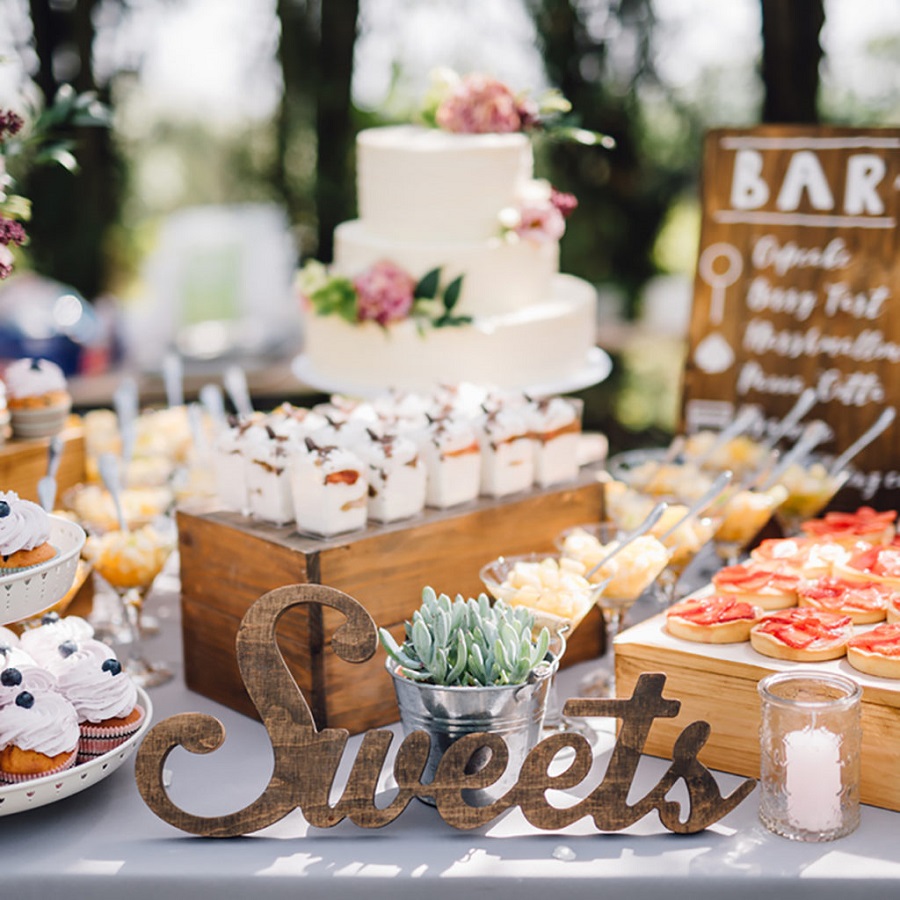 Try to adopt the idea of retro milk and cookies for the little ones while planning your wedding ideas.
The idea of having a fruity mocktail is always welcoming by kids' guests.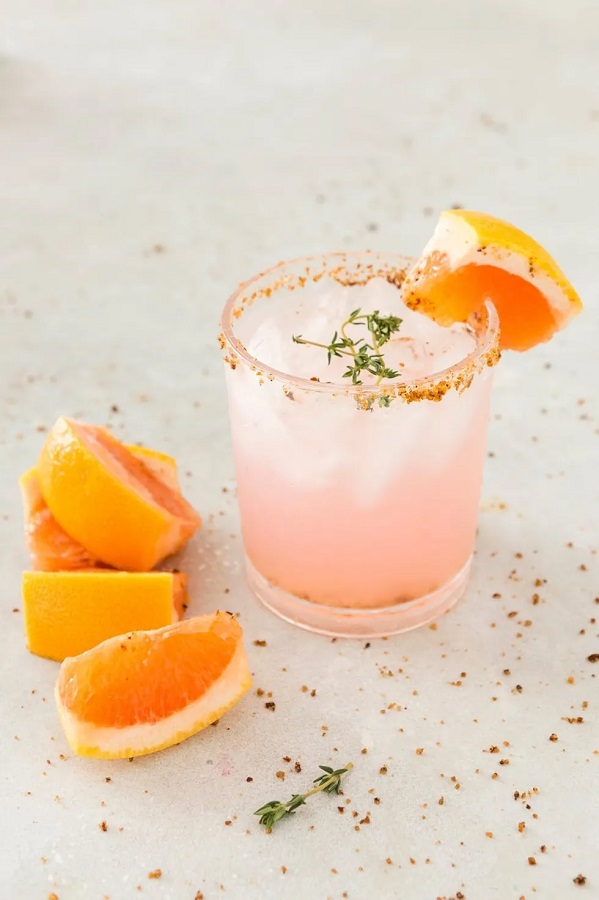 To elevate their New Year excitement, you can hand them over midnight timer and confetti cannons so that when the clock strokes at 12 they can enjoy confetti time.
A glorious wedding venue
The New Year time, wedding ecstasy, and a glamorous wedding venue, what is a more perfect blend of happiness and fun than all these?
Many of us mostly focus on how our New Year's Eve wedding would be and how we will go to celebrate it.
But the most important thing that we forget is where we will arrange our New Year's Eve Wedding?
Wedding is not just limited to black-tie soirees, glittery parties, and lavish dinner; it is also about bringing extra luxury to your wedding.
You can do this by arranging your wedding venue somewhere special.
A wedding at the barn or at a vineyard would be a spectacular deal while having a party on a boat would take your wedding and New Year excitement to the next level.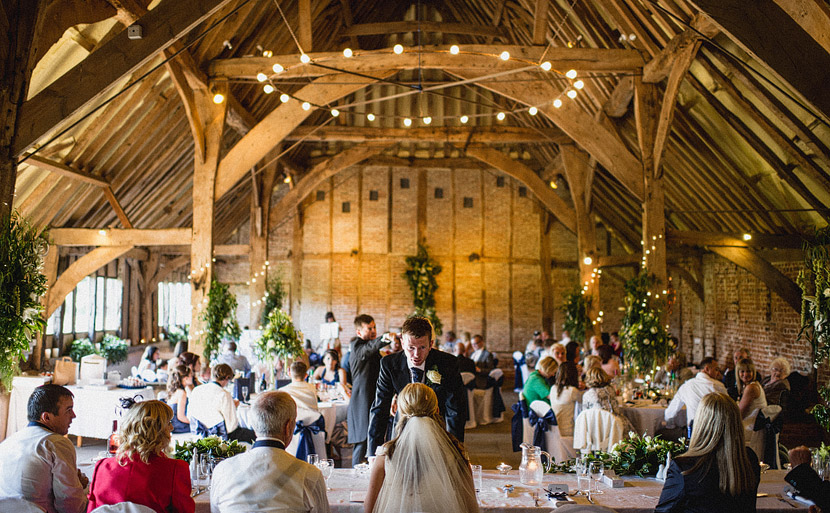 Just imagine a boat with a gorgeous skyline view, how romantic it would look when you and your fiancé would exchange vows while having the horizon in the background.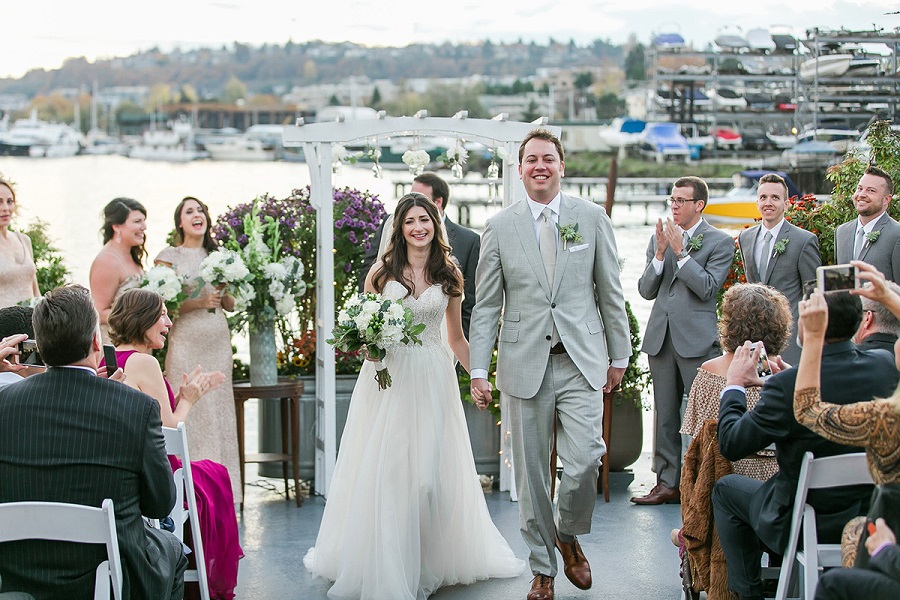 You can also plan for a rooftop bash over the city, exchanging vows in a private manner with a raucous house party.
Food in abundance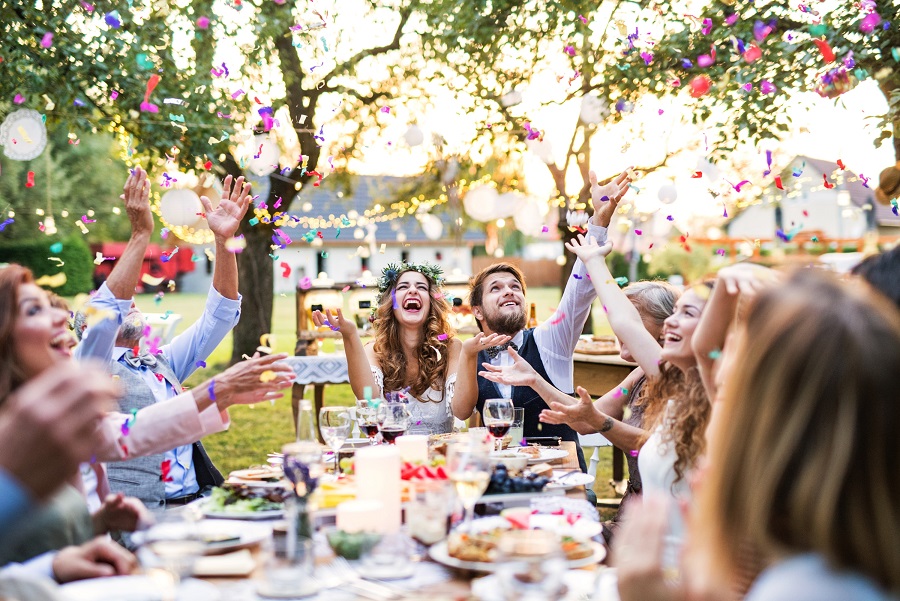 It is New Year and above all, it is your wedding, and on this occasion of double celebration do not let your wedding guests' plates go empty.
Food is the constant inspiration that keeps the celebration spirit awake till the wee hours of the morning when New Year arrives and you would tie your knot.
It is not necessary that you keep the main course on till the morning. You can also go for light snacks freshly prepared directly coming from the oven to your plate.
The aroma of your freshly prepared food when runs through your nostrils and reach to your heart, it will then keep your New Year's Eve Wedding party goes all night.
Food options such as truffle fries, mini pressed sandwiches, and empanadas would be great options for the New Year wedding menu.
Unique and Latest Design Wedding Invites
The wedding bells are about to ring, you are all set to flaunt with your wedding dress and your wedding venue is all set up with elegant decor.
But wait; there might be something that you are missing.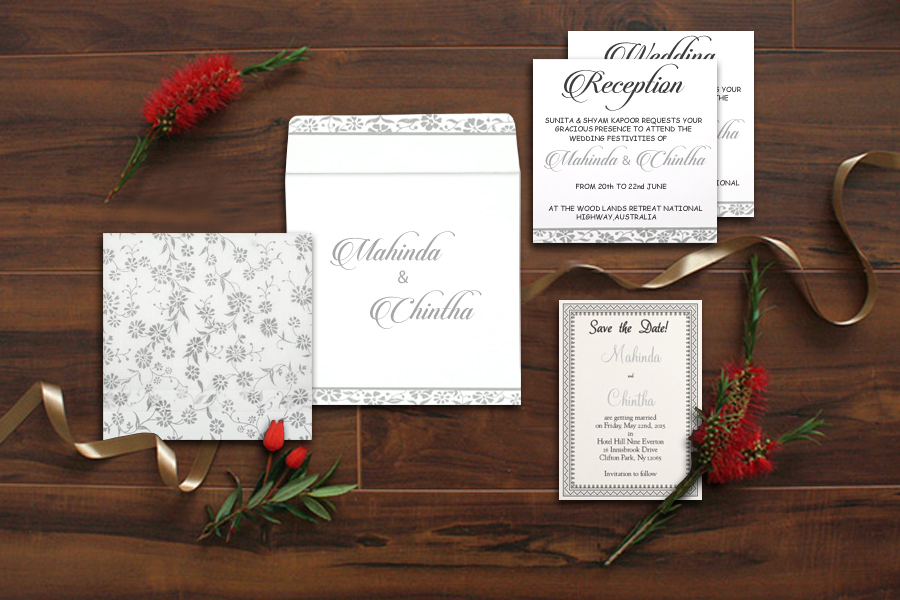 It is the unique and latest design wedding invitations for your New Year wedding.
Whether you are hosting a traditional wedding or you are about to host modern and voguish wedding ceremonies, we will bring to you a plethora of wedding invitations under the newly arrived collection.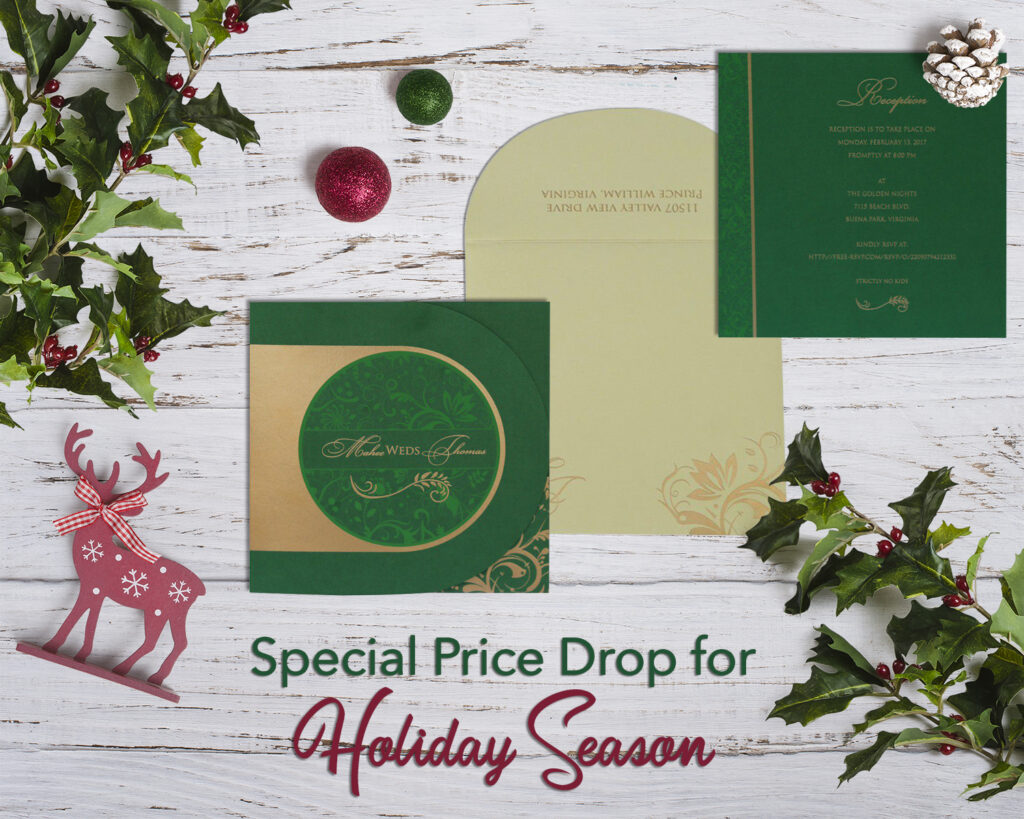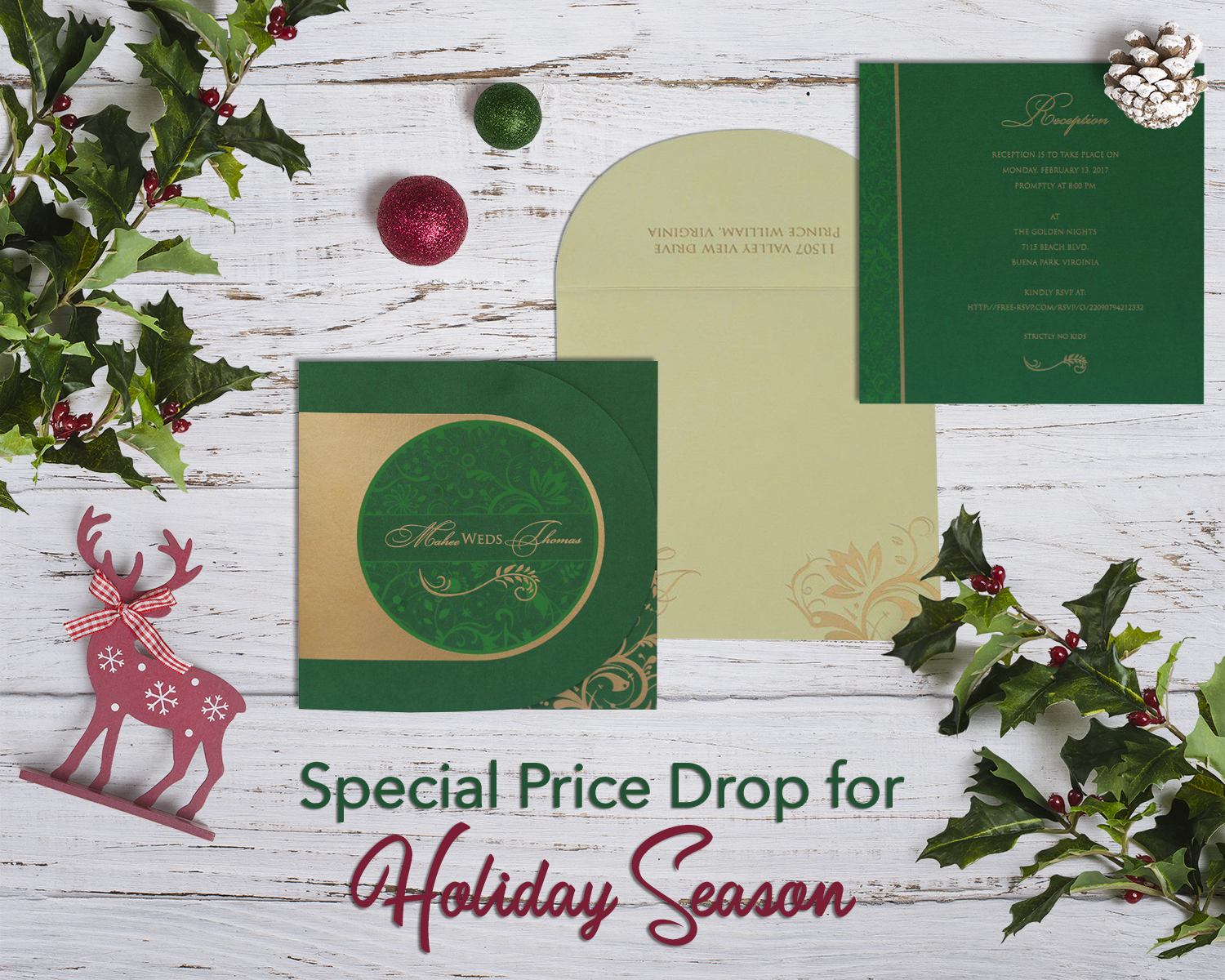 One of the best parts of the new collection is the facility of customization. You can choose the style, theme, color calligraphy and paper type of your wedding invitation cards according to your wish and pocket.
That's all from us, wish you a great and Happy New Year ahead!