Symbol of a new beginning, New Year is the best holiday for anyone and getting married on such a fun holiday is not a bad idea. In fact, it is the best time to celebrate your nuptials with friends and family around you. All your guests would already be in the party mood and your wedding will officially become the first and last party of the years. If you still don't believe that New Year wedding is a good idea, check out our best New Year wedding ideas and you would believe us.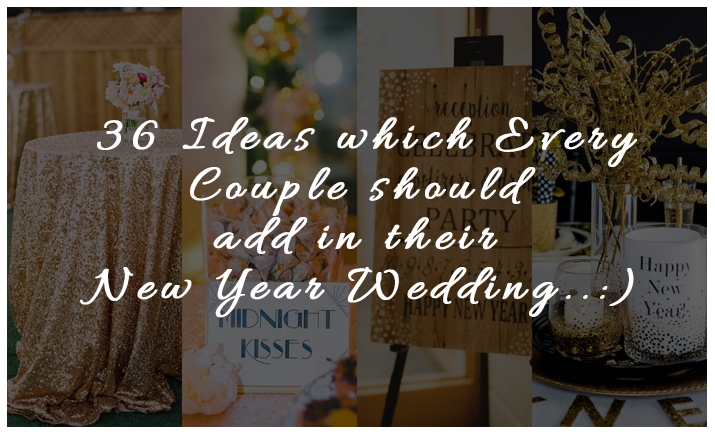 One can use twinkling lights and gold and white balloons for a gauzy backdrop.
To steal the spotlight, use a glitter polka dot aisle.
What could be better than clocks as centrepieces when it comes to New Year wedding idea? Let your guest begin the countdown!
Imbibe the festive touch in your New Year wedding invitation with help of metallic, sequins, or modern confetti medallions
For a classy table setting, pair clock plates with a bowl filled with golden baubles.
Use shimmery number balloons to tell the date and use them as the fun prop for the wedding photo shoot.
For the perfect table for both of you, use Gold sequined fabric as a backdrop and add colourful balloons for the celebratory vibes.
Glam up your cocktail table with a shimmering pewter tablecloth!
Add a dash of glitz by using gold sequined table runners.
Serve some delicious treats with gold sprinkles and serve them on the elegant picture frame.
Have a chic and elegant wedding cake with a golden bottom tier, ruffled middle tier and plain top tier.
In place of good wishes, your guests could write New Year resolutions for the newly wedded couples. This would be the best New Year wedding idea.
Perfect props like hats, clocks, and noisemakers will be perfect for your New Year wedding photo booth.
When it comes to wedding favours in New Year wedding, party favours like blowouts, party horns and whistles are the best.
Let the party roll with a party staple noisemaker paired with a witty tagline.
Add a whimsical touch by tying tasselled bells around the napkins
Any place setting will look divine with these sequined golden name holders.
For a perfect New Year dessert bar, what could be better than puny treats?
Add some Metallic accents with gilded fruits and mercury candles in your wedding décor for the dazzle.
A metallic silver hue on your centrepiece arrangements along with scattered tinsel and colourful ornaments offer a lot of glitz.
Your menu on the paper clock will speak up the whole wedding story. Accessorize it with gilded studs, gold brocade tablecloth and mercury candles.
Masquerade theme is perfect for a New Year wedding.
Festoon stringed lights and tinsel in your lounge area for a magical effect.
Candles are always a good New Year wedding idea. They can add sparkle to your wedding and make them sparkly with the help of glitter.
Use the eclectic mix of modern, rustic and vintage clocks for a gallery wall that could work as perfect décor statement along with a perfect photo backdrop.
The brilliant New Year wedding idea is to use clear balloons filled with confetti for a merry touch on the floor.
Let your exit become memorable with the blaze of crackling sparklers.
Just being a toy for the party fun is not enough, so, let the noisemakers work as escort cards too.
Give your signature drink all the attention with crystallized drink stirrers rife for the edgy glam.
A fun holiday phrase with glittery details makes your desserts and cupcakes perfect for New Year wedding.
For that bit of festive flair frost up your cookies with dates, clocks, and names
Celebrate the midnight kiss by asking your guests to shower confetti on you. Right when the clock strikes twelve!
A colourful display of streams, sparklers, beads, and confetti is simply amazing for your guests to go crazy.
Puny napkins with date, time and name is a perfect New Year wedding idea.
Spruce up the bar area with a wide variety of holiday drinks.
A fun ceiling décor could be added to a set of copper and white balloons.
WISH YOU A VERY HAPPY NEW YEAR !!
PC: BridalMusings, Pinterest
For more Trending New year Wedding Inspirations. Check out Here: 5 Reasons Why New Year's Eve Is An Awesome Time To Get Wed!