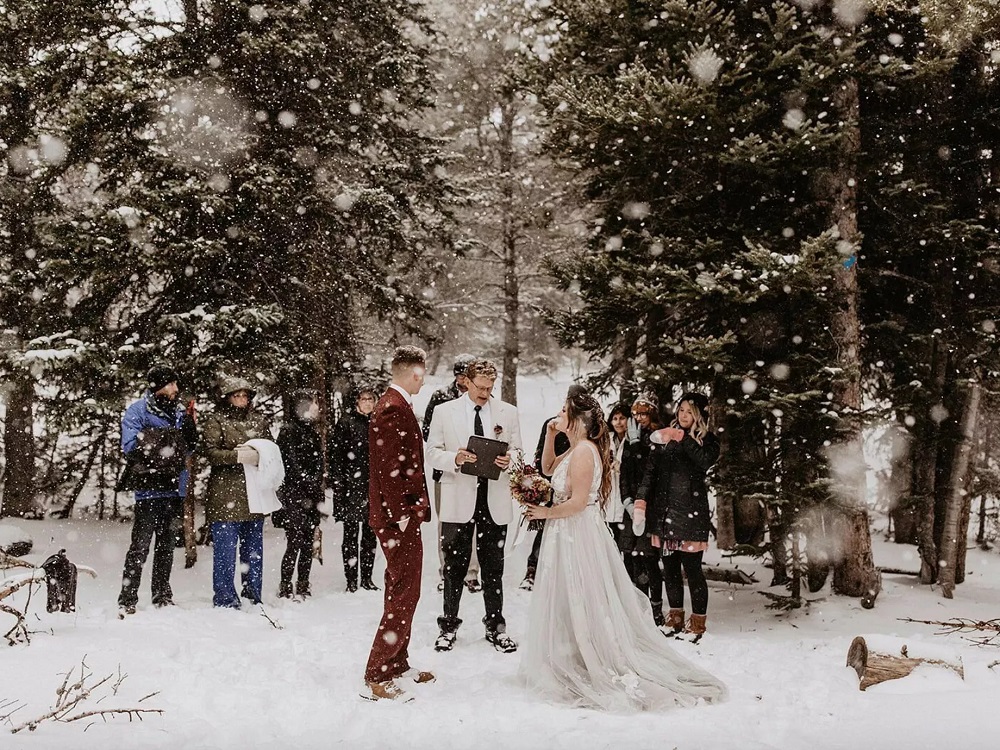 Winter weddings add the most beautiful accessory to all your wedding photos – the pretty white snow. However, it can also give you a hard time planning everything to protect you from the biting cold. We agree that it can be hard at times. However, we have always got your back! Today we are here to give some important tips to plan your exclusive colorful winter weddings!
A winter wedding card sample:

The first step in your winter wedding planning is to finalize the wedding card sample. Intimate your guests about your exclusive winter-season wedding by adding winter motifs like snowflakes, figgy puddings, and coniferous trees! Embossed motifs feel spectacular to touch on a wedding invitation card sample. It makes the card prettier and brings the motif to life! Include the winter color palette in your wedding card sample, like snowy white and sparkling blue. Finalize your wedding card sample early to grab exciting offers that hit the markets during winters! 

One Venue Wedding: 

Winters can be a solid season to plan a wedding. There are loads of clothes to wear & chilly weather does not permit us to move a lot. So, ease out things for yourself and your guests by choosing one venue for your wedding ceremony. Pick the one which offers stunning scenery with scintillating white snow so that even your pictures come out pretty!

Warm, furry decor: 

There is nothing more blissful than a warm fur blanket to wrap on a cold evening. Pack your wedding venue with warm accessories to beat the cold weather. Warm throws and blankets as chair covers will work out just fine to keep your guests warm! Take advantage of winter foliage and sun-dried flowers to accessorize your winter weddings!

Coat and shoe storage: 

If you have guests, they will be traveling, they'll likely be wearing overcoats and snow boots. Once they reach the venue, they'd like to take off their coats and change into comfortable footwear. So, reserve a room to store your guests' shoes and hang their overcoats. Be a step ahead in your winter wedding planning to accommodate the winter needs of your guests!

A warm welcome drink: 

Winters might compel your guests to battle the cold and arrive at your wedding. The snow may be knee-deep and freezing. So, as soon as they arrive, they could need a piping hot cup of coffee or a bunch of hand warmers. 

Winter cake toppers:

When it comes to beautiful cake toppers, winters are the real asset. Make moral use of this wintery advantage and adorn your wedding cake with super gorgeous cake toppers! Sparkling snowflakes, pine cones, Christmas trees, cute little reindeers, white snowmen, or a pair of lovely penguins are our top picks!

Book a boarding nearby: 

If you book a boarding facility at the same wedding venue. They will cut down travel for your guests in the bone-chilling cold weather. If not, book the nearest accommodation available. Your guests will bless you for this! The time you save from traveling will give you more time to spend with your near and dear ones.

Pines all the way: 

As winter kicks in, pine cones embellish the dull wintery environment. They are like brown diamonds that are a gift in the cold weather! There's no better accessory than a woody pine cone to spark up your winter wedding. They make up for the prettiest cake toppers too! They can be strung together of wall hangings, or used as weights for place cards! They cost less than a cent but add the magic your winter wedding needs! 

Winter wedding favors:

Wedding favors from a winter wedding is warmth and love packed in boxes! There are umpteen options to choose from for a winter wedding favor. Hot chocolate fill in little attractive mason jars and candles scented with winter fragrances are our best picks!

Winter wedding photography:

Winters turn any place into dreamland by adding mystifying hues and pigments! The foggy weather gives a dreamy illusion, while snow-capped mountains in the backdrop add the missing allure! Perhaps, young couples clad in winter gear and snow boots are supremely adorable too! 
Our list has come to finish but your creativity is boundless! Test the magnitude of your creativity and let your winter wedding give a peek into your personality! There are loads of ways you can warm up your winter wedding and add color to the dull, grey surrounding! Give it back to the weather, couples! It's your day.
Happy wedding!