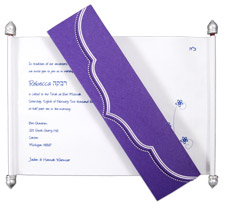 Scroll wedding invitation cards are the most popular form of invitation cards in the recent times because of the elegant and royal look and if your theme and requirement for the wedding style then scroll invitations are the best option available in the market as it gives unique grace.
Since inception, scroll invitations have been a symbol of regal and elegance for every marriage celebration. It was previously used by kings for delivering their messages to the other kings in form of a "Farman" whether for a special occasion or even for sending some monetary related issues.
The reputation of these types of cards was so high and respectful that it was regarded as the order of one king and following of the other. But with passage of time it gained recognition among common people and was used as a medium for communication with respect to marriage or any wedding celebration.
Now you can find many wedding ceremonies will be having these cards as their invitation medium as it gives royal look to the marriage. The best part about scroll wedding invitation cards is customization. This means scroll wedding cards can be used for any religion or caste.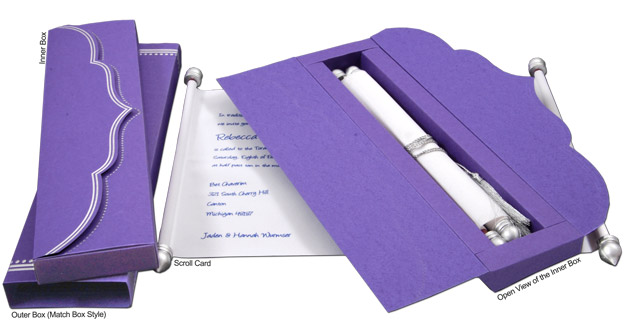 I know you must be thinking about selecting scroll marriage invitation cards then there are a few points which need to be taken care of relating to price, and theme of the wedding celebration. First of all, while selecting this type of card always ensure the paper quality or the fabric which is used for making it.
You will find a large variety of material used in designing these cards and all of them will have diverse features, specifications and aspects. At the same time these invitation cards are available in different kind of colors which can be matched as per the theme of the matrimonial ceremony.
Apart from the material and color another important feature while choosing an invitation card is the price of the card. It determines how expensive card you are looking to buy and what your requirement is.
Various online portals are giving service for designing and ordering wedding cards online but you need to make good and proper research of the market place and go for the best option which is available and suits your requirement.
At 123weddingcards, we offer wide range of scroll invitation catalogues keeping in mind your requirement and theme. At the same time 24/7 customer support team is online for assisting in manner relating to selecting and ordering of the marriage invitation cards.