How would you describe a scroll wedding card? Is it something you'd want to receive from someone special?
The scroll wedding card has become a trend in recent years. These cards look like scrolls or books and are often used as thank-you notes for weddings, anniversaries, birthdays, etc. They come in various styles and colors, and some even include illustrations.
A scroll wedding card is a great way to show appreciation for a loved one. It's also a unique gift idea that will surely impress them.
In this blog post, we will discuss the 10 best scroll wedding card design ideas that can inspire your next project:
Casual Scroll With Theme-Inspired Design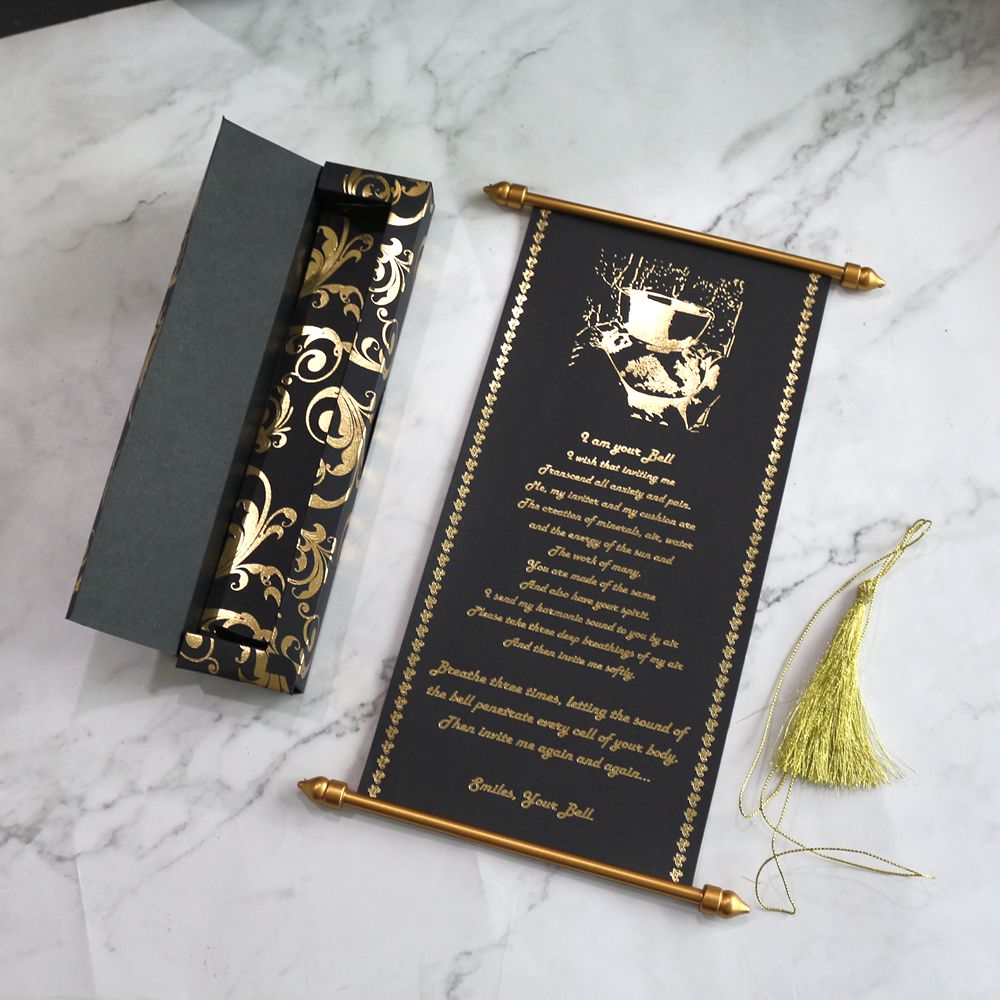 Break the norms and go with a casual scroll to make an impression on your guests. This type of scroll wedding card is perfect if you're looking for a simple yet elegant design.
This scroll wedding card uses a white background with a black border. The inside of the card features a beautiful illustration of a flower bouquet and a heart-shaped balloon.
Regal Wedding Invitation with Mohar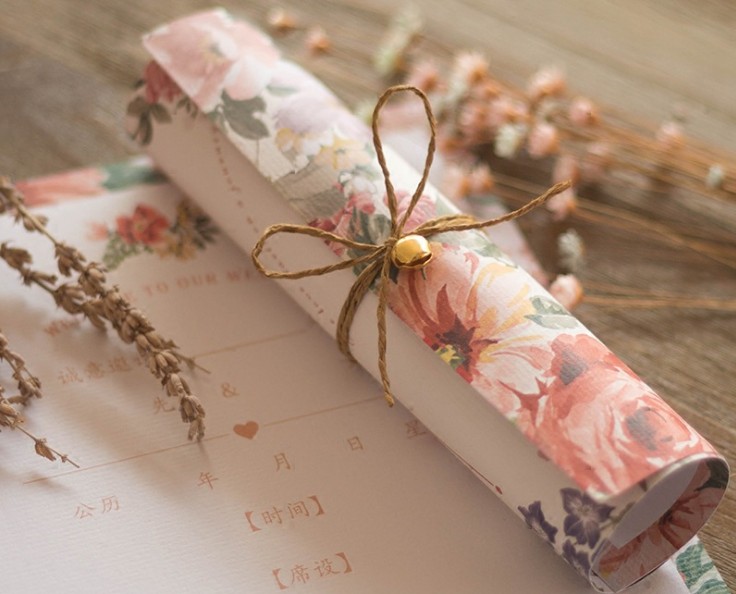 Want to add a regal touch to your wedding? Why not begin with your wedding invite?
A Mohar is the first thing that springs to mind when we think about scrolls. You can go old-school with the traditional Mohar method of sealing the scroll. You can tie the scroll with fiber threads and then add the initials of your bride and groom to a Mohar. It is truly an elegant way to make your wedding invite more regal.
One Box with Two Scrolls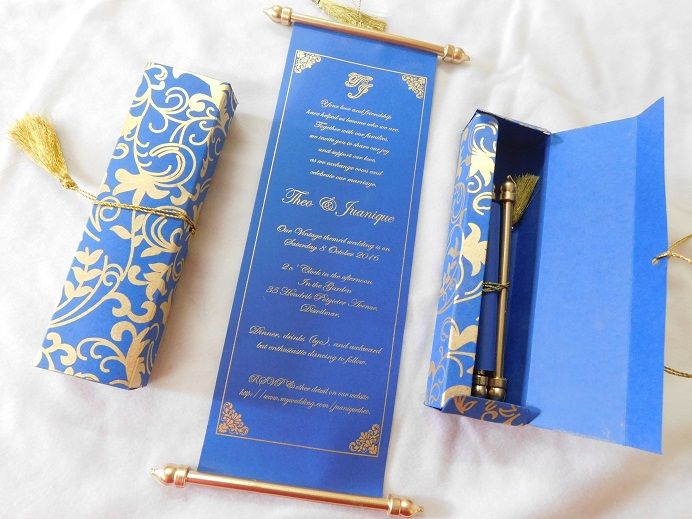 When you double your wedding fun with two celebrations – wedding and reception, then why choose invite scroll?
If you are looking for a classy yet elegant wedding invite, this is the right choice. These stylish scroll invites will give you a head start on creating a memorable wedding. It allows you to invite your guests' selectivity for both celebrations.
Classic Touch With Simplicity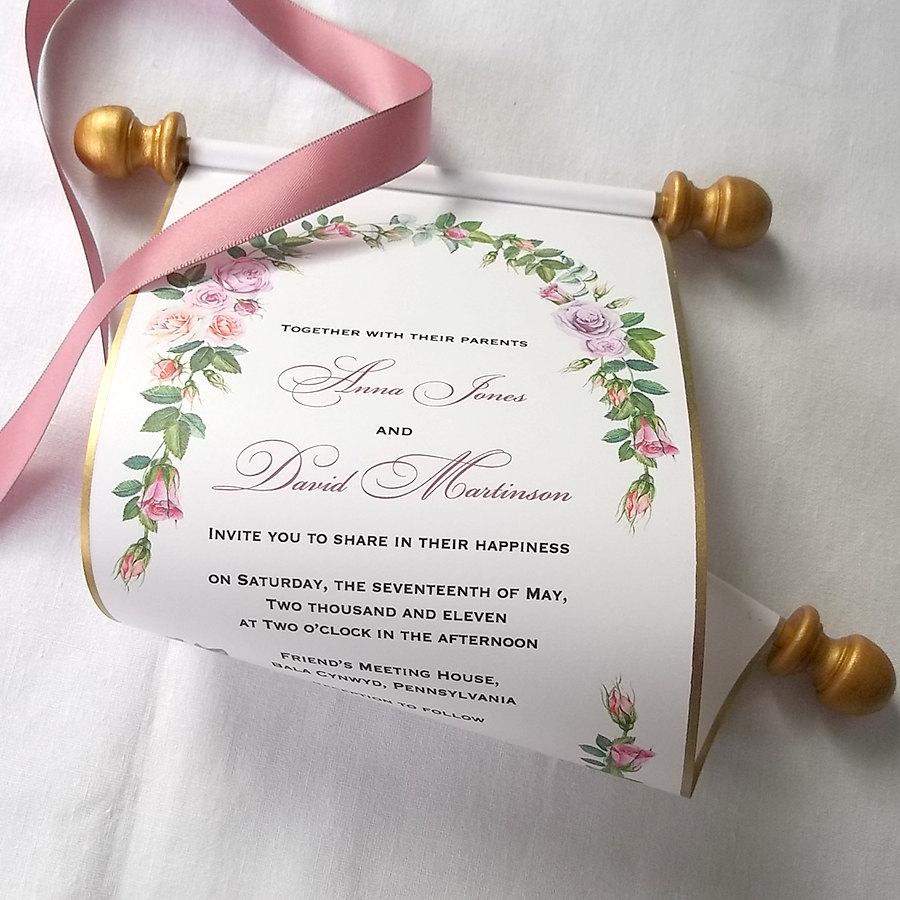 Its simple, classic design makes it one of the most beautiful scroll wedding invitations. The classic navy blue color is great for Indian wedding invitation cards. It looks great with the silver font and the design work at the scroll's back. This style is for those who want a classic look with a modern twist.
Royal Blue Scroll Invite With Silver Tube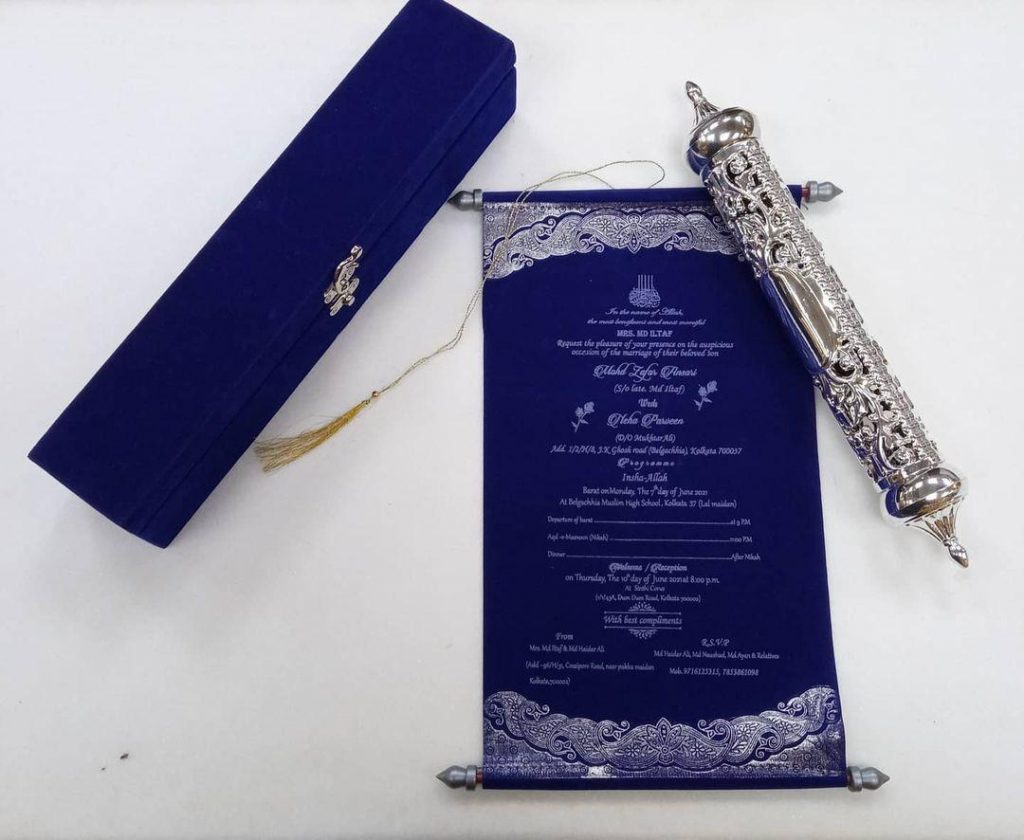 Do you want that royal feeling? This is it. It is beautiful to see the navy blue with silver writing. The silver tube that holds the scroll gives it more character. The scroll's material is velvet which adds a royal touch. You can complete the look by adding a velvet bridal card box to hold the scroll invite and other accessories like chocolates.
Scroll with elegance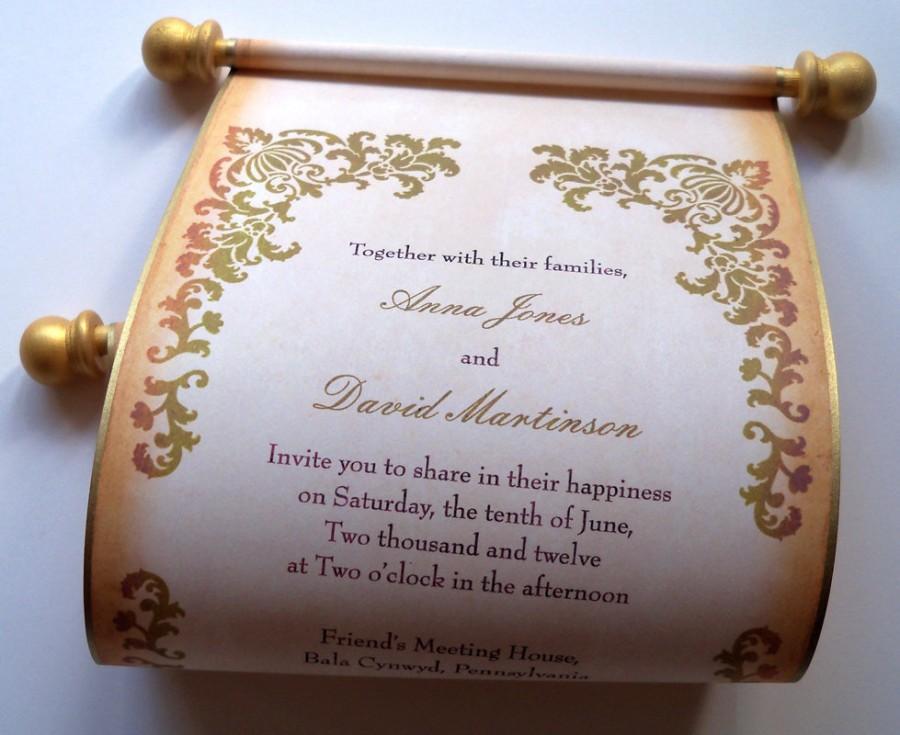 This elegant scroll wedding invitation card is the best choice if elegance is your theme. This classic design is simple and elegant. It uses white paper and has fiber strands on the body. It has a unique look and is graced by the pink ribbons with a flower in the center. It's up to you to personalize your invitation message.
Lavish Invite with thick handles
Add an old-school charm to your wedding invitations with these elegant scrolls. It's simple, elegant, and luxurious! This is the perfect choice for those who don't want a great wedding card but still want something elegant to attract attention. This scroll has thicker handles than others, which makes it a cute invite to consider.
Box filled with love and surprises.
This is a fresh take on scroll wedding invitations! This scroll invitation idea is perfect for giving gifts in addition to the invitation cards. A box filled with hampers can be made with a scroll. The box and the goodies inside can be as extravagant or simple as you like.
A Perfect Choice for Indian Weddings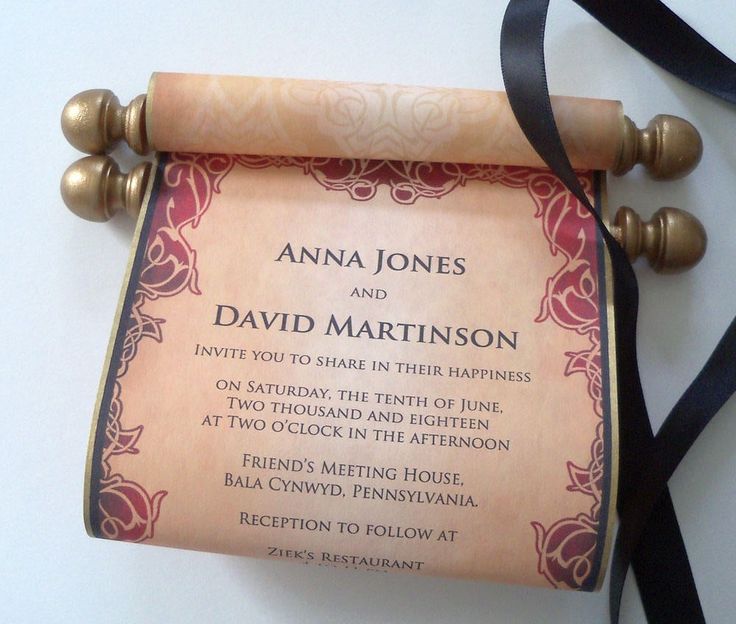 This is the perfect choice for you if you're planning an Indian wedding. This Invite features traditional Indian motifs and colors. The design is simple, elegant and classy. You can use this Invite to send it out to your family and friends.
Simple yet elegant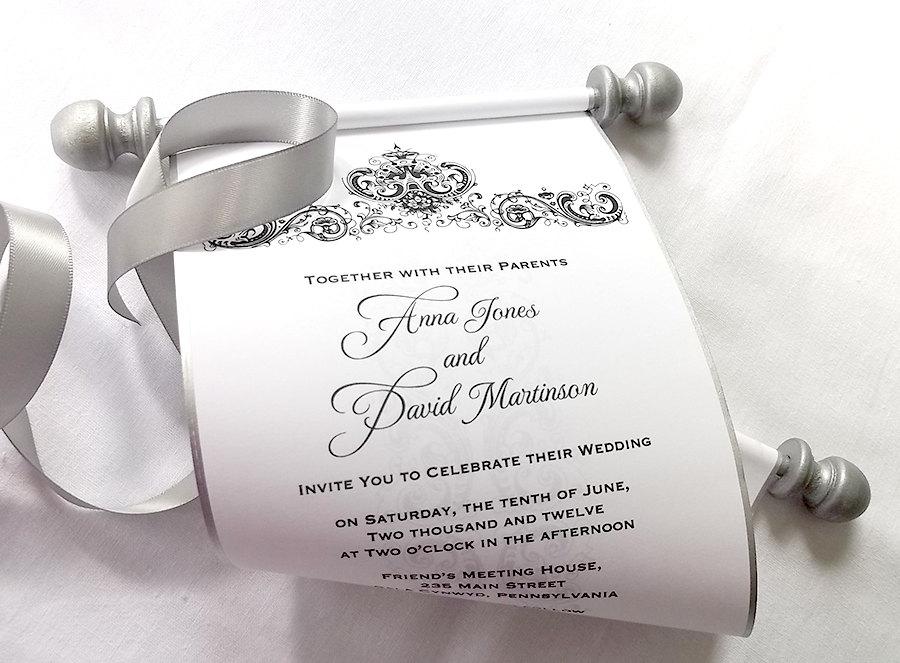 This is a very simple, elegant and classy scroll wedding card. It's a good option for those who prefer a simpler look. This scroll is ideal for weddings where the couple wants to keep things simple.
An Elite Design for Royal Wedding Saga
Scroll wedding invitations can also convey royal vibes. This scroll is a perfect example of a royal-style wedding card. It has a white background and golden fonts. Remember that wedding fonts can be just as important as the design of the wedding invitation. To complete the look, place the scroll inside a tube painted in gold.
Top Benefits of Purchasing Scroll Wedding Invitations Online
You can go to the brick-and-mortar store to purchase scroll wedding invitations. The challenge arises when you need to purchase cards in bulk. We have often seen budget getting busted because of high prices; here comes into play the option of online scroll wedding invitation option.
The benefits of purchasing scroll invitations online are as follows –
Save money – When you purchase the card from an online vendor, it will prove to be a more pocket-friendly option. There will be a guarantee of superior quality also.
Myriad designs – The facility of buying scroll wedding invitations come with the benefits of multiple beautiful design options. These are the designs that you cannot find in the regular brick-and-mortar store. Most designs are exclusively crafted.
Time-efficient – Selection of a luxurious wedding card like a scroll wedding invitation takes time, but that is not the case with online shopping. It will save your time going to the retailer, waiting for brochure designs, and finalizing the designs.
Customization – The online shopping of scroll wedding invitations comes with the facility of customization and personalization. Whether you want to select a specific type of scroll or you want a box of a scroll in a specific design, whether you would like to go for a pouch or you can go for the envelope, you can customize everything at your discretion.
Trending Styles of Scroll Wedding Invitation That Are Timelessly Classic
You can go for a royal blue scroll in a silver tube.
Scroll wedding invitations with a simple design and with white paper and fiber strands on the body.
Simple navy blue color scroll with silver font and minimalistic design.
A box full of gifts with the invitation. A box full of hampers with a scroll in it.
The scroll with the white or beige background accompanies by golden fonts.
Scroll wedding invitations with thick handles. It will be simple, elegant, and super opulent.
Break the norms with the bag full of tiny scrolls in it. You can use multi-color scroll wedding cards for different occasions like reception, wedding, or pre-wedding party.
You can go old school and use a seal. This will be a classic option and very regal.
Scroll wedding cards with traditional cards in a box will be an awesome rendition of the scroll.
Scroll wedding invitations with printed flowers on them will be a quite mesmerizing option.
Conclusion:
Scroll Wedding invitations are not only about sending them out; they're also about creating memories. So when choosing a wedding invite, think about what kind of memories you want to create. Do you want to make people smile, laugh, cry, or all three? Are you looking for a rustic feel, a vintage vibe, or a modern twist?