Wedding is full of decorum and traditions in every religion and caste. Every couple desires to have a wonderful wedding full of uniqueness and happiness, but sometimes the bride and groom regret their decision of choosing a particular wedding invitation card, which was neither praiseworthy nor attractive. As marriage is believed and given utmost importance in the life of people who are planning to get married and consider it as very auspicious occasion. So, Scroll invitation cards are the new form of cards which will not only give grace to the occasion, but also make you get admiring from all the guests who are invited to the function. Let's go through some the new trends in Scroll invitation cards which you should keep in mind while designing your invitation card:-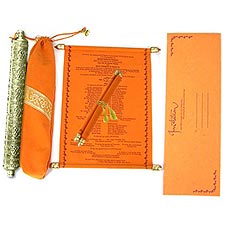 •   Add royal look with scroll invitation cards
Since the inception, Scroll marriage invitations have been famous and special. These invitation cards are also known as Farman as this type of card denotes royal look and elegance. The invitation cards are made out of artistic handmade paper along with beautiful designs and eloquent colors. Scroll cards are highly customizable in nature and create a long-lasting impression on the minds of the guests who are invited to attend the event.
•   Represent the essence of ancient period
As you all know, scroll invitation cards are used since the medieval period and were used by emperor's to send across their messages all across the kingdom. These cards were very elegant and represented cultural as well as the artistic value to the whole community. By selecting this type of card you add ancient majestic grace to the whole wedding invitation.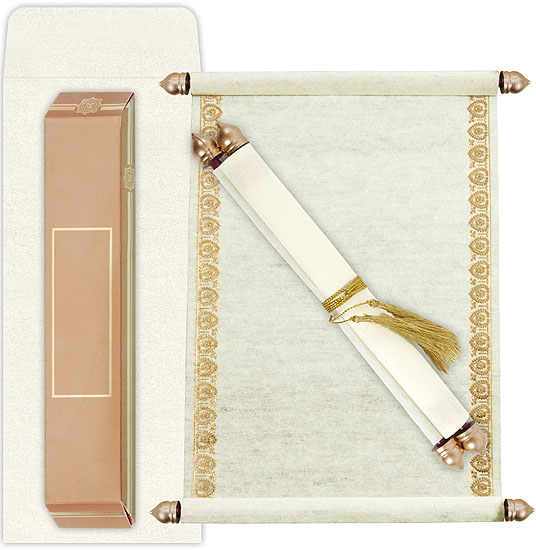 It shows how grandiose the whole function will be and how it will be carried out. Your guests will be influenced by your choice and will surely admire your choice. They might also keep one for their future reference when they are going to select wedding card for their occasion. You must always ensure a great end product, so that you create impeccable impression among your invited guests.
•   Add paisley designs for grace
Various types of deigns have came into existence with new technologies used in printing the Scroll wedding invitation cards. One of them is the paisley designs, which come in large variety of colors as well. So, if you are looking for a highly bright colored card you can select golden or silver designs and if you want simple invitation card then you can select a beautiful paisley design made out of kundans in the center of the beautiful handcrafted wedding invitation card. You can also select a two folded paisley designed invitation card with a golden thread coming out for the center to add more grace and royal look. So, Scroll invitation cards will add more royal look to your marriage function and will make the whole occasion filled with delight and mirth.
Save