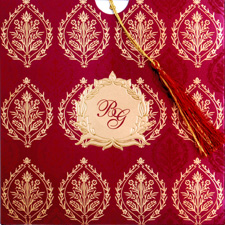 The marriage performed in Islamic or Muslim culture is based on various religious traditions mentioned in the holy book Quran. In Muslim community, marriage is seen as a symbol of mutual agreement between two families having same social belonging and traditional principles. This beautiful relationship is formed on the base of religious customs and rituals for indefinite time frame aiming at love and mutual respect.
In Muslim, marriage ceremony is known as Walima or Nikah and consists of events such like Mahr, mehandi ki raat, Imam-e-Zamin, and many more.  All the ceremonies performed in the bridal ceremony have their own significance, making each ritual exclusive and sacred. Marriage rites are generally divided in three categories such as pre-marriage, post marriage, and matrimonial ceremony.
So, now the question arises which is the first step in planning a Muslim wedding function and the answer is selecting an invitation card which matches the marriage style and theme. Previously, the bride and groom use to give less relevance to invitation cards but with changing times the standard inclination has gone on marriage invites.  Nowadays, marrying couples understand the significance of marriage cards as it gives first impression about the big day to their relatives and loved ones.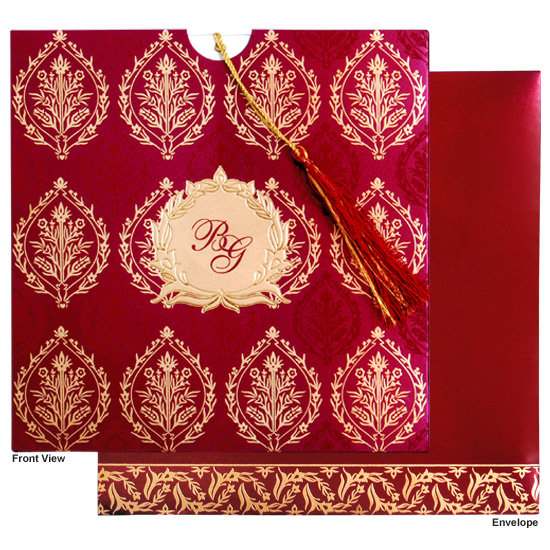 The presence of the guest makes the occasion impeccable in all respect and it adds grace to the whole occasion. Another significant factor in the case of Muslim marriage cards is the features like moon and star symbol along with a paisley pattern which are used to give conventional look to the function.
So, to fulfill your need for beautiful Muslim invitation card our online wedding card portal 123weddingcardscom has come up wide collection of simple to stylish cards which are designed as per the marriage theme. We offer fine quality of exclusive Muslim Invitation cards mixed with matching add-on cards like RSVP, Thank You Cards and Save the Date Cards. The Muslim Invitation cards are distinctive in textures and have unmatched finish which are made from imported and handmade materials.
We have also added some quality invitation cards based on the current trends which have become popular in the recent times. We also understand pricing and budgetary constraints always create hindrance while selecting a particular invitation card as per your requirement, for this our 24/7 customer support team assists you in every possible manner. So, come and unfurl the amazing world of Muslim wedding cards for perfect festivity.