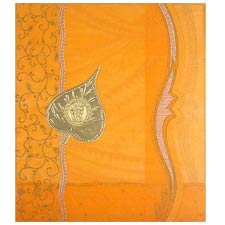 In Sikh culture, wedding invitations are known as Anand Karaj cards, and reflects the rituals followed in this Indian community. These invitations are used for publicizing the wedding ceremony. The process of sending invites to guests forms an essential part of the celebration. These cards symbolize the religious nature of Sikh marriages. Invitation gives perfect grace to the ceremony, and without it the function is incomplete.
Given below are some of the elements of a Sikh wedding invitation card.
Wordings- Sikh wedding cards are written in English as well as Punjabi language. The cards contain the messages from their holy book, Guru Granth Sahib (also known as Adi Granth).  These customary religious words or quotes are given special mention in the invitations and depicts the religious nature of Sikh weddings. A heart rending personal message is also included in the cards requesting the guests to attend the ceremony.
Symbols- Sikh marriage invitation cards carry the Ek Onkar symbol on them. The symbols mentioned in their holy book are also used in the cards which symbolizes sanctity and purity of the ceremony. Ek Onkar symbol is printed on the Sikh wedding invitations as a token of blessing from god. So, this symbol makes the occasion auspicious and successful.
Colors- Sikh tradition recommends yellow color as auspicious for the ceremony. Yellow color denotes harmony, prosperity and sanctity and this is why most invitation cards are in this color. Yellow colored marriage card highlights the cultural values of the marriage. Shades of the same color are used in the clothes of the bride and groom.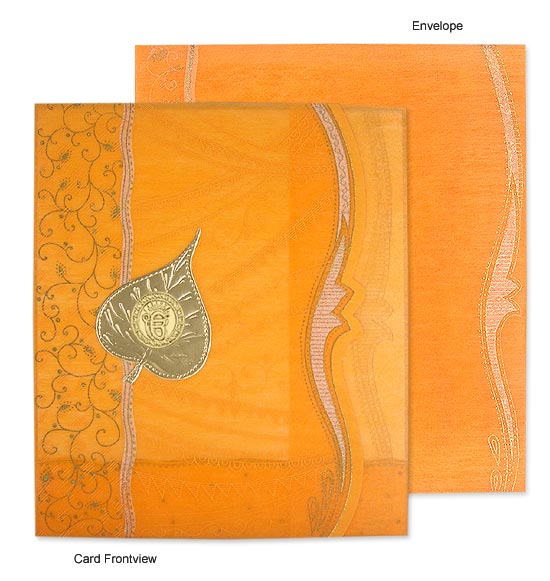 Designs- on Sikh invitation cards, motifs like flowers, leaves are used for designing them. These designs have cultural significance and define the Punjabi culture. These cards are available in different types of designs, studded with precious gemstones.
Paper & Envelope- Sikh marriage cards are made up of handmade silk paper, vellum paper, ivory sheets and other materials.  These invitations are enclosed in a beautiful envelope and mailed to the invited guests.
Structure- Sikh wedding invitations are two-sided work of art, decorated with amazing designs and beautiful artwork. It gives detailed information about the wedding venue, date and timing.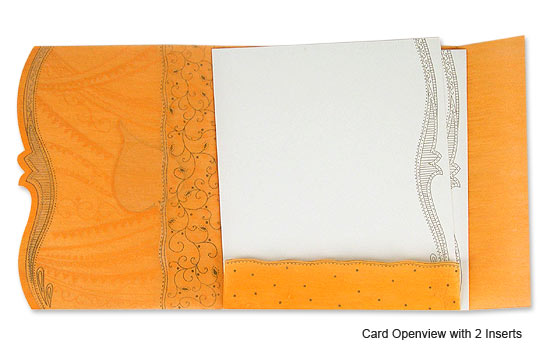 Emotions- Sikh people are very sentimental, just like any other Indian community. In this community, marriage is seen as sacred ceremony which is full of colors and traditions. Hence, Sikh wedding cards are laced with personalized quotes, warm designs and emotive messages.
Simplicity- Sikh marriage invitations are very simple and easy to understand. These cards are not flashy and highlight the holiness and purity of the wedding ceremony.
Safekeeping- in Sikh culture, marriage cards are safely preserved to cherish this golden moment for eternity. So, great importance is given make high quality wedding cards. These cards are the symbol of a perfect celebration performed with religious customs.