2017 has been a big one for the ultimate A-LIST celebrities' weddings. Hollywood celebrity weddings 2017 has witnessed moments of pure love and joy that stole everyone's hearts. There are many famous recently married celebrities in Hollywood who have marked the beginning of their life in 2017. As we are reflecting on 2017's celebrity weddings from secret weddings to over-the-top nuptials. Here are the 20 celebrity weddings of 2017.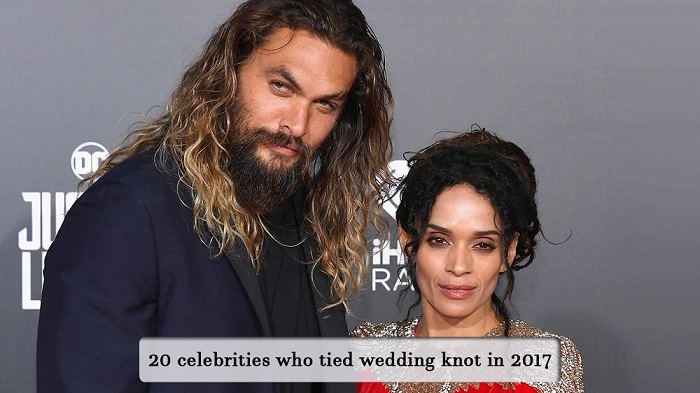 1) Kelsea Ballerini and Morgan Evans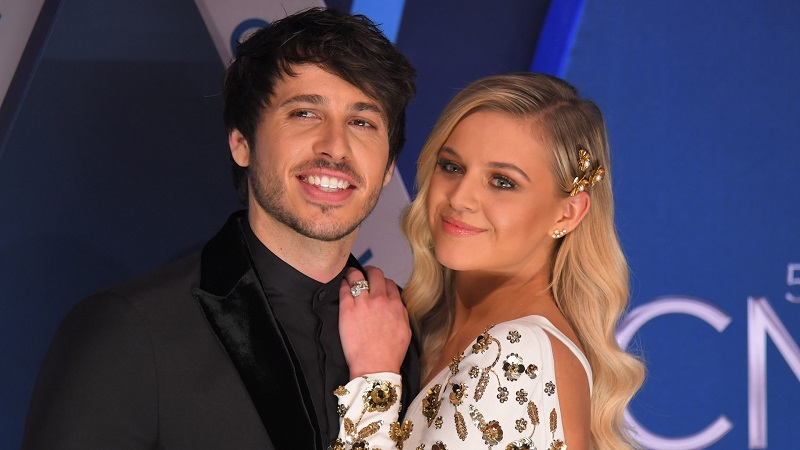 The country singers "legends" by kelsea and the "kiss somebody" by Morgan Evans tied the knot in Cabo San Lucas, Mexico on Saturday, December 2. While the bride walked barefoot down the aisle in a flowing Berta gown, Morgan stuck glancing her in a tux. They exchanged David Yurman rings with a message in it.
2) Serena Williams and Alexis Ohanian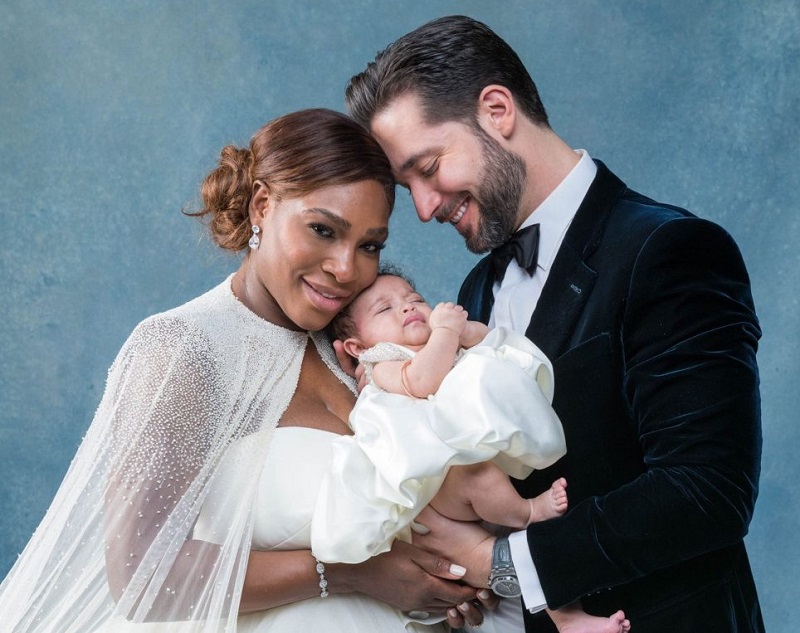 Serena Williams founds her perfect match with Alexis Ohanian. The newlyweds chose to exchange vows on November 16 in an opulent Beauty and the Beast-them. The bride looked stunning in an Alexander McQueen white wedding princess dress while the groom looked majestic in a dark regal blazer.
3) Jason Momoa and Lisa Bonet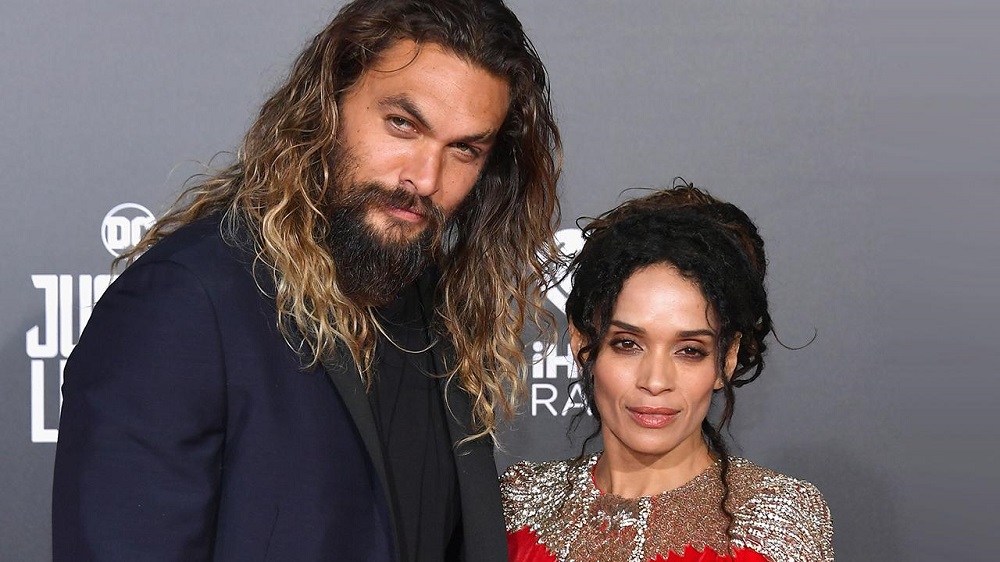 The Game of Thrones actor had a secret wedding after 10 years of togetherness with his love of life Lisa Bonet. Rumors of his marriage in 2007, he made it a succession realistic in October 2017 official in Topanga, California. They exchanged their vows with their two children-  Lola Iolani, ten, and eight-year-old son Nakoa. Also, Zoë Kravitz, Lisa's daughter with ex-husband Lenny Kravitz had attended the wedding was.
4) Michael Fassbender and Alicia Vikander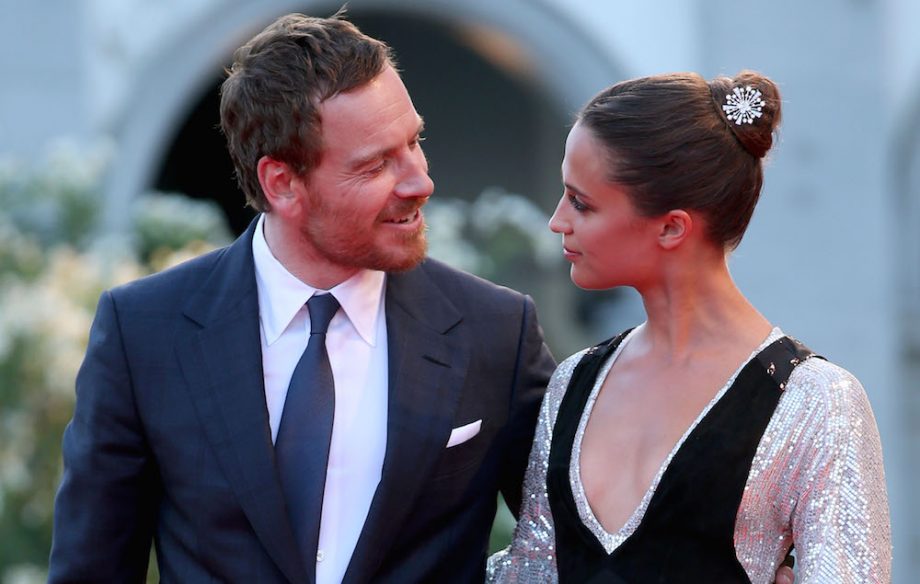 Michael and Alicia, this loved-up pair got hitched on October 14. This private showbiz couple, while playing husband and wife in "The Light Between Oceans" have fallen for each other and decided to tie up secretly in Ibiza, Spain at the luxurious La Granja farmstead resort.
5) Lizzy Caplan and Tom Riley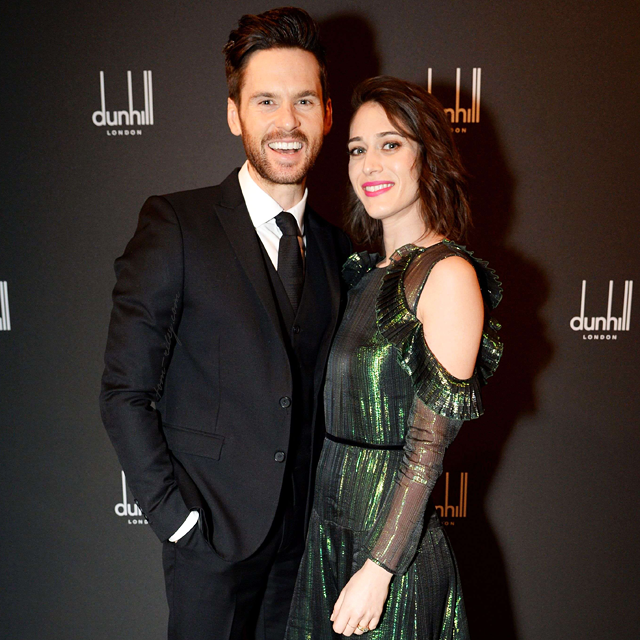 Caplan married her fiance Tom Riley, over the weekend with a stunning ceremony in Italy. The couple was joined by their family and friends, as they exchanged their vows and enjoyed the spectacular views of  Amalfi Coast that overlooks the sparkling Tyrrhenian Sea.
6) Stevie Wonder and Tomeeka Robyn Bracy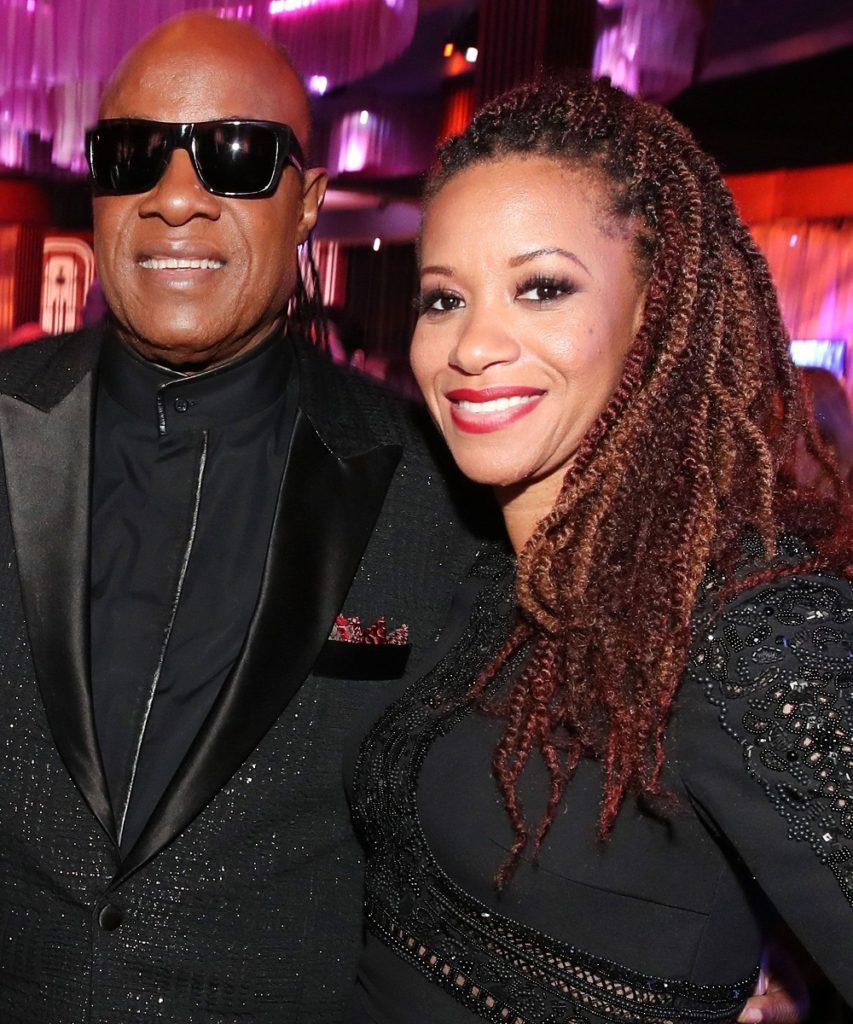 The Grammy Award-winning singer Steve, 67, tied the knot with his longtime girlfriend Tomeeka Robyn Bracy, 42, over the July 14th weekend at the Hotel Bel-Air in Los Angeles. The reception glams up with the abundance of flowers and string lights. His nine children served him as his best man and bridesmaids on this big day.
7) Kate Mara and Jamie Bell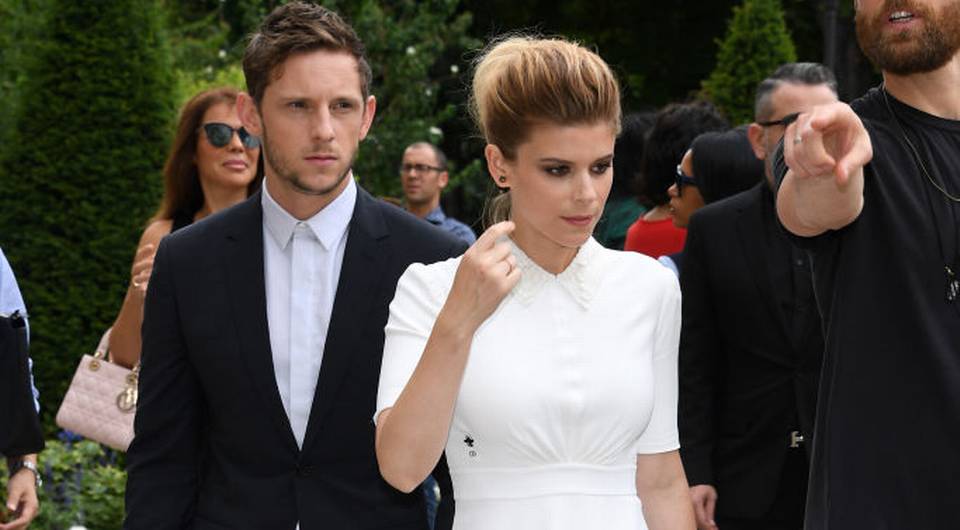 The Fantastic Four co-stars fell in love and started dating in 2015 and then after actress captioned a pic of them kissing at their reception. Bell, 31, shared the same kissing shot on Twitter, writing: "Mr & Mrs. B." The pair tied the knot back in July at Los Angeles.
8) Danielle Panabaker and Hayes Robbins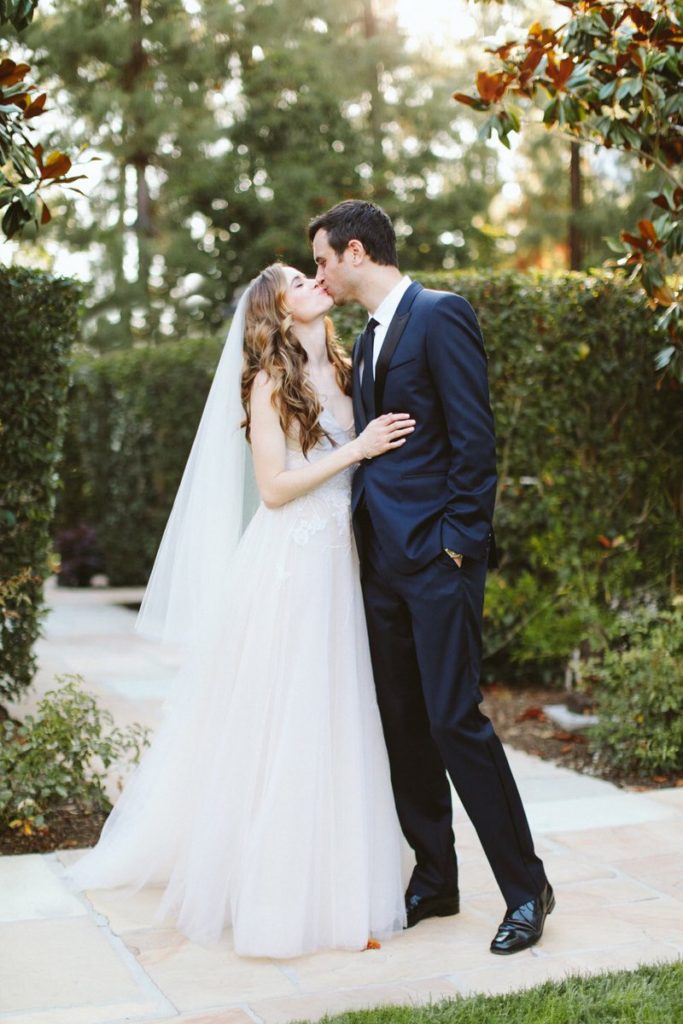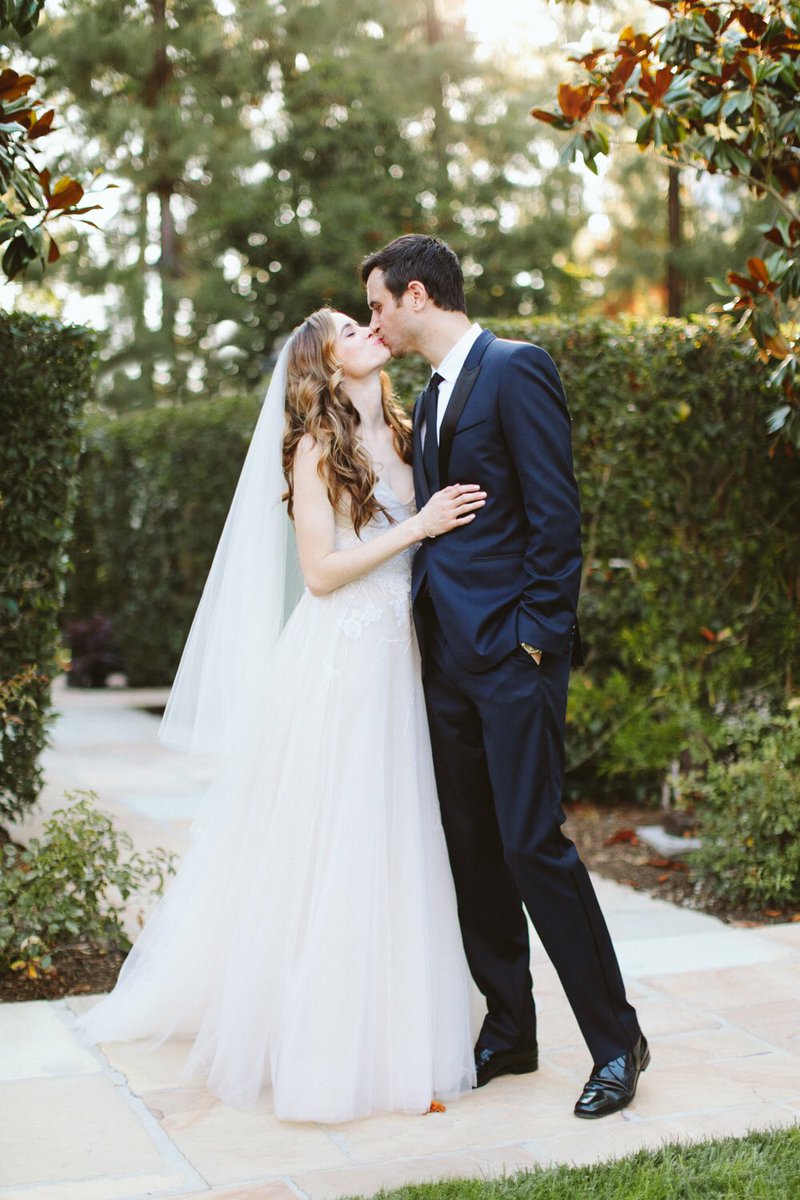 The Flash actress became Mrs. Robbins in a super-intimate ceremony with family and friends in July. She broadcasted this along with a photo of the newlyweds kissing with a caption "6.24.17 Happiest day of my life". She opted for breathtaking V-neck spaghetti-strap Monique Lhuillier gown along with  veil. While  groom only  wore a black and navy-blue tuxedo.
9) Maksim Chmerkovskiy and Peta Murgatroyd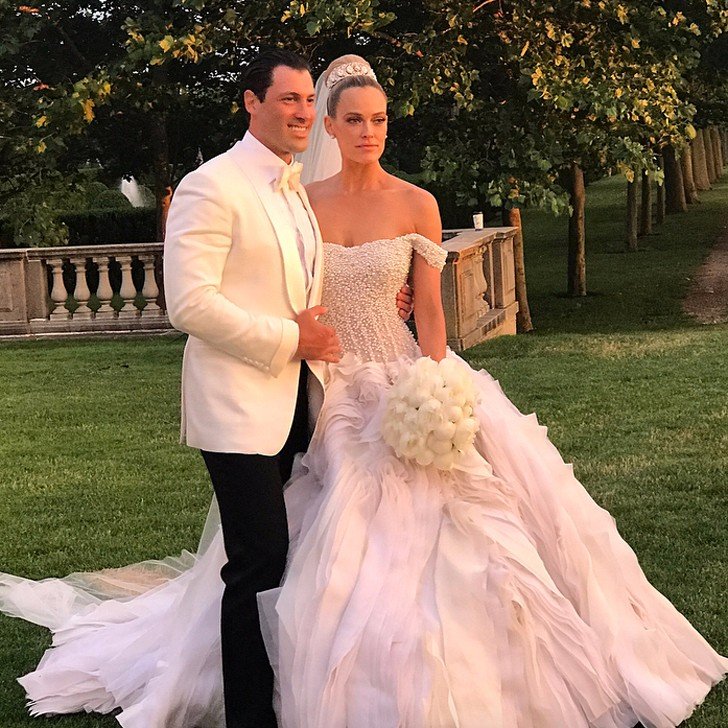 After a year-and-a-half-long engagement and after having their six months beautiful baby boy,  Maksim Chmerkovskiy and Peta Murgatroyd got tied up at Huntington, Oheka Castle of New York on Saturday, July 8. The bride left his groom stunned in a Karen Sabag Couture ball gown.
10) Arizona Muse and Boniface Verney-Carron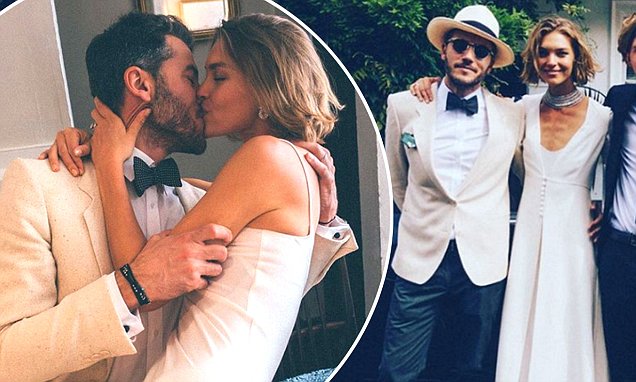 Supermodel Arizona muse ties the knot with long-term love Boniface Verney-Carron over the weekend in June at London. Documenting her day on social media, she shared many photos of her nuptials as she gushed over her new husband unable to contain her love.
11) Josh Peck and Paige O'Brien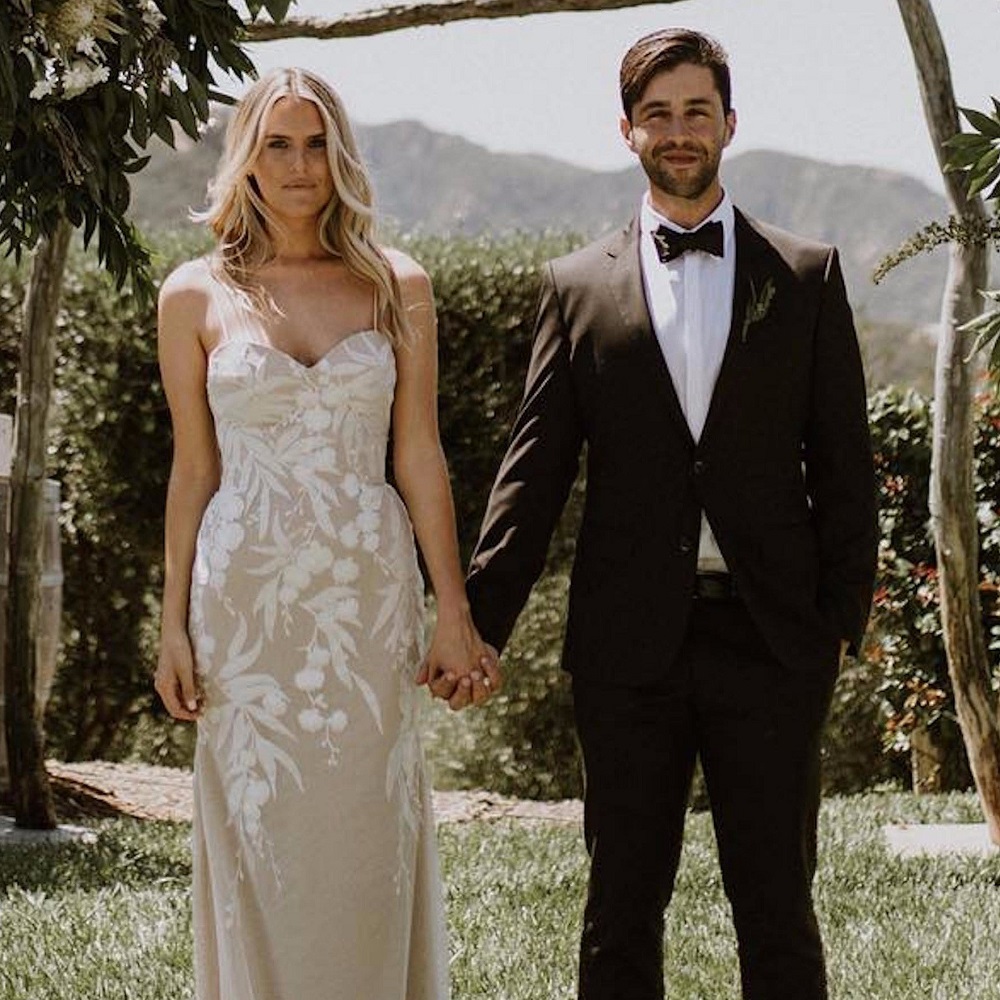 The Drake & Josh's star, said his "I dos" on Saturday on June 10, marrying his longtime girlfriend, Paige O'Brien in a sweet ceremony with his family and friends in Malibu. According to snaps on social media, She appeared in a cream-colored strapless gown with a sweetheart neckline, and ivory-colored embroidery and Peck wore a classic black tuxedo.
12) Jessica Chastain and  Gian Luca Passi de Preposulo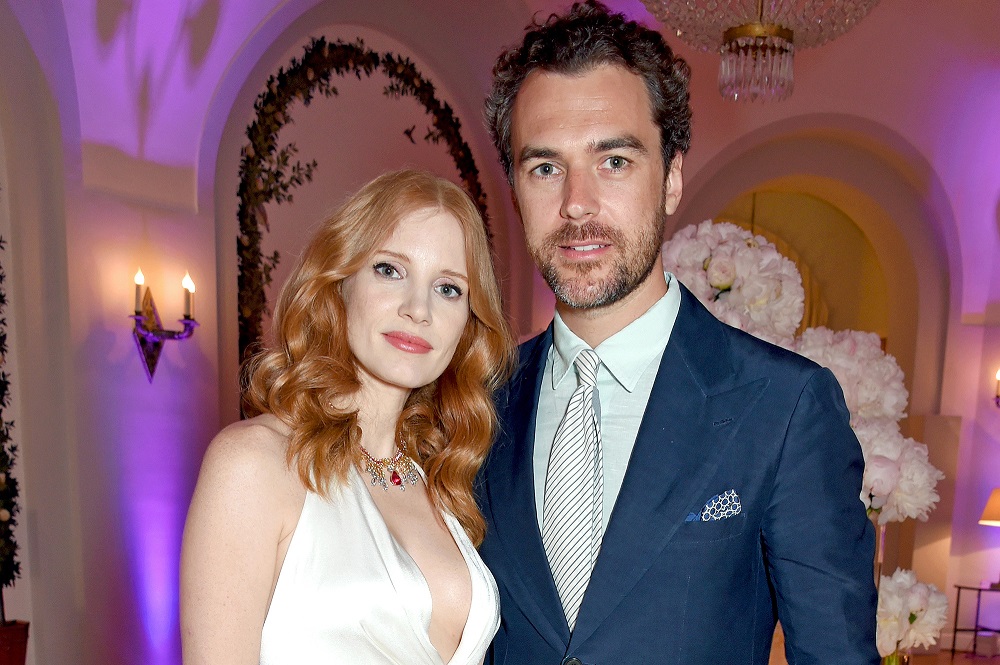 The Hollywood redheads actress Jessica Chastain ties the knot with her long-term love Gian Luca Passi de Preposulo after five years of dating. They got coupled up on June 10 at the groom's 17th-century family estate in the northern Italian city of Treviso. Many co-actor and actresses accompanied this lavish ceremony.
13) Emmy Rossum and Sam Esmail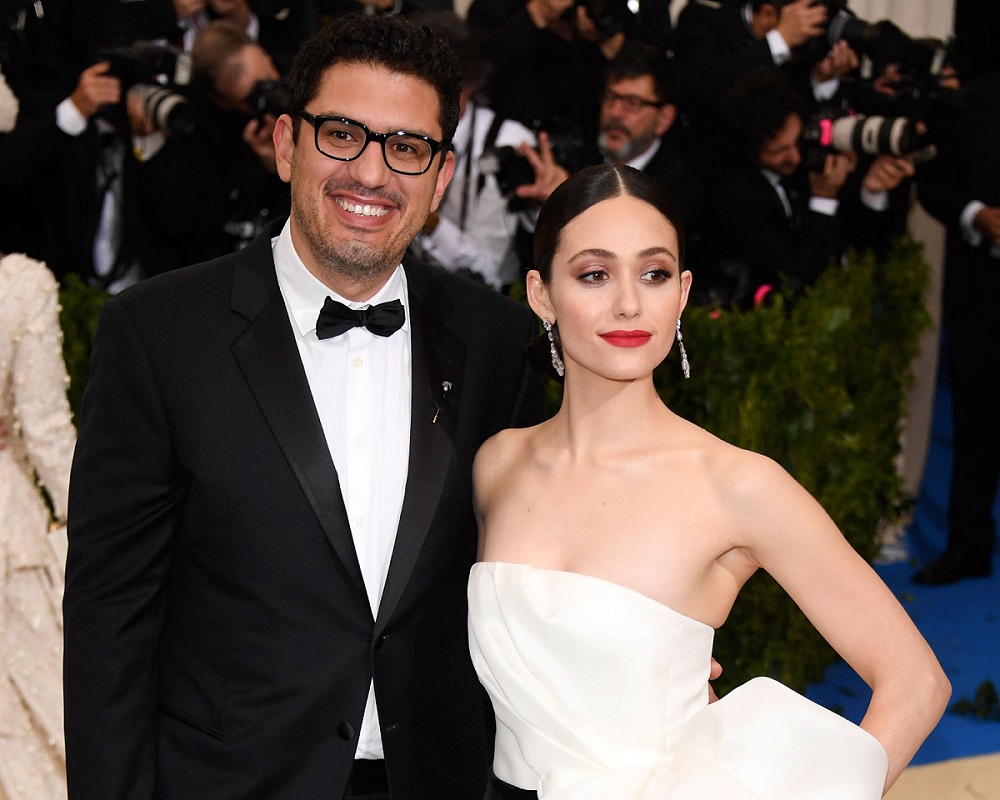 The Shameless actress Emmy Rossum and the writer-director Sam Esmail got engaged in August 2015 after two years of dating, tied the knot on Sunday, May 28. Her co-star William H. eddinMacy attended the affair,  Robert Downey Jr. and Hilary Swank were also the part of it.
14) Miranda Kerr and Evan Spiegel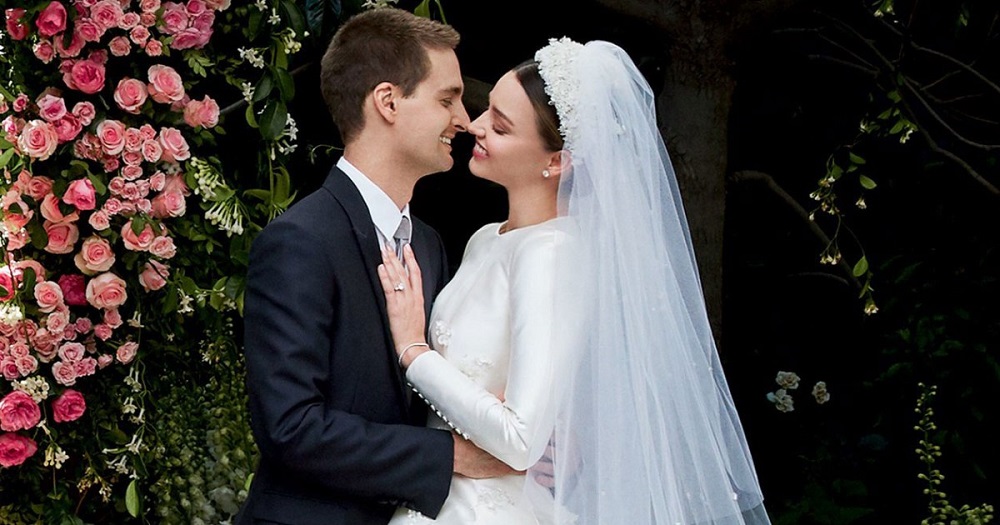 The supermodel Miranda Kerr and the Snapchat founder Evan Spiegel tied the knot, with an early morning yoga session and an intimate backyard setting in Brentwood, California on May 27, 2017. They met in mid-2015 and got engaged after 12 months of dating. This secret affair held with just 45 guests. She wore a somewhat conservative look, a floor-length Dior gown with long sleeves and a veil.
15) Pippa Middleton and James Matthews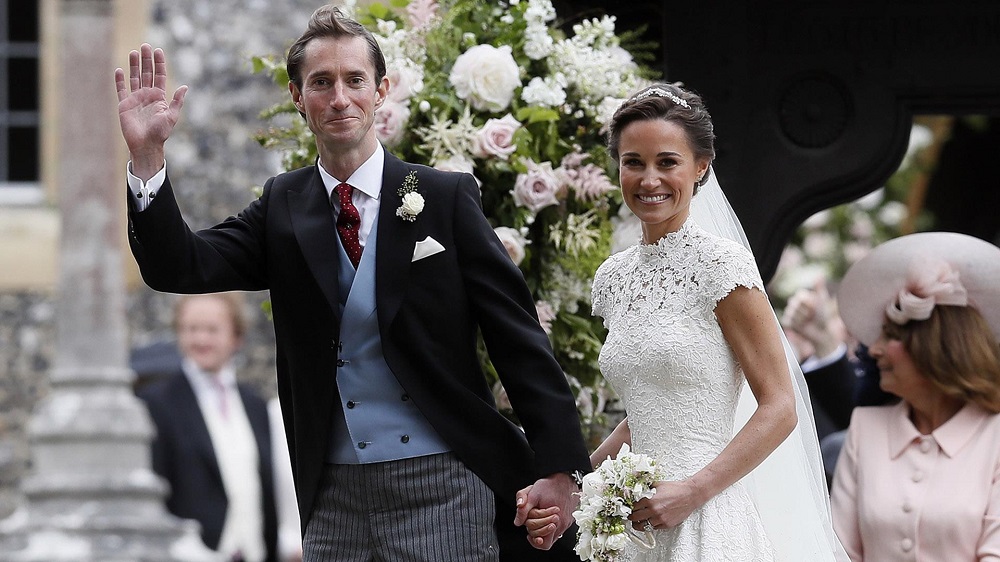 Pippa Middleton had a classic royal English wedding and came in the media-hyped marriage of the Dutchess' sister, who married her boyfriend, James Matthews on the 20th May 2017 at St. Mark's Church in Englefield, England. Kate and William, Prince Harry, Prince George and Princess Charlotte, served their affair ceremony as a pageboy and bridesmaid for the occasion.
16) Kellan Lutz & Brittany Gonzales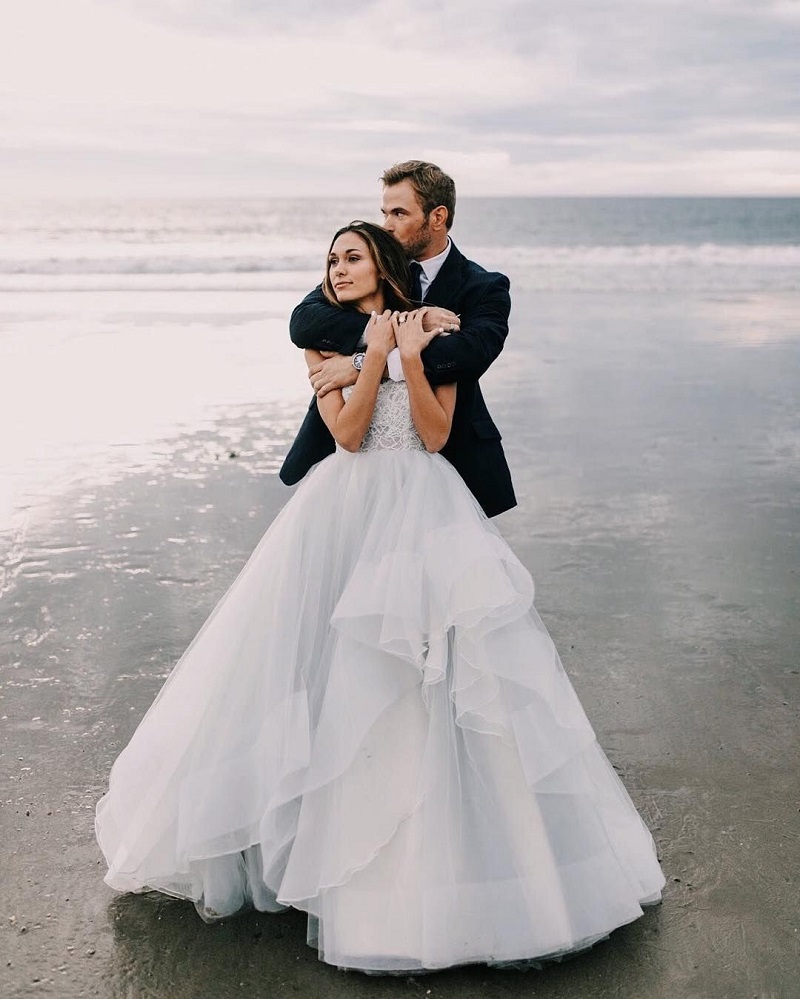 The Twilight alum Kellan Lutz announced his wedding with TV host Brittany Gonzales via Instagram on Thursday, November 23, 2017. To break the news of his marriage, this handsome actor shared a cute snap of the couple holding up Mr & Mrs passport covers showcasing their rings with a perfect caption of Thanksgiving.
17) Ally Hilfiger and Steve Hash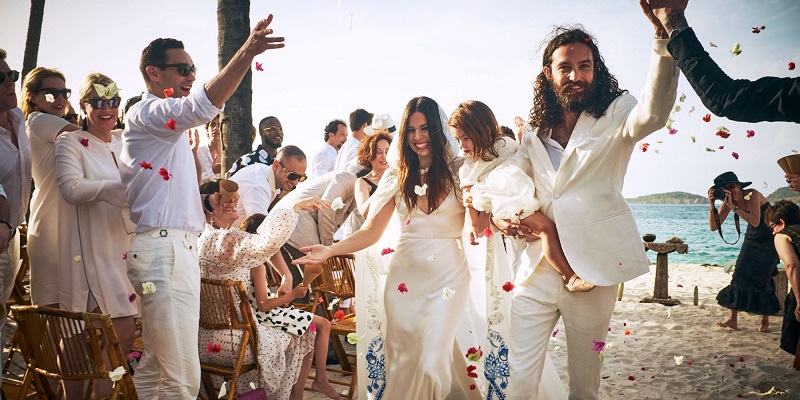 With her dad designing the classy dress and walking her down the aisle, Tommy Hilfiger's daughter Ally chose a bohemian beachfront wedding for her marriage to long-time boyfriend, Steve Hash. Among the guests were their 2 year-old daughter Harley and her 4 Hilfiger siblings on the private tropical island of Mustique.
18) Samira Wiley and Lauren Morelli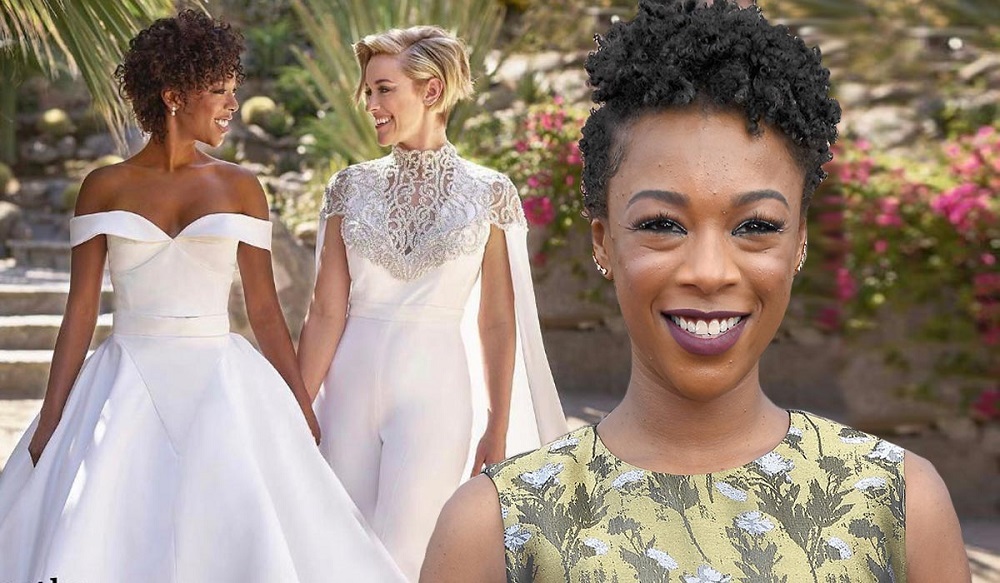 Samira Wiley married show writer and producer Lauren Morelli, in a beautiful Palm Springs ceremony in March 2017. The couple celebrated their nuptials wrapped up with Montell Jordan's "This Is How We Do It" and Justin Bieber's "Baby" kicked off the reception.
19) Alison Brie and Dave Franco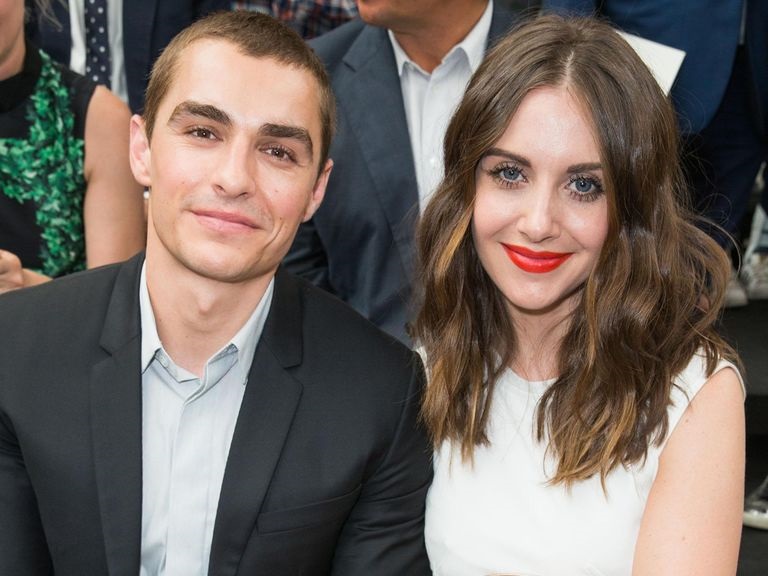 Actress Alison Brie and Now You See Me's star Dave Franco got bound in low profile ceremony on March 13. Six years before this adorable pair met in New Orleans at a Mardi Gras parade. After that in 2015 Dave knee down before Alison with a rose cut and pave diamonds ring. And got married after three years in 2017.
20) Ben McKenzie and Morena Baccarin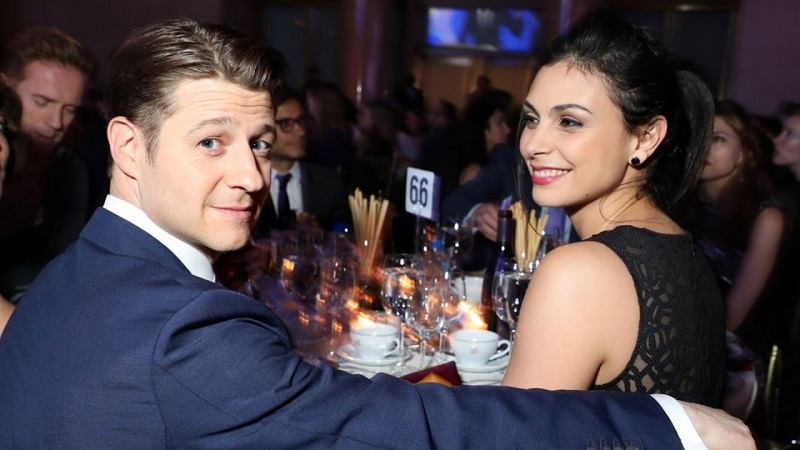 The Gotham stars Morena Baccarin exchanged her vows on her 38th birthday with Ben McKenzie, who got engaged several months ago now become life partner after saying 'I do' at the Brooklyn Botanical Gardens in New York on Friday. The couple met on the set in September 2015 and on March 2, 2016 they welcomed their daughter Frances.