As in this Hollywood obsessed society, you know everything about your favorite A-list couple. Now it's time to know about the gorgeous diamonds gracing the left hand of every actress, models, and singers.
Here we have enlisted about 20 amazing celebrity engagement rings. Have a look and get inspired.

1. Angelina Jolie & Brad Pitt
This gorgeous couple becomes familiar following thing from their film 'Mr. & Mrs. Smith' in 2004.
Brad made their 12-year long relationship official by proposing Angelina Jolie with a rectangular diamond ring estimated to be of 10 carats. These custom-fit side diamonds are surrounding with a thick band.
2. Beyonce & Jay Z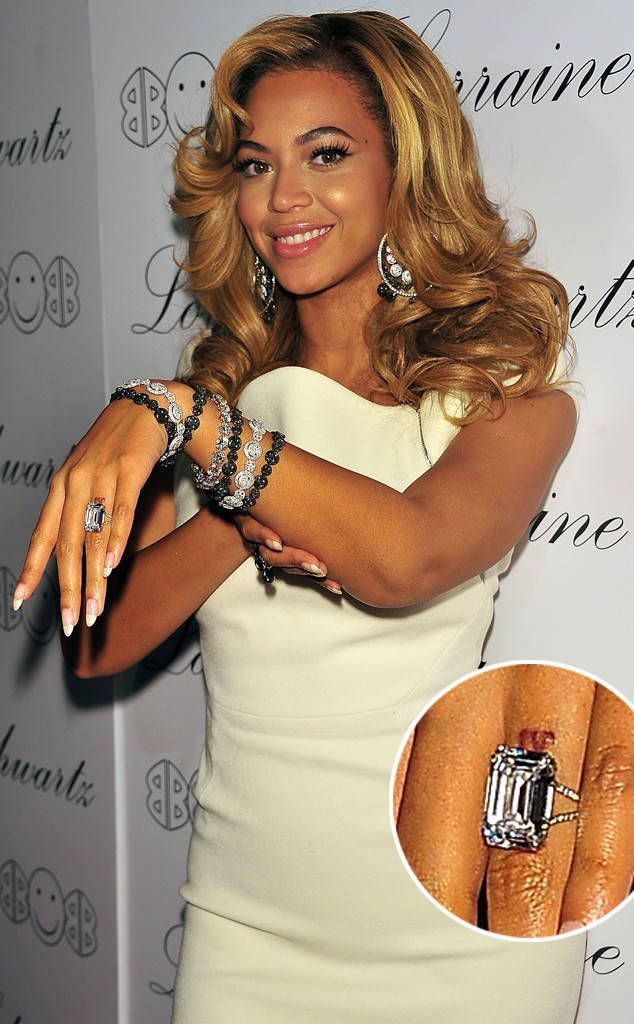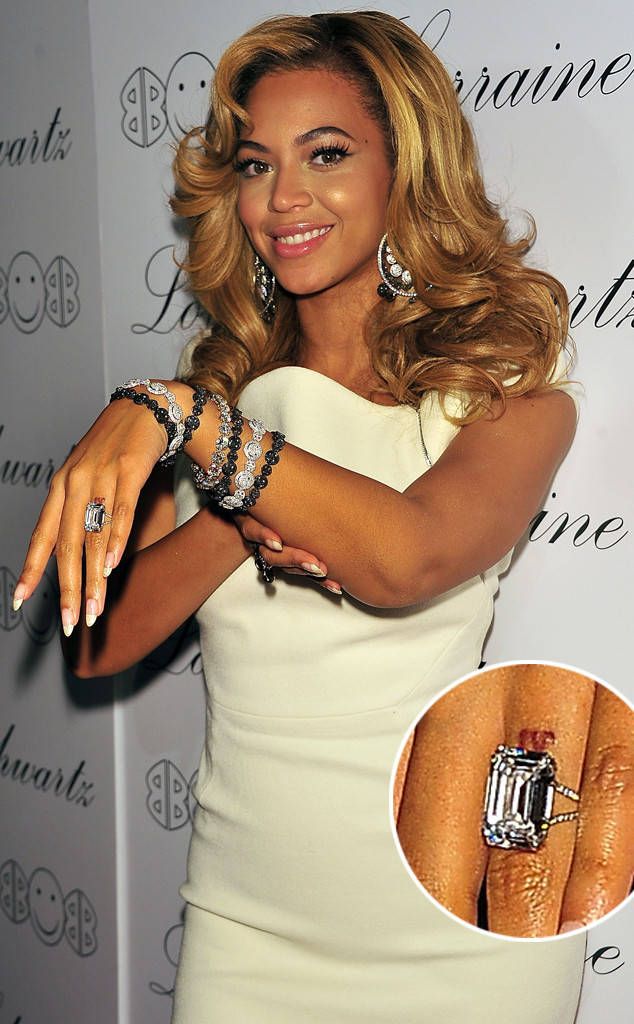 Beyonce is of 18 years then when she was performing her song ' Destiny's Child' in 1999 there, she first coincides her eyes with Jay Z.
After the couple, released their song 'Crazy In Love' in 2003. Jay slipped the ring which is of an impressive 18-carat octagonal cut mounted on a platinum split shank with pave set diamonds.
3. Blake Lively & Ryan Reynolds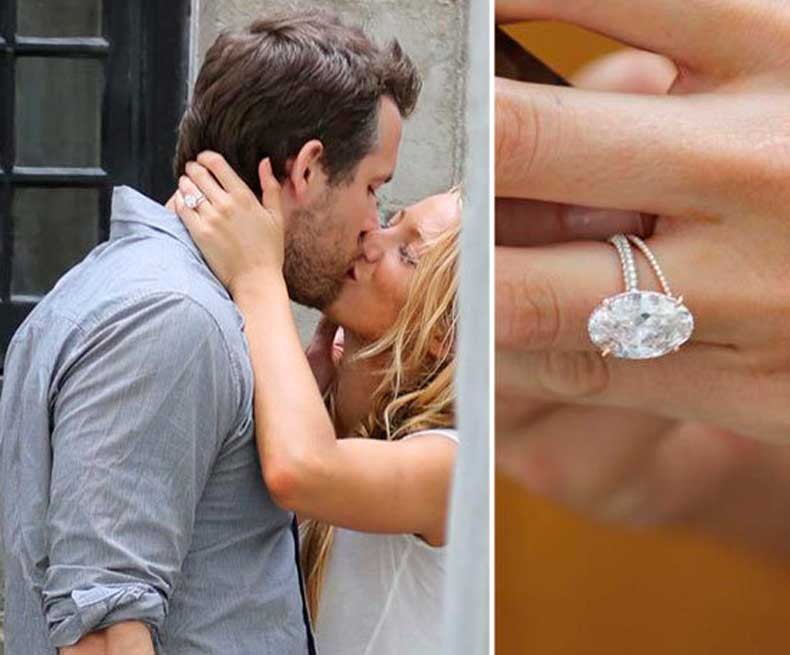 Blake and Ryan started dating officially in 2011, but they have come across first while performing for the DC Superhero flick ' Green Lantern' in 2010.
Ryan bent his knee down with a light pink oval diamond set in a pave diamonds and rose gold which is of around 10 – 12 carat that costs around $2 million.
4. Ciara & Russell Wilson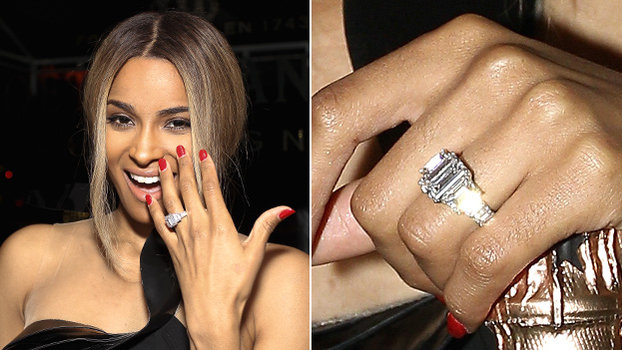 It's a mysterious story how an R&B singer and Seahawks quarterback football player crossed their paths.
Ciara broadcasted her engagement news on Instagram in March 2016. Russell popped out the question with the 16-carat ring with the supporting ring on each shoulder.
5. Jennifer Aniston & Justin Theroux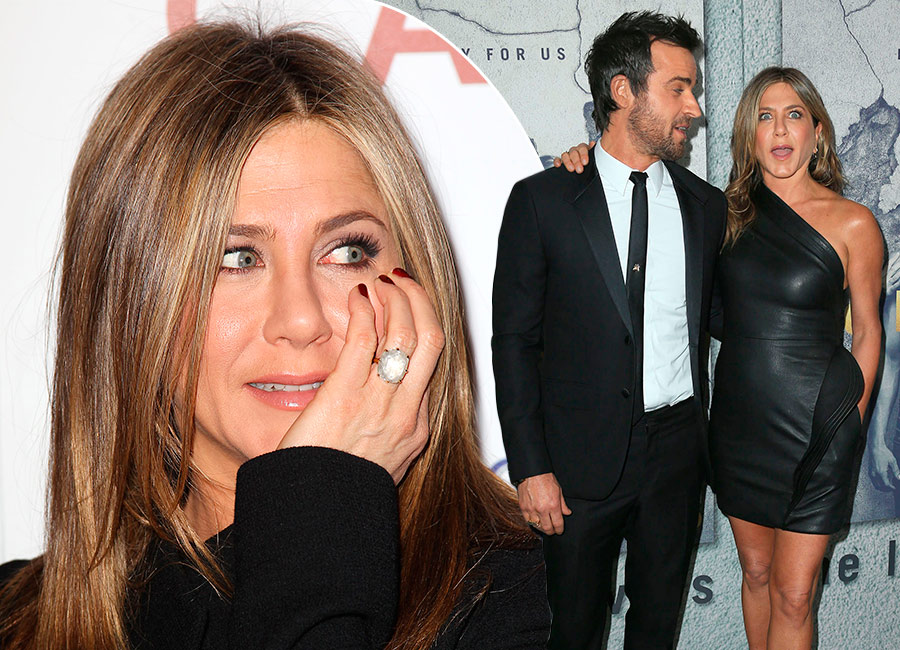 Jennifer, a famous American actress of the TV show 'Friends' hit it off on the set of 'Wanderlust' with Justin Theroux. They got engaged in August 2012 with a stunning engagement ring staggering 8-carat emerald oval cut diamond ring with a yellow gold band whose net worth is of $1million.
6. Jessica Biel & Justin Timberlake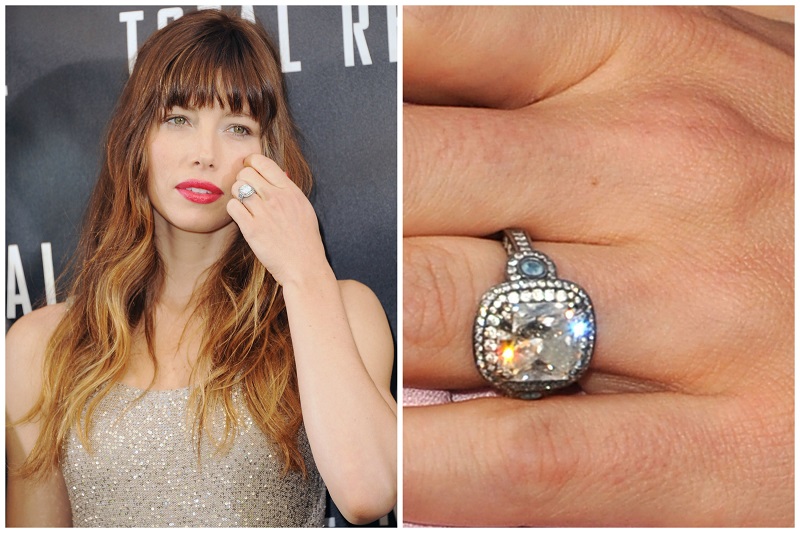 The '7th Heaven' Actress Jessica Biel established an instant connection with Justin in early 2000s at a Golden Globes Awards ceremony.
Justine proposed her in Montana in December 2011 with black rhodium plated and 18-carat white gold featuring with Biel's birthstone, aquamarine.
7. Kaley Cuoco & Karl Cook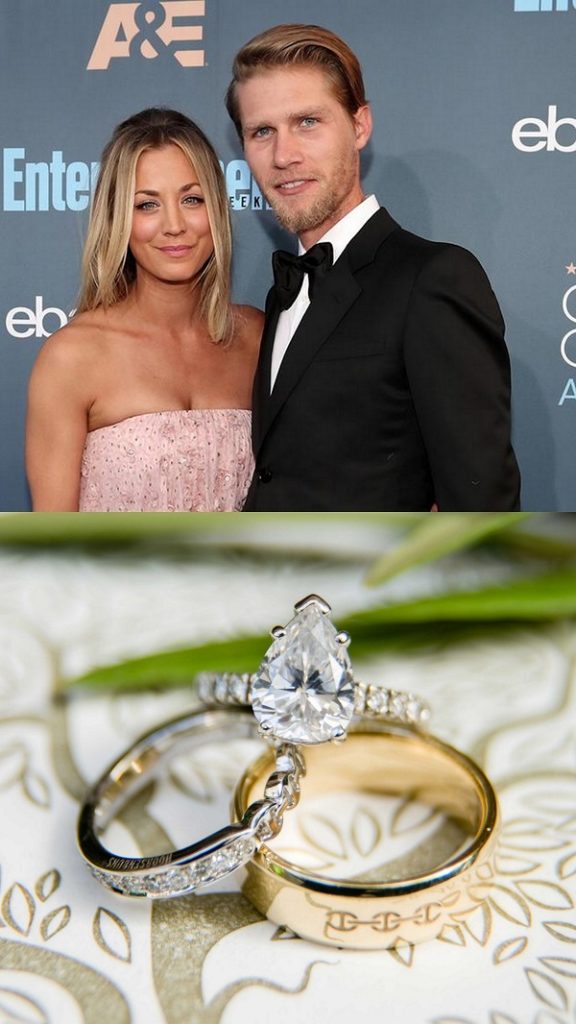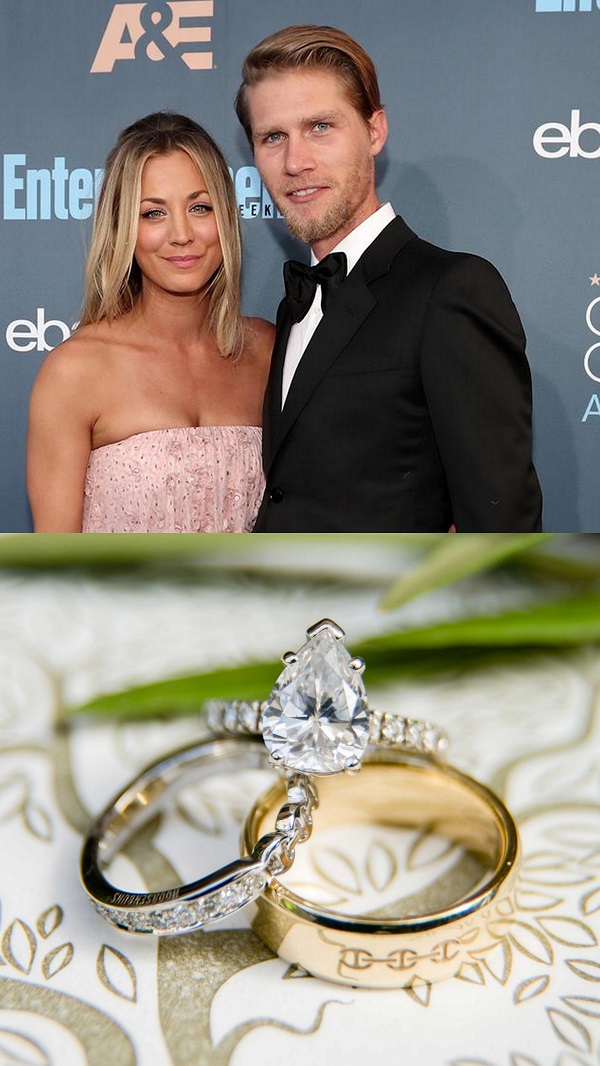 Their mutual love of horse brings them together in an equestrian show in 2016. They share their first date over dinner on the same night.
Karl plans out his proposal a prank with a toy ring later on it turned out to be serious on with massive pear-cut diamond ring mounted with other, other gorgeous diamond on the side.
8. Lady Gaga & Tylor Kinney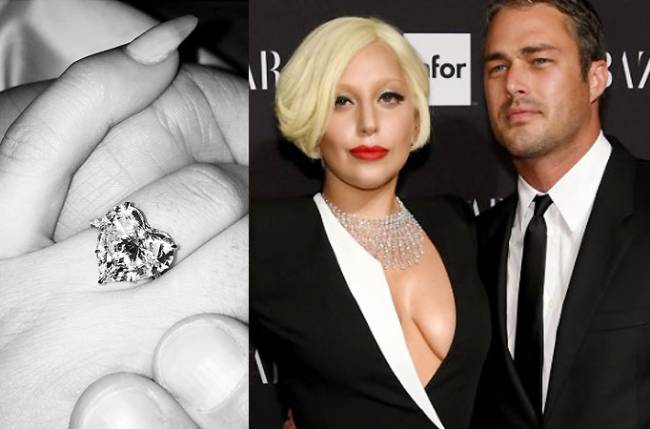 The US Grammy-winning singer Lady Gaga after her music video 'You And I' in 2011 have been asked by the 'Chicago Fire' actor Tylo Kinney on Valentine's Day 2015.
He showed his love with 8-carat platinum and heart-shaped diamond. The stone is estimated to be of net worth around $500000.
9. Mandy Moore & Tylor Goldsmith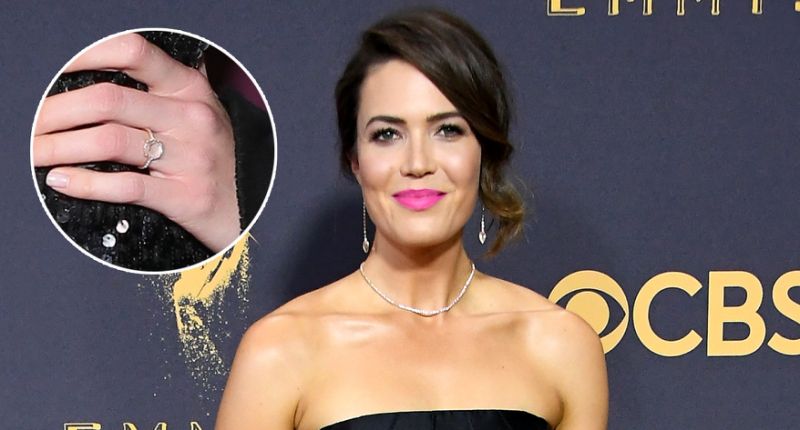 Online dating is not for common man only it also for stars to and this was proved by the duo Mandy and Goldsmith. They get connected over a post on Instagram of Dawe's singer newest album.
Moore being a bashful girl she can resist over the circular translucent cushion cut ring.
10. Margot Robbie & Tom Ackerley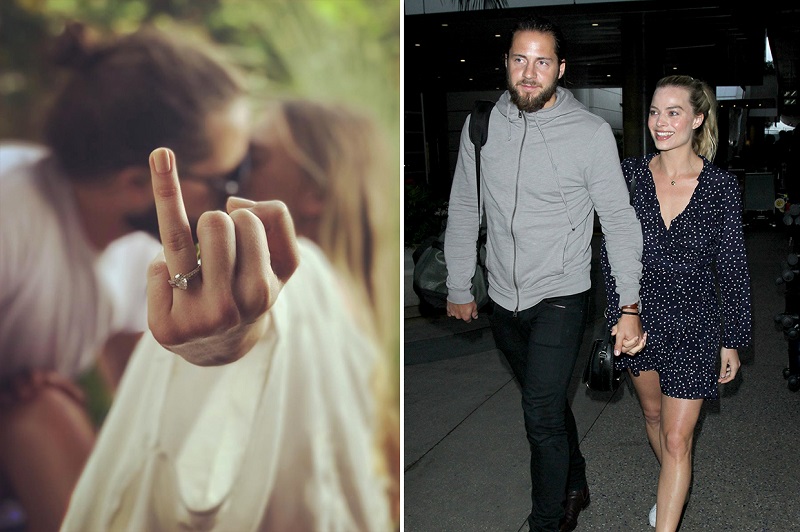 The famous actress of 'The Wolf of the Wall Street' met her beau, a movie director, on the set of 'Suite Francaise,' a film on World War II.
In December 2016 a rumor was peeping in everyone's ears of their Australian nuptials they confirmed it with a photo of her 2.5-carat pear-cut engagement diamond ring.
11. Meghan Markel & Prince Harry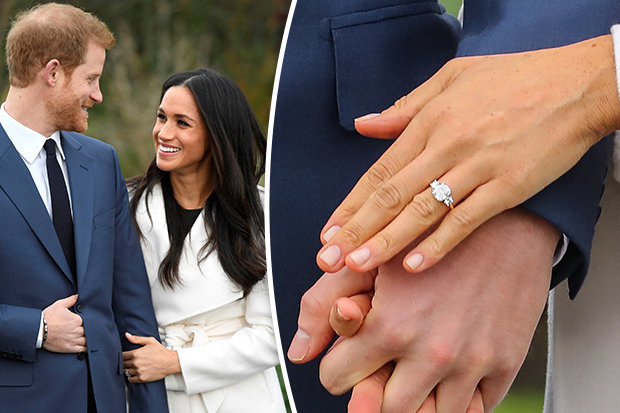 After breaking through a blind date in 2016, one and a half year later they announced their engagement.
Using the diamonds form mother's collection Prince designed the ring showcases a bold cushion cut diamond in the center with flanking round cut diamond on yellow gold metal.
12. Mila Kunis & Ashton Kutcher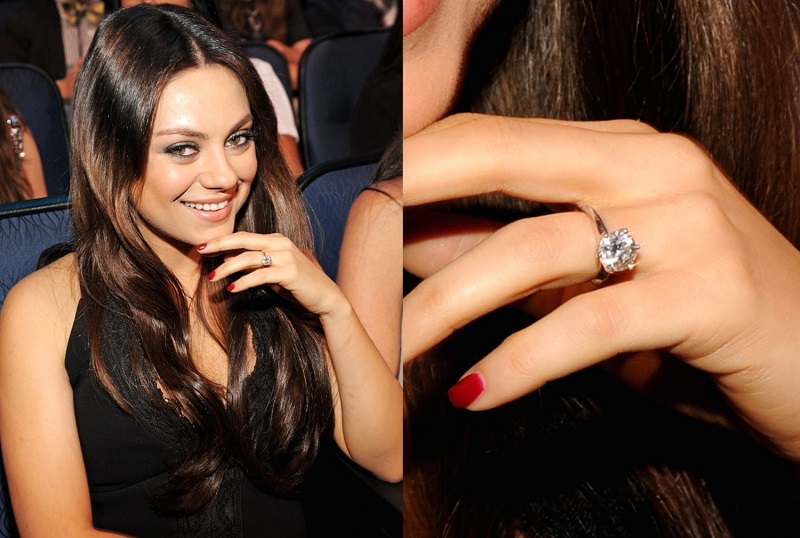 Kunis was just 15 when these lovebirds fell for each other in the 90's hit 'The 70's Show'. Aston proposed her in 2014 with a 5-carat solitaire diamond ring in a gold band.
Kunis opened up her heart about how much his proposal meant to her.
13. Natalie Portman & Benjamin Millepied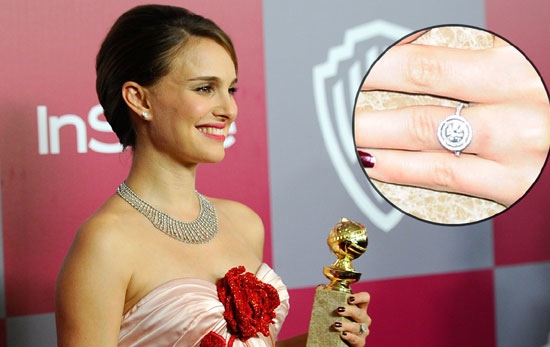 Black Swan, where the destiny first introduced them. They have on-screen negative characters, but they have some off-screen chemistry.
Benjamin know how to pick her, he proposed her with a halo surrounding old antique mine cut diamond with an extra pave of setting underneath in 2010.
14. Nikki Bella & John Cena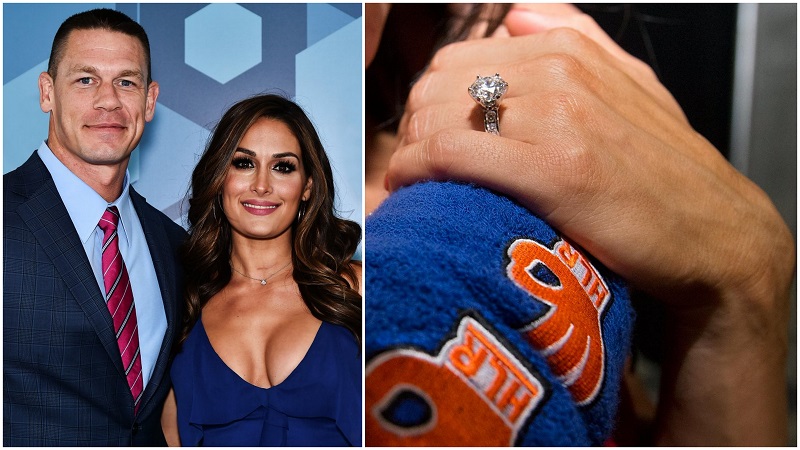 The Internet sensational WWE wrestling actor made his proposal live and got engaged in the center of the ring.
He gifted her WWE fellow star and love of his life Nikki Bella 5 carat round brilliant cut Tiffany & Co. diamond ring.
15. Olivia Wilde & Jason Sudeikis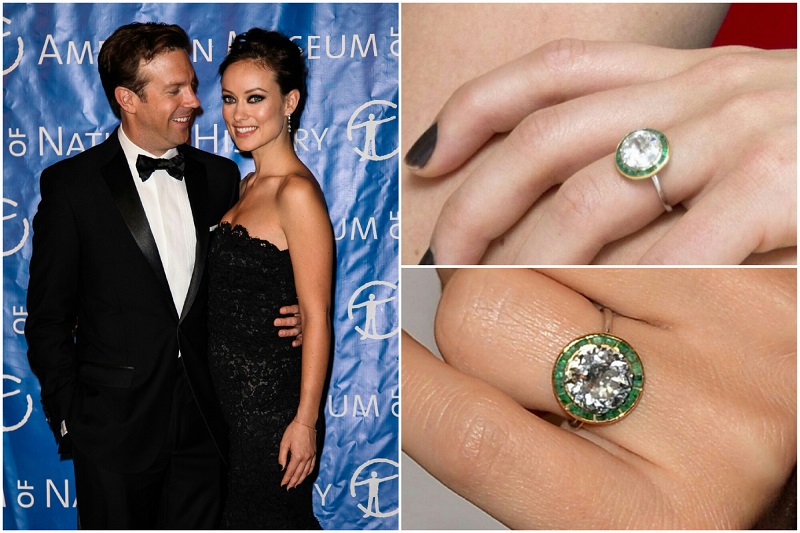 November 2011, the date when these actors start dating each other. Jason chooses to kneel down with a 1920s Paris made vintage design 2.5-carat diamond ring.
The uniqueness of the ring is that the diamond has a halo emerald which lifts the entire piece, and also it reminds of Olivia's eyes.
16. Paris Hilton & Chris Zylka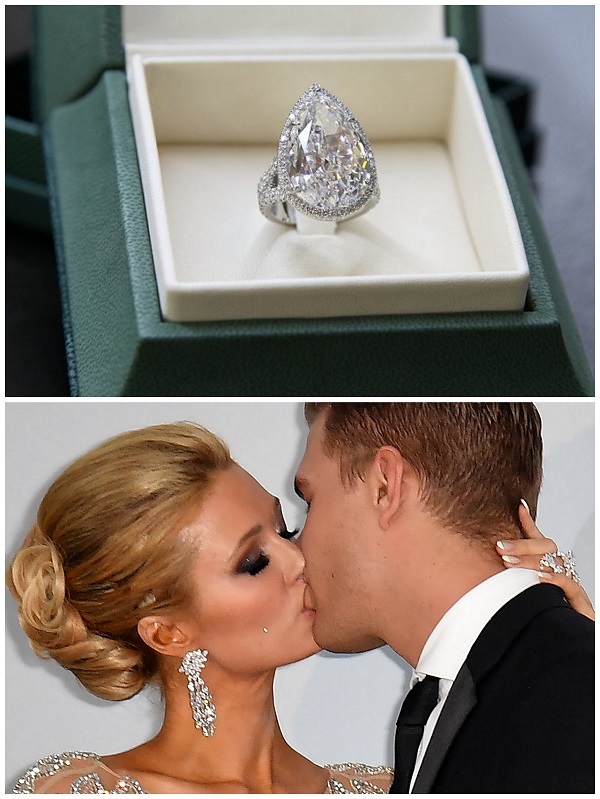 These socialite actors started dating each other in 2016, but they have first crossed their eyes at an Oscars party. Zylka proposed her on the slopes of Aspen, Colorado, with a 20-carat pear-shaped diamond ring.
This ring is surrounded with 2 carats of diamond and estimated to be of $2 million.
17. Sarah Jessica Parker & Matthew Broderick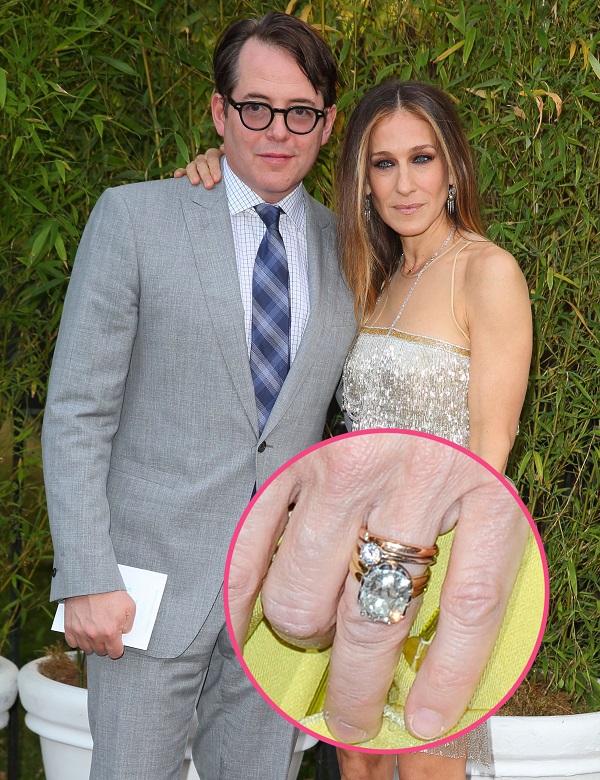 In 1997, Sarah and Matthew threw a surprise party where they have invited their 100s of friends which have turned out to be their big day.
When everyone arrived there, Sarah and Matthew officially announced wedding by slipping a 5-carat emerald cut diamond with a solitaire platinum mounting.
18. Scarlet Johannson & Romain Dauriac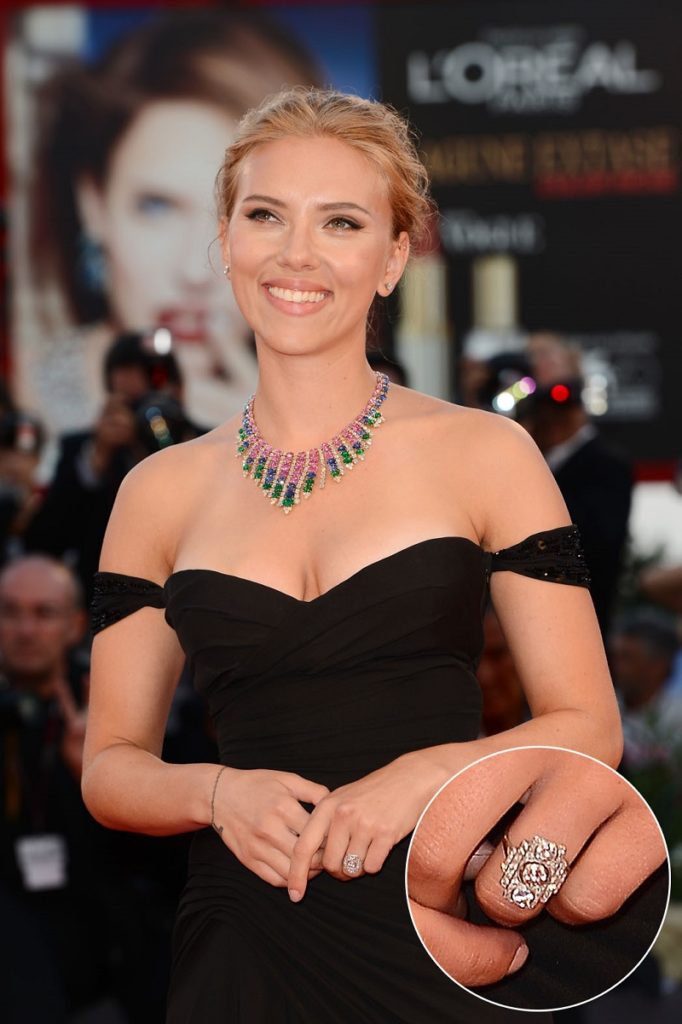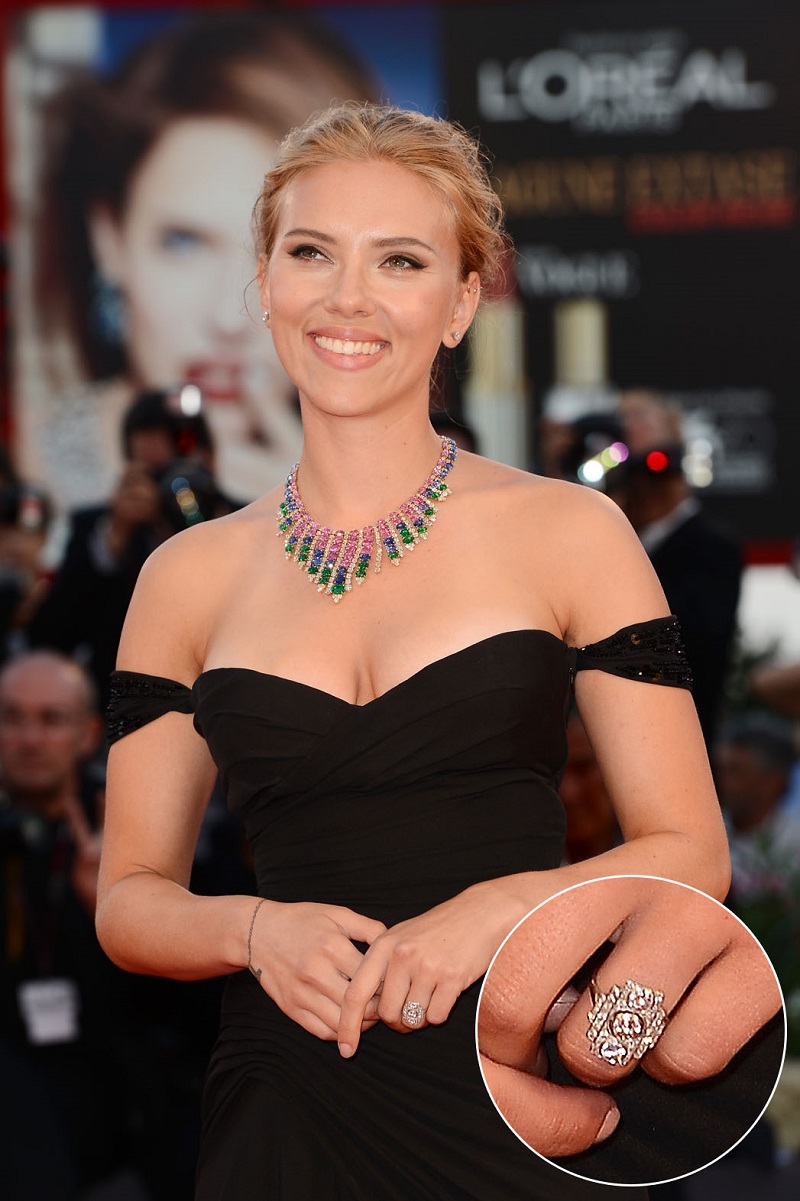 Fuzi Uvtpk, a mutual friend and tattoo artist first introduced the high paid actress Scarlet to the French journalist Romain Dauriac. After their successful meeting, they planned to engage in 2013.
For their engagement, Romain decided to go for large rectangular Art Deco-inspired ring that will feature a trio of bezel set center diamond.
19. Serena Williams & Alexis Ohanian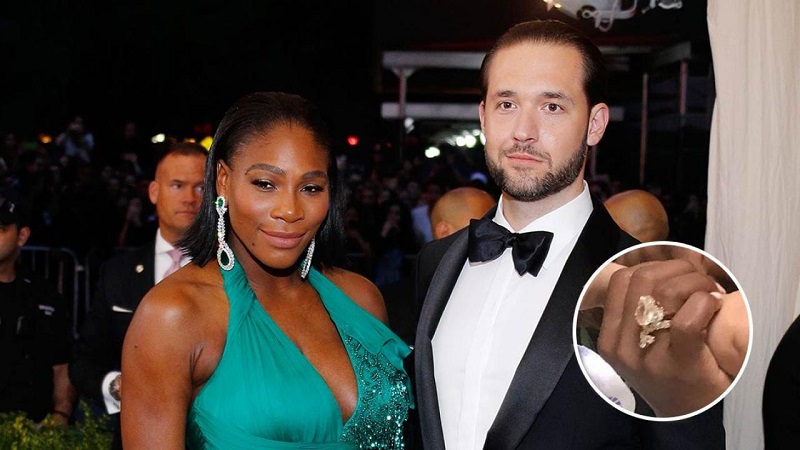 The world champion tennis player Serena Williams first met the Reddit co-founder Alexis in Rome.
Alexis restored the moment of his first date in late 2016 by proposing love of his life at the same lounge with a 12-carat emerald cut diamond ring in a platinum setting.
20. Sophie Turner & Joe Jonas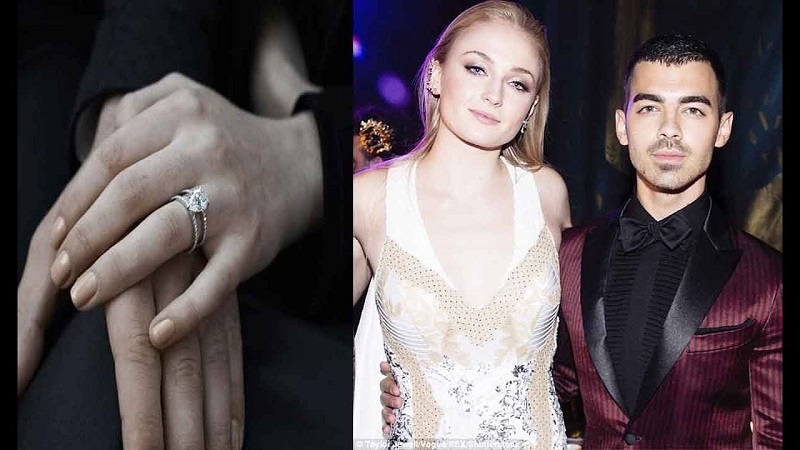 The world-famous actress 'Game Of Thrones' Sophie Turner and the DNCE singer Joe Jonas got introduced through mutual friends, and they made their relationship in public by posting a photo on Instagram showcasing Turner's 3-carat pear-cut rock in 2017.