The process of choosing the most unique and amazing wedding invitations for your wedding is indeed tricky but, the task of choosing the right wedding invitations wording is even more daunting.
Every word written on your invitation should be a mirror image of your personality and wedding style without being rude at all. It should be polite yet it should clearly specify what is your wedding theme, what is your dress code, if children are allowed or not and other such basic information. Although wedding invitation wording etiquettes is a vast thing, we have just tried to simplify things and provide you a basic layout of how you need to do it right for your wedding.
There are indeed lots of samples available for wedding invitation wordings in the cyberspace but, couples still get confused as what should be done and what should not be done. With the help of 123WeddingCards your fear and confusion about wedding invitations wording will fade away and before we proceed, let us tell you the key components of idea and modern wedding invitations wordings: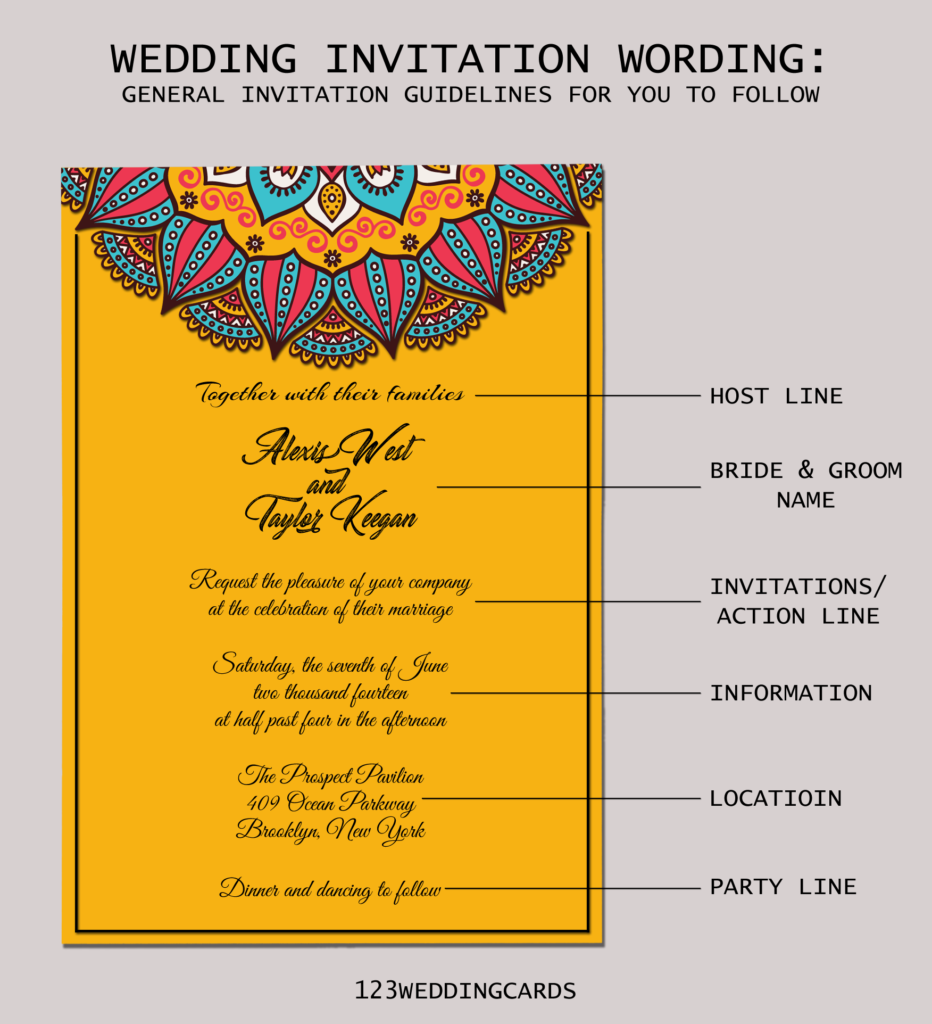 Names: When it comes to wedding, you really need to mention the important names involved in the wedding. It's not just about the name of the couple alone but, the name of parents as well.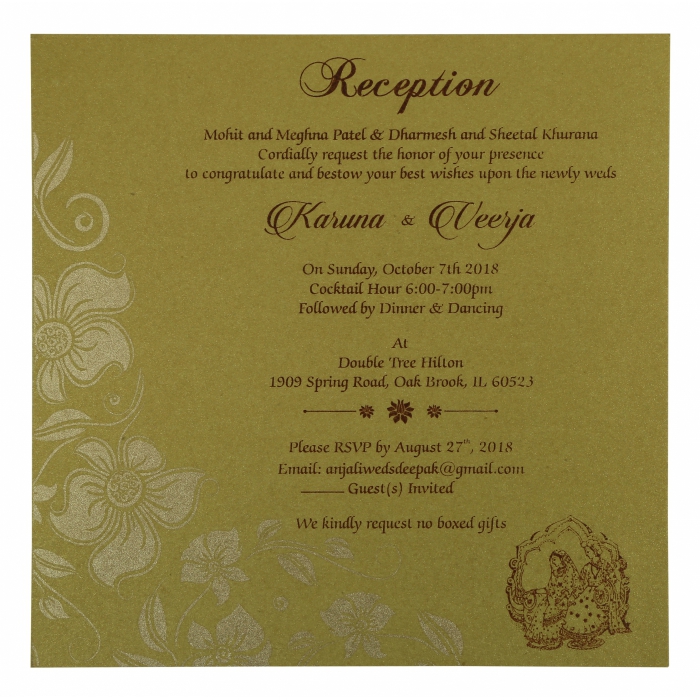 Venue and Address: Do you really want your guests to attend your wedding at right time? For this, all you need to do is mentioning your wedding venue along with the address on your invites.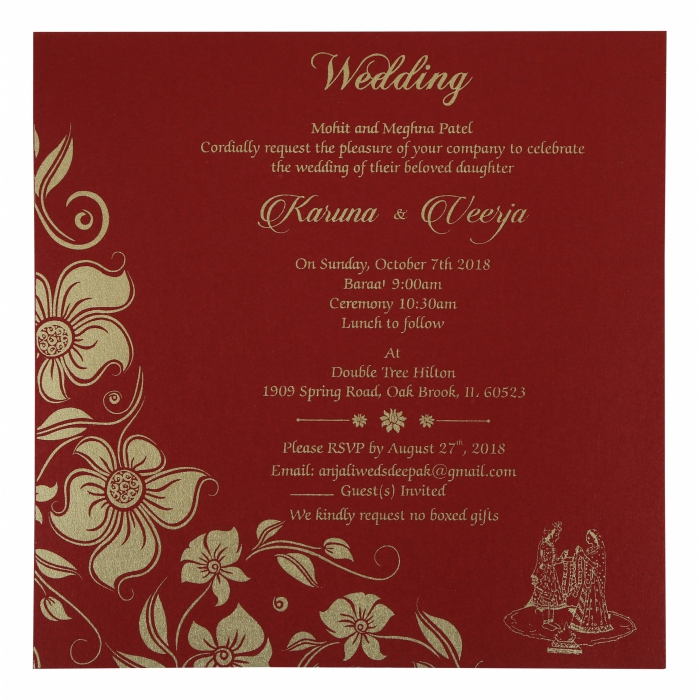 Date and Time: Not just the venue needs to be included in your wedding invitation wordings, you need to mention the time and date as well for your guests to be there right on the time.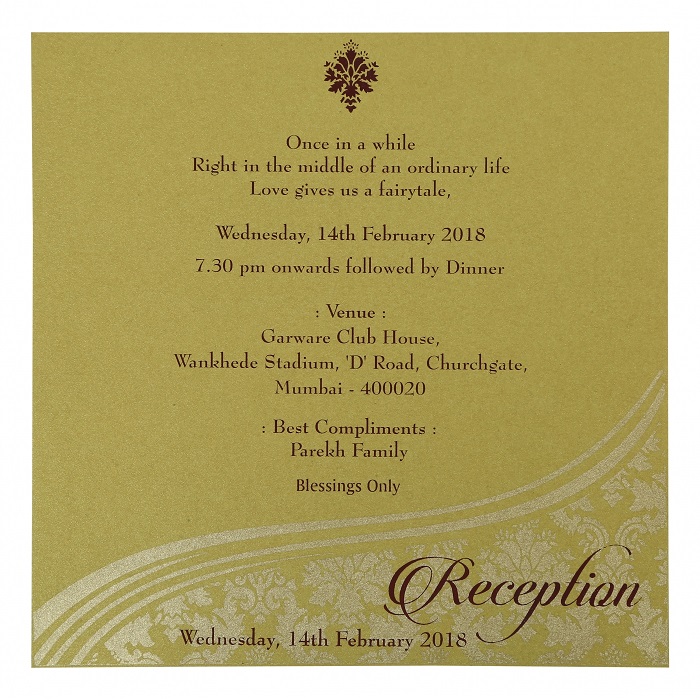 RSVP Information: The most ideal wedding invitation wordings etiquettes suggest including details for RSVP. You can either mention the address for the same or you can mention the email address and phone number for this.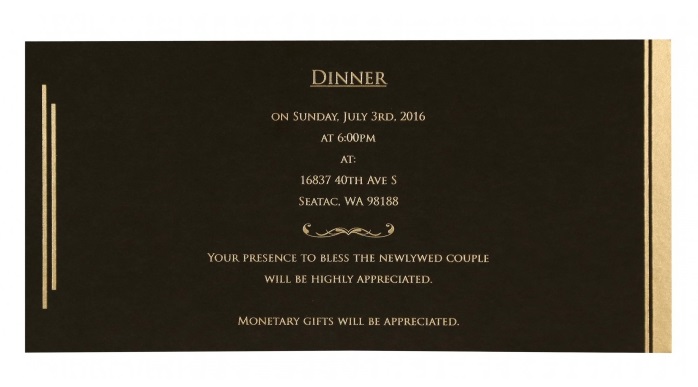 RSVP deadlines: Although, the ideal deadline for RSVP is 4 weeks but, you can tweak it for your convenience. Just make sure that your deadline helps you in finalizing the number of guest attending your wedding ceremony.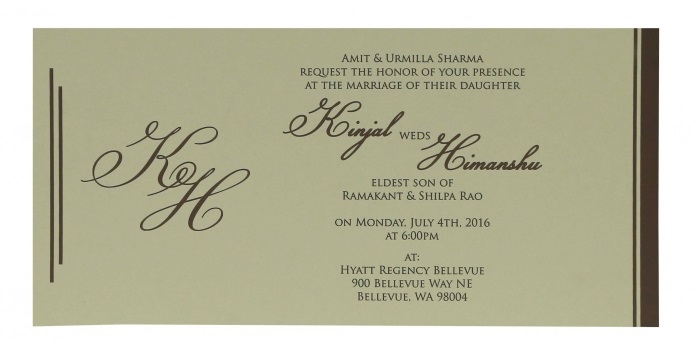 All the above-mentioned details are general details of modern wedding invitation wordings that are sure to be incorporated in your wedding invite but, the actual problems arise when you have to mention the following four details in your invitation.
Wedding Gift Registry: Mentioning this upfront on the wedding invitation may sound rude to lots of wedding guests but, if you want to include this detail on your invitation card, you have to be highly polite and you can try something like this, "Blessing us with your gracious presence is the greatest gift for our wedding but, still if you want to honor us with a memorable gift, we have registered a list that you can see".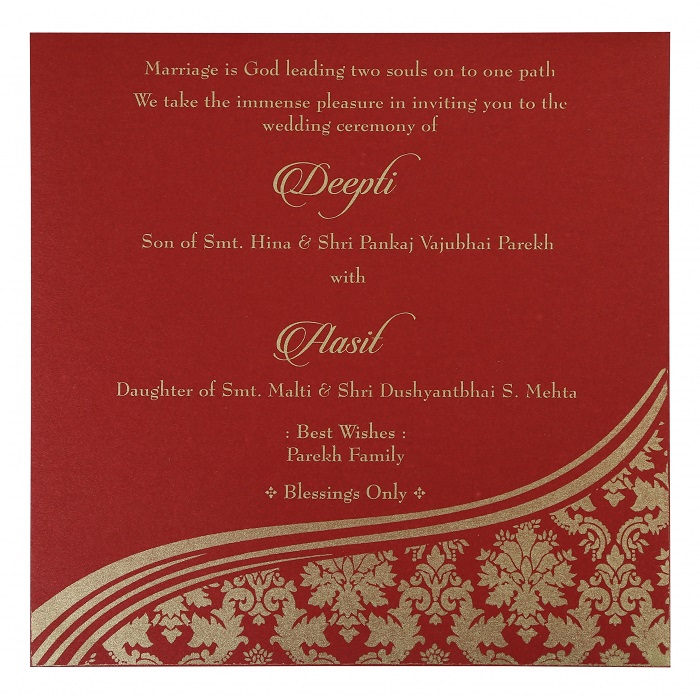 Dress Code: If you have a specific theme and accordingly a dress code for your wedding day, you can include this information on your wedding card. Just try to assure that you mention the same with utmost intelligence without sounding rude.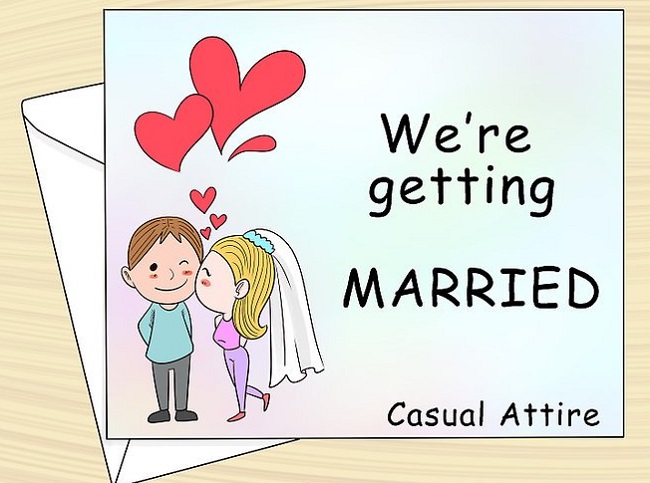 Kids Invited or Not: This is the most sensible part of any wedding invitation wording etiquette and it can really disappoint lots and lots of your wedding guests. If you are inviting the kids, you really don't need to mention anything but, if the case is different, you can try to be as polite as possible to mention the same. You can give a justified reason with the information that sounds convincing.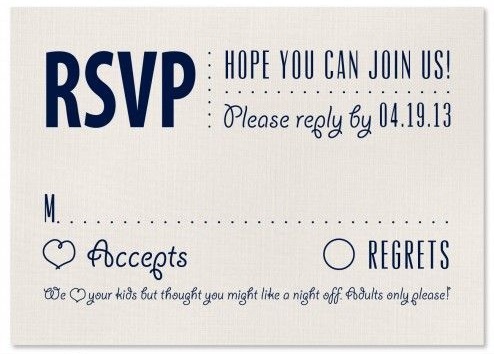 The Dietary Requirements: With the fast pace world, people are suffering from some serious alignments making it impossible to eat everything. For this reason, it is advisable to incorporate the need to know the dietary requirements of your wedding guests in your wedding invitation wordings.
Here are some wedding invitation wording Templates by 123WeddingCards which you can use for your wedding invites:
Wedding Invitation Wording Template 1
Mr XXXX and Mrs XXXX
together with
The Late Mr XXXX and Mrs XXXX
with honour
request the company of
______________________________________________________________
to attend the wedding ceremony of their children
XXXX
&
XXXX
at
St Marki's Presbytery
0123 Green Park Street
Drummoyne NSW 2047
on
Sunday 7 August, 2005
at 1pm
Afterwards a reception will be held at
West End Destination ~ Family Party Hall
Bayside Entrance
Silviya Grand Ballroom
012-345 Alex Street
Lilyfield NSW 2040
at 5pm
RSVP by Sunday 10 July, 2019
XXXX (01) 2345 6789
XXXX (01) 2345 6789
Wedding Invitation Wording Template 2

XXXX
And
XXXX
request the joy of your presence
at their wedding celebration
Saturday the eighth of July Two thousand and twenty
At half past four o'clock in the afternoon
at
Plymouth Congregational Church
0123 Devon Road
Coconut Grove, Florida
Reception will follow at
Doubletree Hotel
0123 South Mountain Drive
Orange Grove, Florida
We look forward to celebrating with you.
Formal Attire
Wedding Invitation Wording Template 3

Because you have shared in our Lives
by your friendship and love, we
XXXX and  XXXX
Together with the Groom's parents:
Mr. & Mrs. XXXX
and
The Bride's parents:  Mr. & Mrs. XXXX
Invite you to share
The beginning of our new life
Together
When we exchange marriage vows
During the Hindu ceremony
On Friday, 1st of July, 2019
AT 6:00 PM at 012 Park Ave.
Bronx, NY 10473
We Invite you to share with us
As we Celebrate the union
of our lives and our families
AT the Dinner Reception that will
Be held on
Saturday, 2nd of July, 2019
AT 7:00 PM at 012345 Hamilton Ave.
Bronx, NY 10473.
Do you wanna view more invitation wordings examples? You can visit at invitation wording ideas 
Along with all these details, make sure that you do the right addressing of your guests and let them know all the details about your wedding so that, they become happy to be a part of your celebration.
With our simplified and ideal modern wedding invite wordings guide, we hope that you would do wonders while picking the words for your invitation cards. Do let us know how you nailed it.