Music is one of the most beautiful things in our life. It fills vibrant colors in our life. Music breathes life, and it makes everything filled with living and an enigmatic aura.
Maybe that's the reason why music holds such a chief role in our weddings. The beats, the rhythm, the melodies, the tunes make everything alive. And that's why we are here with tips that will help you in planning your wedding music.
Music and Wedding
Besides florist, wedding dress designers, caterers, and photographer, which plays a pivotal role in setting the tone of a wedding, is the choice of music. You put lots of efforts into everything, but do you put the same efforts when it comes to planning your wedding music?
Not really!
Always remember to give yourself full permission to plan your wedding music, just like a professional DJ or orchestra. So without doing further ado, let's start planning your wedding music and fill the moments with happy tunes, and make your big day energetic, and melodious.
With these awesome tips for planning your wedding music, we guarantee you to kick start your nuptial day with full energy.
Plan an Outline
The first and foremost step towards planning your wedding music is to outline an entire day and then identify the right song that suits each part of the day.
For example, you can plan a song for your entrance time when you and your partner reach the reception, or you can plan a melody when you and your partner do the couple dance at the reception.
Here are a few songs that fit every moment of your wedding:
For the Guest Arrival
I don't know any better – Johnny and Heidi,
Inevitable – Jodie Chan
Mairi's Wedding – Caroline McCaskey
For Wedding Party Entrance & Processional
Loving you – Mahogany Lox
All I wanted – Voyageur
So Will I – Ben Platt
Bride Entrance & Processional
I love you more – Dionne Carole
Walk-in a Room – Muscadine Bloodline
Holy/H.O.L.Y – Charlotte Ave
For Wedding Vows
I Found A Love – Jose James
Beginning Middle End – Leah Nobel
Tough Ones – Cooper Alan
Guest Exiting Ceremony
Anyone/ Still the One – Charlotte Ave
Glad you exit – Dan+Shay
Without You – Otis Kane
Talk to You Partner for Wedding Music
When it comes to planning your wedding music, do not forget to take into consideration your partner's choice just like you choose wedding invitations, caterers, wedding venues, etc. Together, in the same way, we suggest you plan your wedding music together.
Share your outline plan with your partner, and share with your partner. You both can go for the instrumental versions of the music.
Here are the names of some of the best instrumental songs for weddings:
Make Ice – Aline Smolina
The Prayer – Andrea Bocelli feat. Celine Dion
Song Without Words – Yo-Yo Ma & Kathryn Slott
Fall On Me – Andrea Bocelli
A Thousand Years – The Piano Guys
Such Great Heights – The Section Quartet
Nothing Else Matters – Scott D Davis
Marry Me – United Guitar Players
I Won't Give Up – O'Neill Brothers Group
Without You – Josh Vietti
Do It Yourself Wedding Music
Are you planning for a wedding with close-knitted family members or a large gathering? No matter what your choice is, you can always go for planning your wedding music by making your personalized music list that will carry a unique vibe for the evening.
Provide your DJ with the best of our wedding music that they will play at every moment of your nuptial and make it more personalized.
To elevate the wedding experience, you should always hire a wedding professional or music expert. It will guarantee you the easy flow of personalized music at every stage of the ceremony and wedding day.
Live Band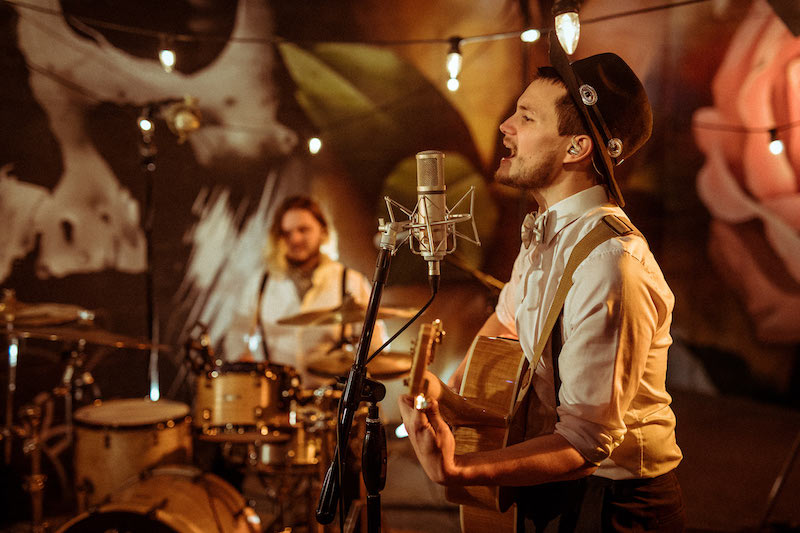 Having a live band play your favorite melodies will be an extraordinary experience. The aura of live music will excellently capture everyone's mood across the spectrum.
While you are planning your wedding music, you can do thorough research and find an ensemble that fits the style of your wedding.
You can make a playlist of your choice and handover to the band people prior. In this way, you need not have to worry about the music that plays on your wedding day.
Never afraid to ask the band group to accommodate your taste, after all, it is your special day.
Keep What You Like
A wedding is a time where one can have a potpourri of the music of a different genre. Well, just remember, it is your day, and you need not have to make everyone happy.
You have been planning your wedding music for so long and having your favorite songs played during your wedding is something you have earned.
Be it jazz or R&B hits, choose whatever you want, as long as you know it is making you happy.
Here are some of the evergreen songs from a different era that you can include and make your day memorable.
There must be wedding guests who are from the 70s, 80s, and 90s. You can serve them the finest songs from their era and elevate their wedding experience.
Wedding Songs from the 1960s
Chain of Fools by Aretha Franklin, 1967
Respect by Aretha Frankin, 1967
Stand by me Ben E King 1961
The Twist by Chubby Checker, 1967
Bad moon rising by Creedence Clearwater Revival, 1969
Wedding Songs List from 1970s
Dancing Queen by Abba 1976
Highway to hell by AC/DC 1979
Walk this way by Aerosmith, 1975
Staying Alive by Bee Gees, 1977
Old Time Rock and Roll by Bob Seger, 1979
Wedding Songs List from 1980s
Come on Eileen by Dexys Midnight Runners, 1982
I Melt With You – Modern English, 1982
Take on Me by A-Ha by 1984
The Safety Dance by Men Without Hats, 1982
Funkytown by Lipps, Inc, 1980
Wedding Songs List from 1990s
This is how we do it by Montell Jordan
I Don't want to miss a thing by Aerosmith
I want it that way by Backstreet boys
All my life by k-Ci & Jojo
Friends in Low Places by Garth Brooks
Wedding Songs List from 2000s
Stan – Eminem
Beautiful day – U2
Rehab – Amy Winehouse
Maps – Yeah Yeah Yeahs
Seven Nation Army – The White Stripes
Wedding Songs List from 2010s
Uptown Funk – Mark Ronson feat. Bruno Mars
Can't Stop The Feeling! – Justin Timberlake
Thinking Out Loud – Ed Sheeran
Marry You – Bruno Mars
All Of Me – John Legend