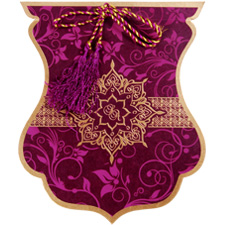 Wedding invitations has evolved with generations impacting each and every individual. It acts as important medium for wedding decisions. It is customary to send invitation roughly before 1 or 2 week before the ceremony. With ample options in the market gives an impeccable opportunity to choose cards for a dream marriage. If chosen wisely, it informs your guest about the style your marriage whether it's a formal or casual ceremony. At the same time it informs about the marriage location, theme of the marriage, if you have any.
It can be customized according to the theme, relevance of the occasion. Cards are priced as the requirement from reasonable to expensive ones. The pricing part usually depends on –
Paper quality selection.
Design and texture used.
Color combination selected.
And the list goes on…
The technological advancement has drastically changed the complete outlook of invitations. It's not only the shape; it is concept of the wedding invitation cards that has truly gone under a major transformation. Previously there was no concept of theme based wedding cards as people were not conscious about the concept of Theme-based weddings. The influence of Western society on Asian countries has increased charisma of theme-based marriages concept. That's how; theme-based marriage invites began grasping the attention of people. There is an exceptional excitement in creating and sending such kind of invites to the guests. It offers a unique look to the wedding by creating a harmonized appeal. It involves a scope of great creativity in such kind of invites.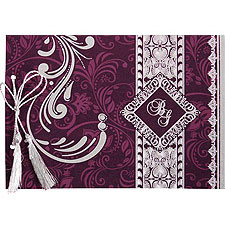 Formerly designer wedding cards were restricted to the wealthy people but now due to modern technology and availability of card designers has made it possible for middle-class people to go for exclusive designer cards. Another concept that has been gaining eminence is, blending the features of traditional and contemporary period.
For example, the trend of using precious gem stones and kundans in cards along with synchronizing it with contemporary printing technique likes raised silk screen printing, flocking, hot foil stamping, embossing and laser cuttings to give a new multi-dimensional look to invitations. The concept of handmade artistic wedding invitation card has been witnessing an attractive revival because it offers a distinctive look.
A dream marriage is never complete if it's not unique in terms of style, theme and most importantly the location. Like ivory is precious, a unique wedding becomes precious with designer styled invitations. Nowadays, marrying couples lay more emphasis on theme based marriage to show more uniqueness and to be different from others. For a classic themed wedding, a classic invite is very relevant, as fish without water. The same equation goes true for theme based ceremony or destination marriage, as artistically handcrafted designer cards give a different preview of the occasion. Now choosing cards is easier with technological advancement as various online shopping portals are providing customization tool to pick a perfect card for the occasion. Last but not the least shopping online for invitations is a perfect way to save your hard earned money, by choosing a specific perfectly designed card gives a hassle free planning of bridal ceremony. Now Marriage is not only about fun or frolic, rather a synchronized planning to make it a perfect occasion.