Wedding invitation cards are one of those wedding details that you cannot take for granted at all. After all, they make a very first impression of your ceremony on all your wedding guests. Along with this, they sort out the purpose of informing your guests about each and every detail of your wedding ceremony. So, it becomes obvious that you should focus on every wedding invitations details before finalizing your ideal wedding card and even it's not that difficult to do so with our guide to wedding invitation details that you need to know.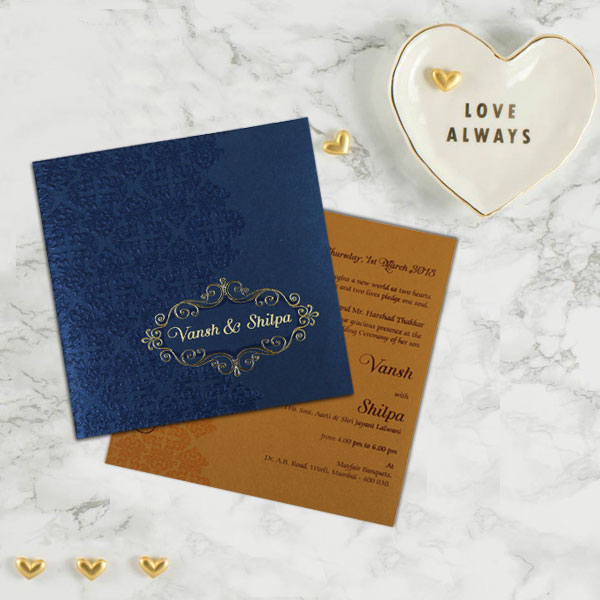 The Wedding Invitations Themes
When you search wedding invitations online, you would notice that wedding invites are available in various themes and they all look different. From theme, one can easily interpret that the look and feel of each wedding invitations themes differ. Here are some of the quirky themes of wedding cards from 123WeddingCards for you to understand.
Die Cut Invitation Theme:
One of the most astonishing wedding invitations online die-cut invites are crafted by using a metal die to cut some different and unique shapes to make these cards. With bold use of colours and shapes, they look simply gorgeous.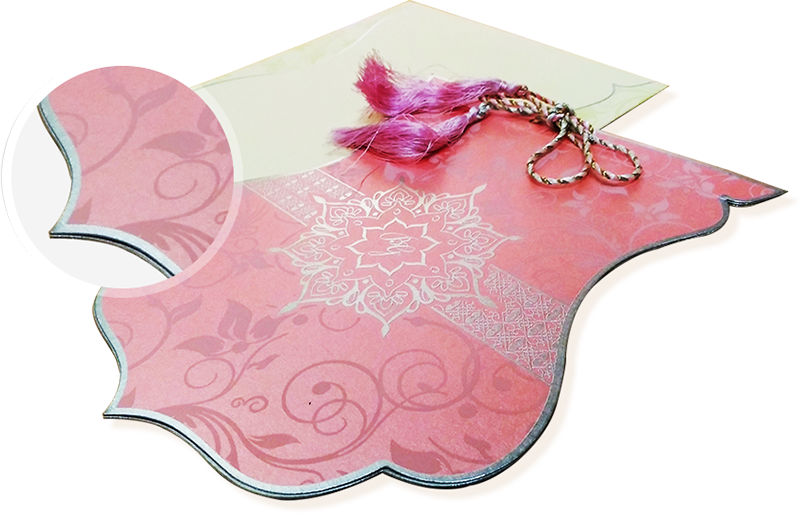 Floral Invitation Theme:
No one can resist the charm and beauty of flowers and hence, we at 123WeddingCards created these stunning floral themed wedding invites that include flawless use of bright colours, floral textures, engraving prints and much more to make you stunned.

Paisley Invitation Theme:
When the Persian culture seems highly delightful, how we forget to incorporate their essence in our wedding invites at 123weddingcards.com. Unique patterns of twisted teardrop with rich and beautiful embossed texture is the USP of these wedding invitation theme.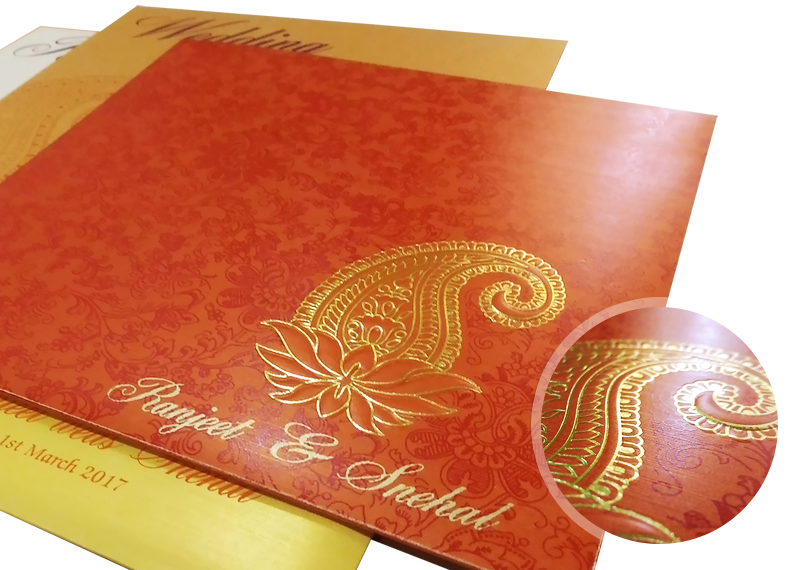 Damask Invitation Theme:
Extravagant and luxurious weddings definitely need invites to define their class and hence, we have come up with these alluring damask wedding cards which have monochromatic silk, linen or synthetic fibre used.

Wedding Invitation Process
Along with theme, wedding invitation process involved also makes a whole lot of difference in your invite. At 123WeddingCards, we offer wide range of process to design your wedding cards, here are the most loved one process for you to check out.
Foil Stamping Invitation Process:
This is a simple and effective method to create masterpieces of wedding invitation cards involving use of heat, pressure and metallic paper to do so. It is all shiny and shimmer that steals heart.

Embossed Invitations Process:
High pressure is involved in this wedding invitation process and it elevates the pattern on paper giving it a beautiful look and feel. You can touch the patterns to feel the vibes it has.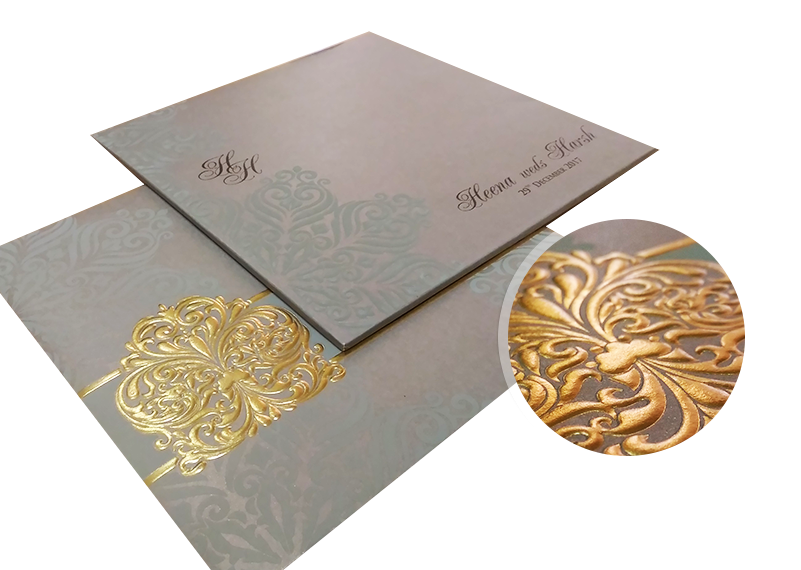 Laser Cut Invitation Process:
Unique designs, patterns and textures are created with this process and it involves the use of laser cut machines to do so. It gives magnificent designs that are simply wow.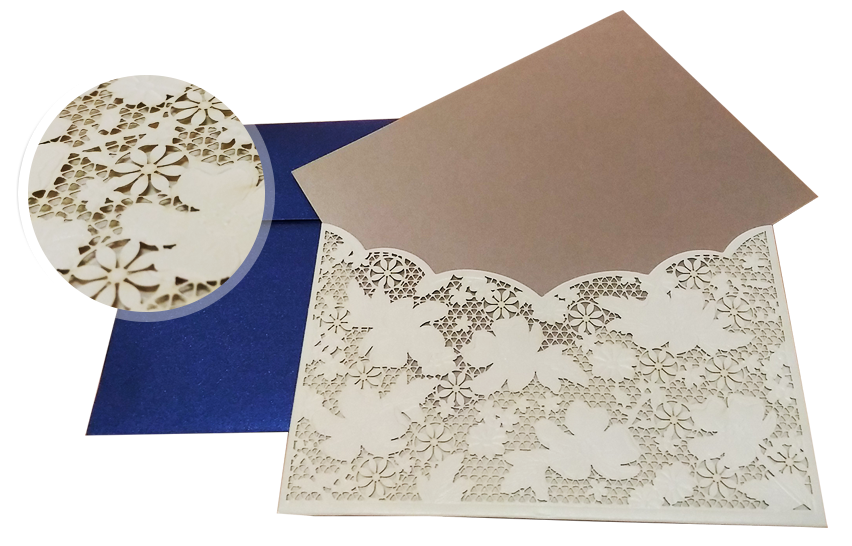 Screen Printing Invitation Process:
One of the oldest methods of printmaking, screen printing is also one of the most popular printing process for wedding invitations. Balance the colours and calibrate the pattern and you would witness the most alluring wedding invites.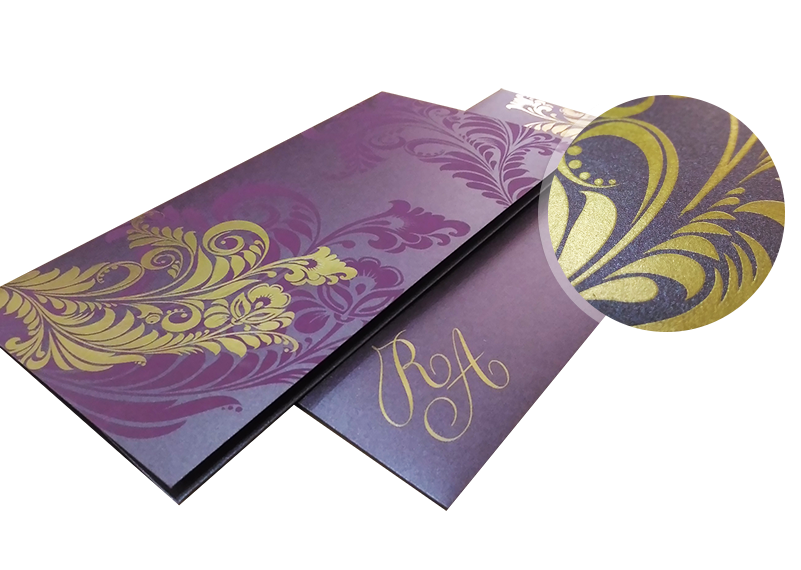 Glitter Invitation Process:
At 123WeddingCards, we have witnessed that glitter process for printing wedding invitations is the most cherished one. It brings lot of shimmer, shine and elegance in your wedding invitation details.

The Information
Some people focus too much on colour, pattern and design but, they forget the most important role of the invitation cards. They are meant to inform your loved ones about each and every detail of your wedding. So, it is one of the most important wedding invitation details that you cannot skip. Make sure that it has names, venue, dress code, direction card and everything mentioned clearly.
Design takes time
You must have heard 'Good food takes its own time to cook'. Likewise, a perfect wedding invitation card takes its own time to print. Let the designer know what you are looking for and ask him/her to make the most elegant card for your wedding but, allow him to take his time to do so. Don't be in a hurry to avoid any fuss later.
So, when you search your wedding invitation cards online, make sure that you notice everything to purchase the best one for you.