Deciding your wedding theme is easy but, matching every wedding detail with it is a bit difficult. After all, everything should reflect your own personality and unique style. We can't help you with everything but, wedding invitation design is something we can.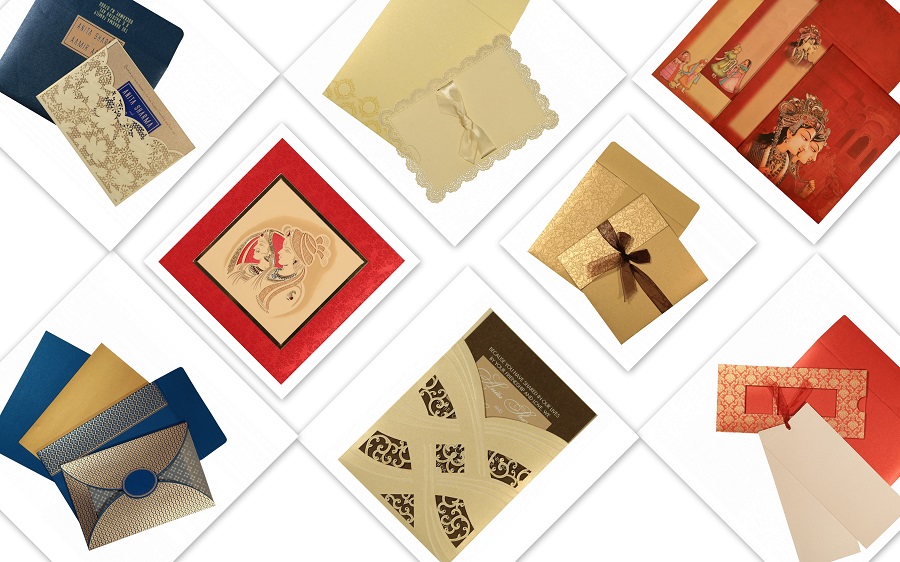 1. Floral Aura
Finding the trendiest card for the floral theme of the wedding is not difficult anymore with our beautiful pink and ivory colored invitation card. The use of shimmer and satin paper imparts an extraordinary charm to its magnificent beauty. The hot foil stamping and embossing process are used artistically to deliver this beauty.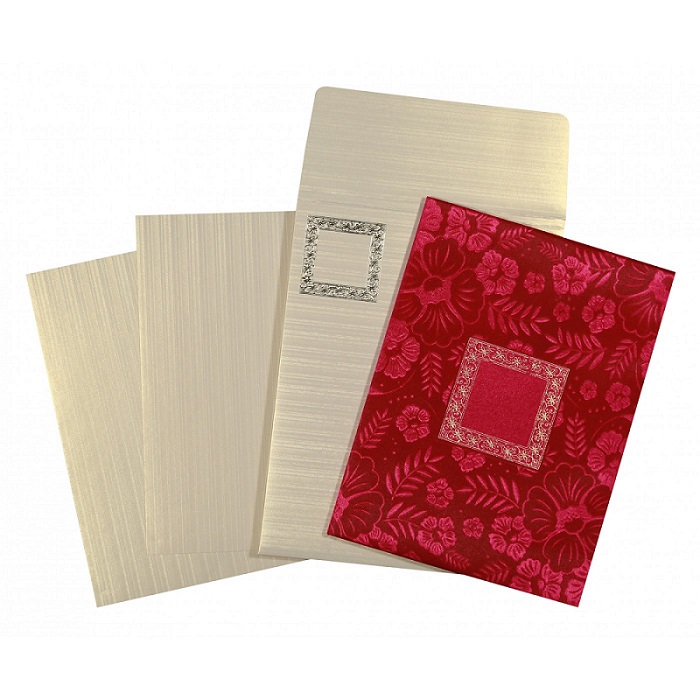 2. Hindu Impression
For an unbeatable traditional Hindu wedding theme, you would need completely traditional wedding cards ideas. Made from red colored Matt paper, this impressive wedding card will leave no space for you to look further. The beautiful imprint of Hindu god goddess by the hot foil stamping process and offset printing will clearly give an impression of your wedding theme.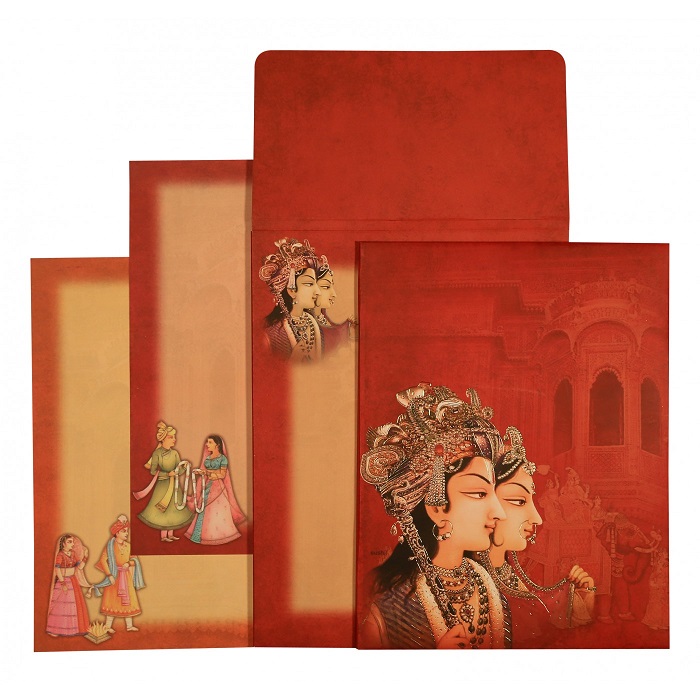 3. Rustic Charm
The glamour of rustic theme wedding is completely unmatched from a very long time and that's why it is the most preferred one. If you are planning a rustic themed wedding, you have to look no further for your wedding card. The cream color of this beautiful card will simply blow your mind. And, the use of shimmer paper and laser cutting is something to fall for.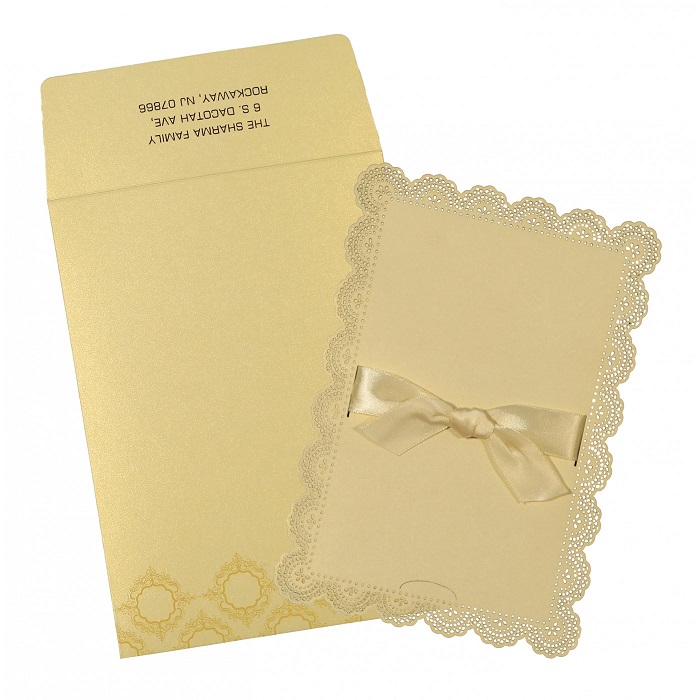 4. Gold Shine
Setting eyes on gold themed wedding is comparatively easy than finding the wedding details for it. You can't have everything in real gold after all. For this sole reason, set your eyes on our beautiful golden card for your wedding. The contrast of brown shimmer paper with golden one looks super beautiful. And, you will find the most creative designing and quality for this card.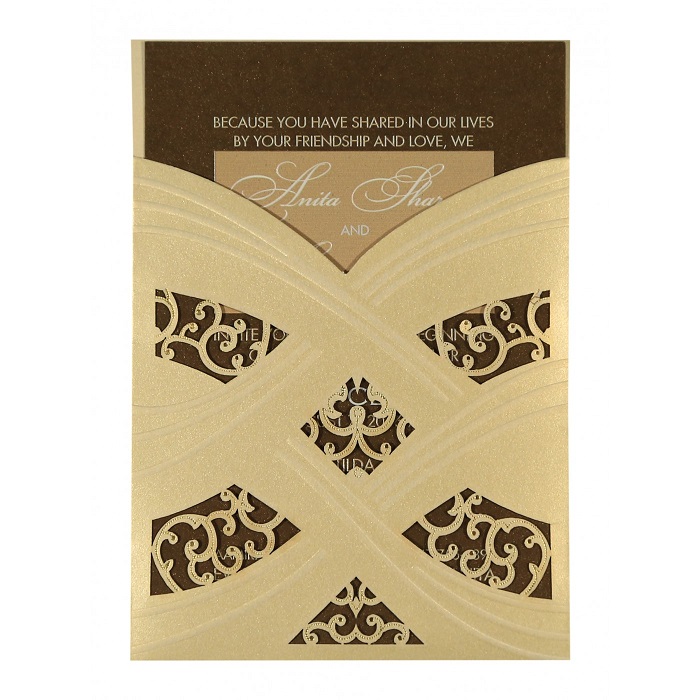 5. Peacock Beauty
The color, beauty and charm of a peacock are something to be copied and that's why peacock themed wedding is in trend from a long time. To match this wedding theme, we present the most beautiful peacock wedding card. Artistically crafted by hot foil stamping, the orange colored Matt paper is adorned with subtle shades of green color.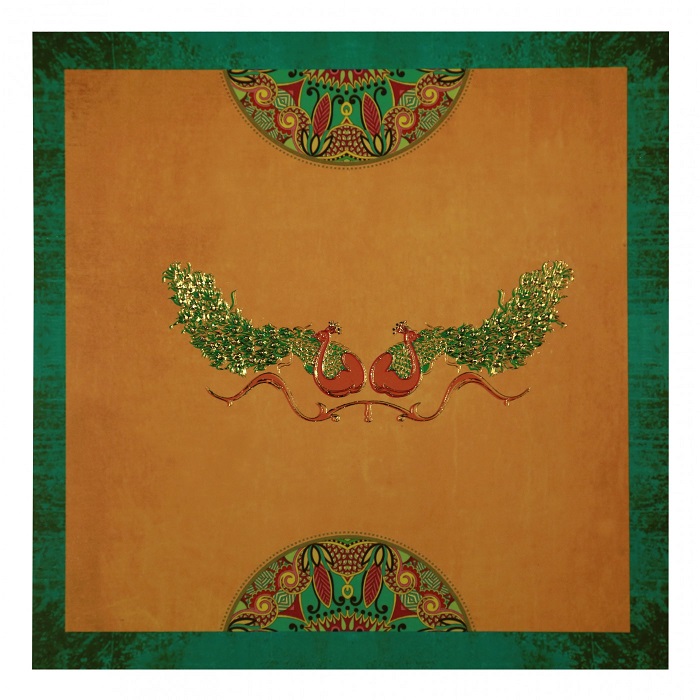 6. Bluish Glam
One of our finest creations, the bluish glamour of these new arrival wedding cards is simply magical. The contrasting yellow and golden silk screen printing on this is something to mesmerize everyone. The use of blue shimmer paper for its creation is so beautiful that you will be left awestruck.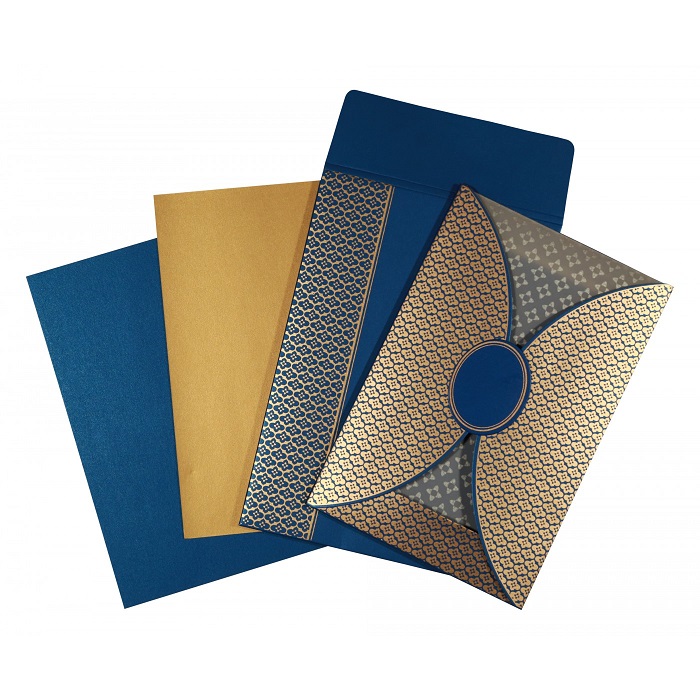 7. Vintage Detailing
The vintage wedding theme is quite famous these days and trusts us, these khaki wedding invitations designs is exactly what you would adore for your vintage styled wedding. Made from khaki shimmer paper, the adorable wedding card is decorated with silk screen painting and has a brown colored ribbon to intensify its charm.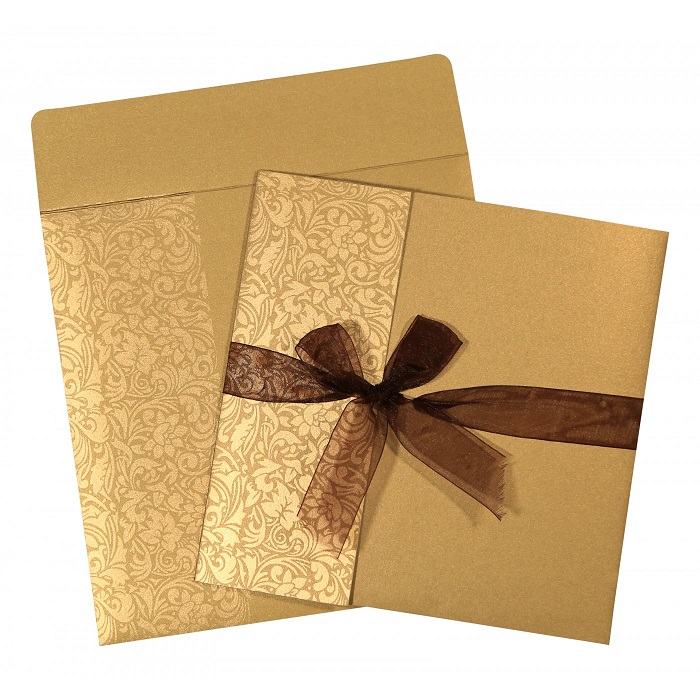 8. Islamic Authenticity
Muslim weddings are a true epitome of Islamic tradition and culture and hence, it is quite obvious to have the trendy wedding cards ideas. The red and ivory colored shimmer paper is used to deliver a perfect balance of elegance and grace. You would immediately fall in love with this card once you see it.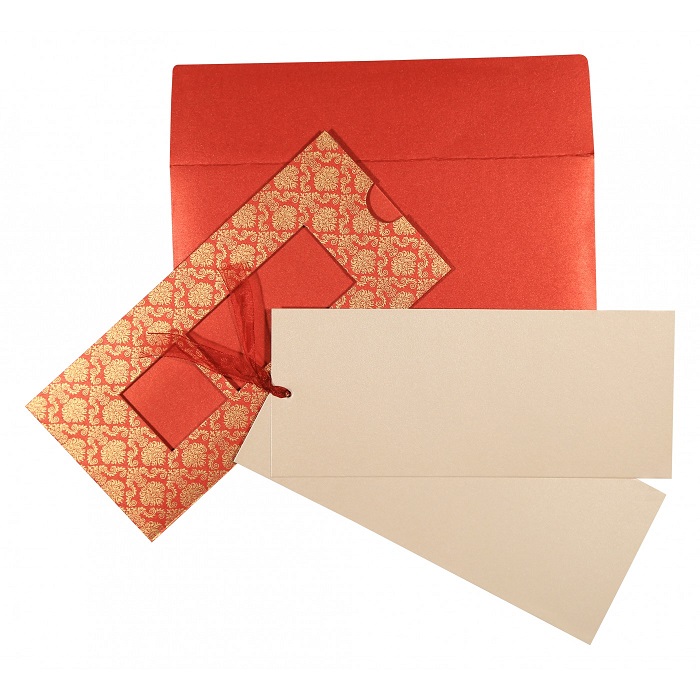 9. Fusion Fashion
Castes stand no bar in current time and that's why getting married in other castes is no longer difficult. If you are also getting married outside your caste, this beautiful blue and cream colored card in new arrival wedding cards is the one for you. Embossing and laser-cutting process on shimmer paper impart all the charm to its grace.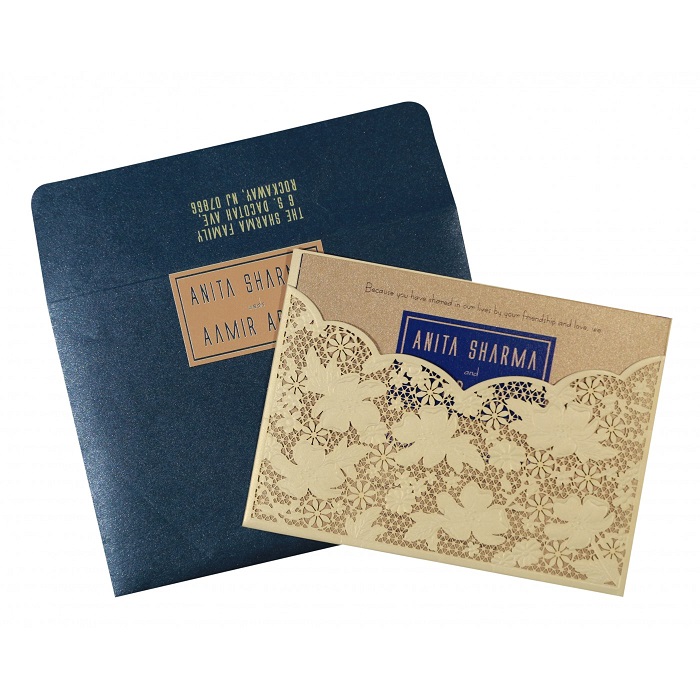 10. Royal Touch
The Rajasthani themed weddings are very much in trend with its royal touch. Inspired by the royalty of these weddings, we have these unique Wedding invitations Ideas. We have used red, green and gold colored shimmer, Matt and satin paper artistically to amaze you.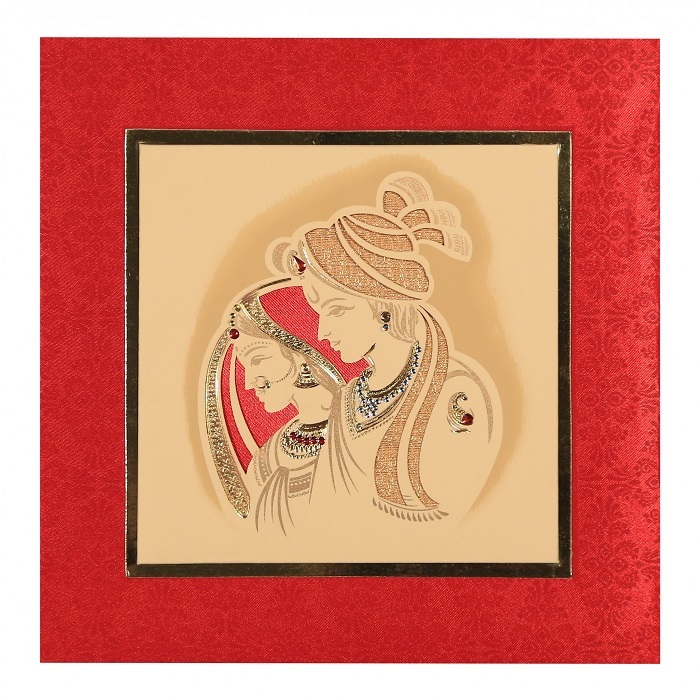 11. Mint Calmness
One of the soothing colors is mint and it is the most preferred one for the wedding. For this beautiful wedding, these mint-green colored trendy wedding cards ideas are simply mind-blowing. Hot foil stamping and multicolored offset printing on Matt paper impart a magical charm to it. And, you will be left spell bound with its whimsical look.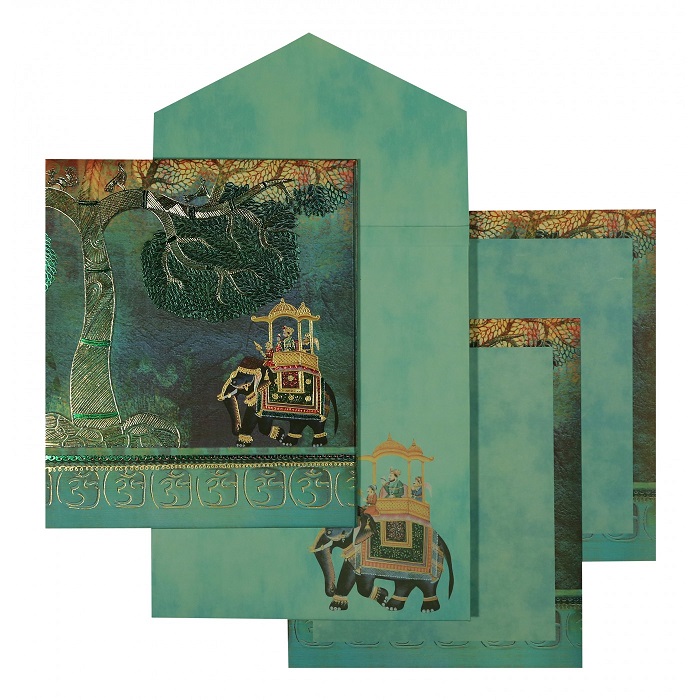 Save