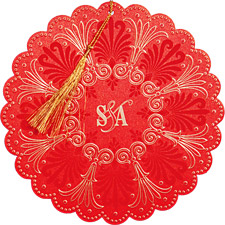 Enthusiasm, Vibrancy and frolic are words to define a wedding invitation Cards for a perfect wedding celebration. Wedding invitation card is the first step in planning a wedding festivity and celebration. Choosing and selecting a particular wedding invitation card as per the occasion is very important as it gives the first impression about your wedding theme and technique. Wedding invitation cards defines your status and religious traditions which gives detailed information about the wedding venue and date.
The various factors which determine in selecting a particular wedding card are budget, theme, wedding card size and designs. Your wedding is incomplete without 123WeddingCards which gives a wide range of Cheap Indian Wedding Cards. The categories below give detailed information on the wide range of our wedding cards-
Muslim Wedding Cards
Hindu Wedding Cards
Scroll Wedding Cards
Designer Wedding Cards
Indian Wedding Cards
Gujarati Kankotri Cards
Christian Wedding Cards
We have a wide collection of cards keeping in mind the various religions and traditions. We outshine other online wedding card portals. We have a implausible tool defined as customization, to give a more viable option in choosing and selecting a card as per your theme. We understand budget also plays an important role in selecting a wedding invitation card to match the theme and wedding celebration style.
Our craftsmen give your dreams a real look, by preparing your desirable wedding card to match the occasion. I know you must be thinking how this Wedding invitation Cards term came into picture, it al started in medieval period when emperor's use to summon their priest to ink their son's or daughter's marriage or bridal ceremony.  It was regarded as royal way of inviting the desired guest list in a more sophisticated manner. But gradually it spread all across the globe with increase in literacy and desire to give wedding a unique and new look.
Now marrying couple put emphasis on selecting a card as per the theme to define their wedding style. A lot of planning is involved in selecting and choosing a particular card, as wedding invitation cards are the first and foremost gateway to start a wedding celebration.
Our portal 123WeddingCards, has carved its own niche is wedding invitation cards segment. We look forward in providing best customer service coupled with timely delivery of wedding invitation cards keeping in mind your wedding date and celebration style. We have a wide collection of cards to choose from with customization option to make it more convenient and easy for our clients to select a wedding card as per their choice and liking. Our 24/7 hardworking customer support team ensures handling all issues relating to selecting and designing of a particular wedding invitation card.