A wedding invitation una bonita thought conveyed in aesthetically handcrafted card. The phrase "una bonita" denotes "one beautiful". It is typically written in formal language and mailed five to eight weeks before the wedding date.
Marriage signifies mingling of two incredible loving hearts within one soul. God bestows his blessings to newly formed pair. The current trend in bridal ordering is dependent on priorities of marrying couples and advancement in technology with paradigm shift towards extravagant matrimonial.
Traditionally, one of the first steps of planning a nuptial included visiting a print store or stationery store to discuss the printed pieces necessary for a bridal: invitations cards, RSVP cards and ceremony programs.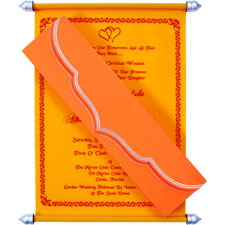 But with technological advancement, invitation card industry transformed from stationery stores to online retailers. The advantage of online retailers is the ease of accessibility to the invitations as per the requirement. Having an option of ordering from one's home added to the comfort level. The customization option attested boon for online retailers and clients as dream invitation cards became reality wedding cards. The hand-written invites are rare and epitome of feeling deeply en rooted in someone's heart to treasure for lifetime.
The recent trends in invitation cards have reached a new level of creativity in order to create one-of-a-kind invitations with a personal flair. Online payment factor plays a very vital role in online shopping as secure online payment mode has created a trust-worthy domain for all end users.
The right invite is intermingled with theme, price, invitation design, vendor and final thoughts about setting the appropriate tone of your beautiful trance. Nevertheless, diverse Wacky invitation ideas sum up a classic wedding for endless memories to cherish. Set a tone which not makes your wedding apart but a memorable one for others to follow.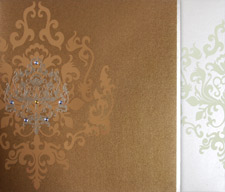 Based on the trends, more people are purchasing their invitations online than in past years as online ordering is a convenient way to have a stylish invitation without expending too much effort. Depending on the size and extravagance, invitations are printed by following diverse methods: raised silk screen printing, flocking, hot foil stamping, embossing and laser cuttings to give a new multi-dimensional look to bridal invitation cards.
123WeddingCards is the right place to choose impeccable invitation cards for a royal and distinguished wedding. Each card design is unique, elegant, marvelous and splendid in each aspect of texture, design and rich color. Series of opulently colored to minimal designs, our wedding invitation cards are dished in mores and traditions, matched for people all around the world. Astounding online shopping portal known for its customization option where you can prefer your shade, plan your emotions and we ensure that your emotions turn into veracity. We intend to provide our customers with the best online shopping experience from beginning to end, with a smart, searchable website, easy-to-follow instructions, clear and secure payment methods, and fast, quality delivery with committed 24/7 customer support staff. Turn your invitations into keepsakes for a lifelong memory with 123WeddingCards.