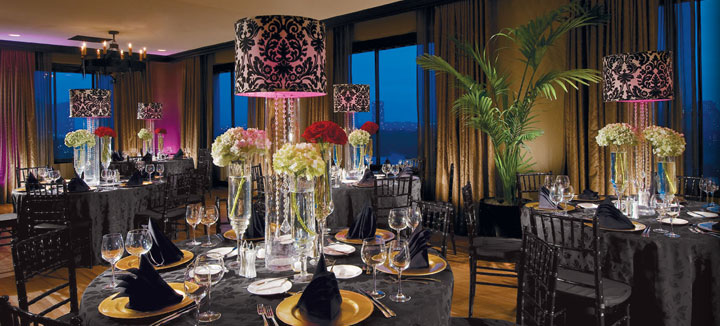 Planning a wedding reception needs lot of planning and needs special attention to have it a perfect manner. The bride and groom have to run the gamut from small & intimate get-together in a restaurant to large gathering at a banquet hall. Every couple has the desire in their heart to have wedding reception in a manner that it becomes memorable for lifetime. A perfect marriage celebration not only raises your status in the society but also helps in keeping the memory of it in the minds of invited guests for a long period of time. Well, there are some useful tips to make your marriage receptions fabulous and totally different from the other.
Hiring a professional chef– A new concept is gaining immense popularity all across the globe wherein the bride and groom hire a professional chef to give fantabulous look to the reception with delicious food. It not only helps you in deciding your food for the big day but also lets your invited guests to order as per their liking.
Providing Valet parking: Another important aspect to keep a special attention is providing valet parking to the guests who are invited to the marriage. As, most of the wedding venues provide valet parking, but if you are having a reception at a restaurant or banquet hall then it might be possible that it does not have this service. So, for this you can hire a valet company to do the parking for the invited guests.

Facility of toiletries baskets: It can be said as the perfect way to spend money rather spending it on an extra floral arrangement for the men's and women's restrooms. The items can be purchased and can be grouped into a handy basket for both men and women. This gesture will certainly create a unique and admiring in the minds of the invited guests.
Special seating arrangement: Another aspect to be taken care is making special arrangement for guests who might have mobility issues. It is advisable to make seating for the elderly or handicapped close to the restrooms and the exits. This will surely give you lot of praise and will make your marriage ceremony perfect and memorable.
Providing overnight accommodations: Sometimes, it might happen that your marriage runs into the wee hours of the morning, so it becomes necessary to offer guests a place to stay in order to remove the hassle of going back home in the odd hours. This will surely get lot of praise and appreciation from the guests.
So, the above mentioned useful tips will surely help you in creating a wonderful wedding reception.