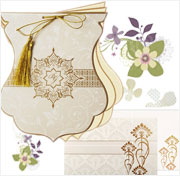 Wedding invitations have transformed radically from medieval period.  The entire transition process is fascinating one, one can say a voyage with unforgettable saga.  I know you must be wondering how wedding cards came into existence, how people use to invite people in medieval period, how they were created and designed. My post entails the whole thing into intriguing story touching your heart.
I am not here to brag, maybe a little I guess, it all started with various acknowledged cases of wedding invitations found in caves, wedding invitations were normally verbalized. In fact, they were sentenced in a loud mode. If someone heard the invitation, could attend the wedding, unless there was enmity between the families. These invitations were typically broadcasted by a town crier.
Why weren't the wedding invitation cards handwritten? The main reason being illiteracy so the invitations had to be orally announced. Of course, this didn't apply to the rich and royal families.   Preachers were well-known for their beautiful handwriting. Their writing was highly desirable, and they were often commissioned to write wedding invitations by those who aim for majestic wedding. Many of these families also had the family crown added to the invitation. This was done to show or identify the families who are literate. The main reason behind wedding invitations maybe I guess is the people scattering to different places on earth, reaching your loved ones has become a ultimate goal for dream wedding.
It's not only the shape; it is concept of the marriage invitation cards that has truly gone under a major transformation. Previously there was no concept of theme based wedding cards as people were not conscious about the concept of Theme-based weddings. The influence of Western society on Asian countries has increased charisma of theme-based marriages concept. That's how; theme-based marriage invites began grasping the attention of people. There is an exceptional excitement in creating and sending such kind of invites to the guests. It offers a unique look to the wedding by creating a harmonized appeal. It involves a scope of great creativity in such kind of invites. Formerly designer wedding cards were restricted to the wealthy people but now due to modern technology and availability of card designers has made it possible for middle-class people to go for exclusive designer cards. Another concept that has been gaining eminence is, blending the features of traditional and contemporary period. For example, the trend of using precious gem stones and kundans in cards along with synchronizing it with contemporary printing technique likes raised silk screen printing, flocking, hot foil stamping, embossing and laser cuttings to give a new multidimensional look to  invitations. The concept of handmade artistic wedding invitation card has been witnessing an attractive revival because it offers a distinctive look.
In a nutshell, now the clear emphasis is on creating unique marriage invitation cards because people are spending money on unique and designer marriage invites for dream wedding.