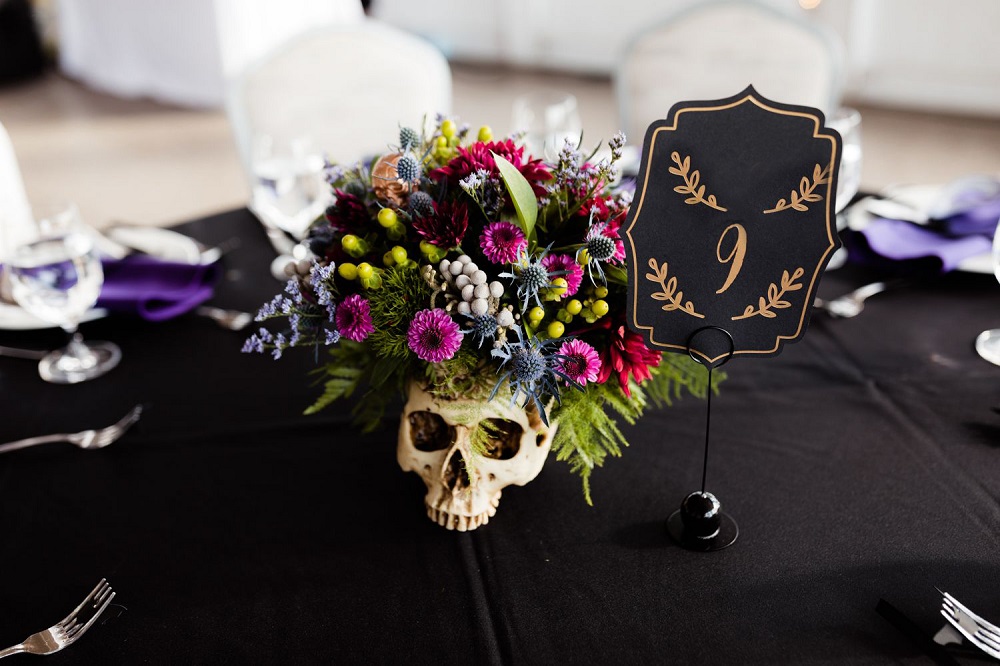 This one of the most amazing and sterling times of the year, when we have so many occasions around the corner, starting from Halloween. It is the time of the year when couples wish to tie their knots. For them, we have come up with unparalleled Halloween wedding ideas.
During this haunting time of the year, people organize different events, so why not to organize a thematic wedding which is filled with lots of spooky elements.
From offering, trick-or-treat candies to your wedding guests to wearing a gothic gown, and to the mysterious getaway car, there are numerous Halloween wedding ideas through which you can put a spooky spin on your big day.
For all the Halloween super fans, we have consolidated the list of best Halloween wedding ideas which will elevate your Halloween-theme wedding experience filled with pumpkins, cobwebs, vines, and various inky hues, and other spooky touches.
Gothic Venue
Wedding cards and wedding venues play a vital role in setting up the tone of the wedding. For Halloween, weddings go to someplace historic. Turn the place into a haunting mansion with skeletons, pumpkins, and other Halloween-y elements.
Haunting Decoration
One of the basic Halloween wedding ideas is to go for spooky décor for your big day. And why not, you want a little something extra for your spooky nuptial. You can also turn your reception into a giant Halloween party by decorating the place with eerie bits and bobs such as candles, skulls, crows, etc.
Vintage Gothic Invitations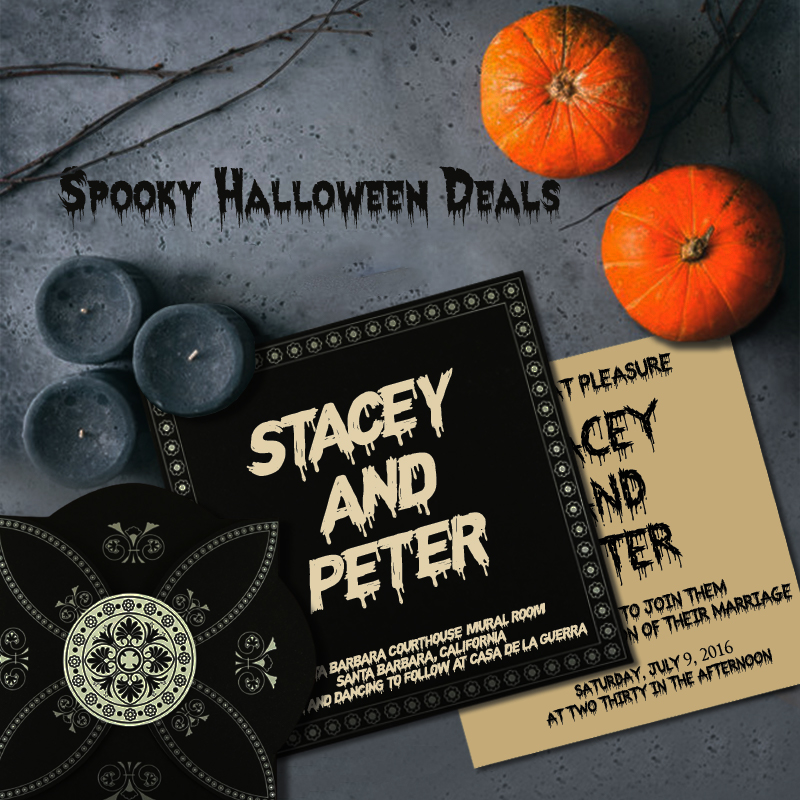 Hire a wedding card designer, who can design Halloween wedding invitations. You can search for Holiday cards based on Halloween and take some inspiration out of it.
Halloween-y Signage
To take your Halloween wedding ideas to the next level, you can start with signage. A stylish Halloween-based "Till Death Do Us Part" signage board will hauntingly romantic. You can choose any other type of signage board to the next level.
Candlelight Ceremony
Rather than going for splashy and illuminating ceremonies, try to keep something thematic. You can set the Halloween mood by organizing candlelight ceremonies. The alter illuminated with candles, and decorated with crows, candelabra, and skulls, wouldn't it be exciting and thrilling.
Top Freakishly Awesome Halloween Wedding Invitation Ideas
Whether you are looking for Holiday cards or a Halloween theme card, the spookiness of the day always adds more value to the special day. We have come with a top Halloween wedding card ideas that suit them best with the soiree you envision.
Halloween wedding cards with a little bit of nightmare before Christmas feeling would be a perfect choice.
Gothic invitation suite cards are equally eerie. A hand-painted dark watercolor design will be a tasteful appearance.
Pumpkin laser cut gatefold invite will lend itself to something formal as well as elegant as opposed to dark and spooky.
Black rose invitation suite though looks like another formal wedding invitation but when looking closely it will be disguised as a Halloween wedding.
Some other Halloween wedding cards ideas will include names such as, till death do us part Halloween wedding invite, chick black stripes wedding invitations, day of the dead wedding invitations, skeletons holiday cards, etc.
Fun Halloween Wedding Ideas for Cakes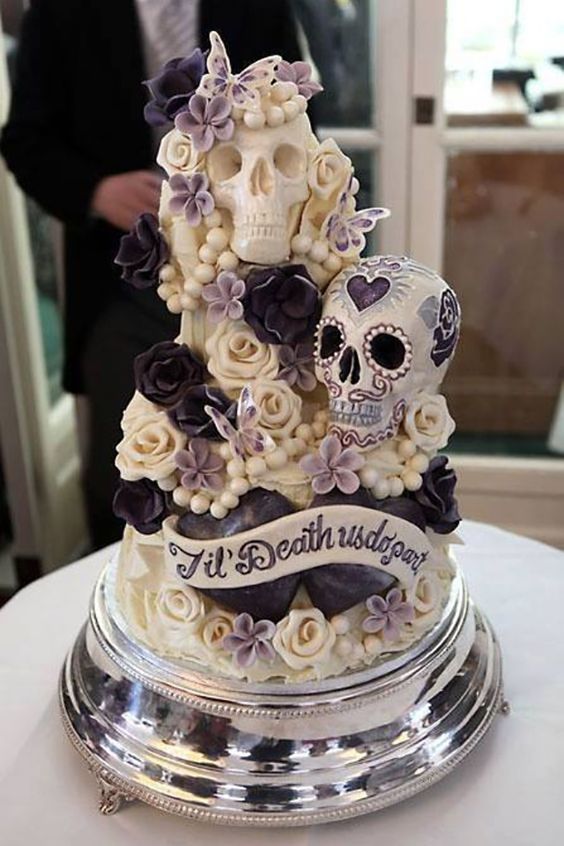 Halloween-centric weddings bring numerous opportunities for freaky couples to elevate their Halloween wedding ideas by selecting a theme-based creepy cake. Some Halloween cake wedding ideas are as follows:
Spooky red Halloween wedding cake will be sinfully delicious and it will make the whole wedding experience to the next level.
Frisky bones Halloween wedding cake are the classic choice for the creepy nuptial day.
Graveyard's wedding cake for Halloween can cutely raise the dead to savor the sweetness of the day.
Gothic Halloween wedding cake with three tires has a gorgeous Victorian vibe about it.
Halloween theme based Batty wedding cake with three tires bring a twist to your day with cascading flowers, a flock of bats, spooky vibes, etc.
Some more Halloween wedding ideas for cakes are as follows: Victorian Halloween wedding cake, skull Halloween wedding cake, spider Halloween cake, and many more.
Halloween Wedding Decorations for Your Big Day
The wedding décor is pivotal in setting up the tone of the wedding. When it comes to Halloween wedding ideas, it becomes imperative to left behind the outmoded trends and brings some exciting element into it.
Some of the most amazing Halloween wedding ideas are as follows:
What a Halloween is without pumpkin. Ornate your wedding décor with the vintage pumpkin style. Carve white or orange pumpkins with the names of the bride and groom in old-fashioned fonts circumambient by vintage accents.
Chalkboard signs and mirrors will also be the best choice for Halloween wedding ideas. Have a chalkboard or a mirror inscribed with messages flaunts the dark and romantic quotes will be an amazing choice.
A DIY vintage paper can also be one of the best Halloween wedding ideas. The temporary DIY fabric Halloween wallpaper will be a perfect choice for you.
Damask curtains with dark lace and velvet will add tons of gothic and vintage touch to your Halloween wedding.
Best Color Choice for Halloween Weddings
Are you pondering on choosing the right color for your Halloween wedding? Hold your horses and try to consider the below-given hues while selecting Halloween wedding ideas:
Simple black and white combo will be an elegant vintage Halloween wedding choice.
Rich tone with black and gold or black & burgundy will be equally dazzling.
You can also go for muted greens, golden yellow, and brick red for some spooky experience.
Sage, brick, mustard yellow will be a rustic choice for you.
Here are some more haunting romantics Halloween wedding ideas
Go for the coffin ring box
Organize Eerie ceremony music
Halloween-themed based wedding vows
Supernatural wedding portraits
Pumpkins galore
Cobweb lighting effects
Dramatic makeup
Full face paint
Gothic glam bouquet
Black wedding gown & wedding suite
Freakishly decorated shoes
Thematic bridesmaid ensembles