Wedding invitation cards have revamped flawlessly from medieval to contemporary period.  The entire transition process is enthralling one; one can say a memorable tale.  Many times the question of how wedding cards came into reality, how people use to invite people, how it was designed and made. The story starts with a never ending full stop touching everyone's heart who has married once in their life.
It all started with the various founding's made relating to wedding invitations engraved in caves; it was normally in a verbal or written form.
It had invitations relating to king's and emperor's son or daughter's marriage which was held in a grand celebration. So this led to grand and royal invitation to all the people to attend the royal wedding. Earlier it was communicated in loud voice like town crier to give information to all residents to attend the royal gala. Now the question comes why wedding invitations were not in written form? The main reason was the lack of reading and writing knowledge among the people which led to oral declaration of wedding or marriage ceremony. Well, rich and affluent families had basic knowledge of writing and reading.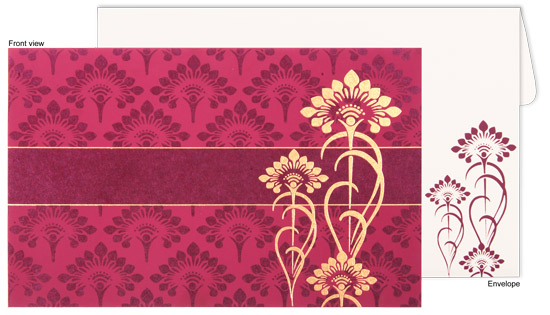 It was the priest who was known for their beautiful handwriting. They use to write wedding invitation cards for emperor's keeping in mind the theme and wedding style to make it unique and regal. The main cause to write wedding invitation cards is to invite people all across the globe as reaching the loved ones is most important for wedding celebration as it gives wedding a perfect look. It's not the cards which have undergone transformation it's also the designs and colors too. Nowadays, budget also plays an important role in deciding a particular card. Rich people aim for costly designer cards to match the status and theme. Earlier we use to buy cards from stationery vendors, but with globalization and internet facility a large number of online vendors have come into picture offering wedding invitation cards online making it easier and convenient to choose cards.
I can give an impeccable example of an online wedding card portal 123wedding cards, which is famous for its designs and color combination. The cards are designed and crafted keeping in mind the theme and wedding style.
The wide collection of cards gives ample options to you to choose or select particular cards keeping in mind your theme and interest. The efficient support staff helps out in every manner to order a beautiful and vibrant color wedding invitation card. Another important feature is customization option making it easier to customize the wedding invitation card as per the choice and occasion. In a nutshell I can say this portal strives for best service in terms of wedding cards and making it distinctive from other players in the marketplace.