A wedding is a one-time affair, and we do not want to jeopardize anything. Be it wedding venue or wedding dress. Each thing has to make sure if everything is perfect. And it is better to start with that is from the wedding invitation card.
Wedding invitation comes with an entire suite, including reception cards, wedding website information cards, attire cards, and many other cards.
We have often seen that couples get confused when it comes to finalizing their wedding invitation enclosure.
Lots of things run in their mind. And because of lack of advice and guidance, couples end up including the wedding invitation enclosure.
Do You Want to Know These Important etiquettes of Wedding Invitations Enclosures?
Wedding invitation enclosures are paramount in any wedding card paradigm. They help you determine the amount of information you should include in your card without running out of space. They will also help you keep you updated on the number of guests.
There are multiple types of wedding cards enclosures. These wedding invitation enclosures will help couples spread the word about their weddings and all relevant information, big and small.
In this post, we will help you understand all the etiquettes of wedding invitation enclosures. We will tell you about all the slips that you should include in your envelopes.
So without any further wedding invitation ado, let's move ahead and discuss the etiquette of wedding invitations enclosures.
Map and Direction Wedding Invitation Enclosure
You might be thinking that in the age of technology would it be necessary to include a map and direction wedding invitation enclosure? Well, the answer is yes!
Suppose if you finalize your wedding venue, that located in a remote area, where today's technology like Google Maps, GPS, won't work, in that case, these map enclosures will be helpful.
Through these types of wedding invitation enclosure, you can help your guests to get acclimatized to the neighborhood of your wedding venue such as nearby hot lunch spot, Main Street, parking spot, etc.
If your budget allows, you can opt for a customized map.
Reception Card
A wedding reception is an as important celebration just like a wedding ceremony. It allows you to invite the guests and complete the wedding guests list.
If your wedding and reception take place at a different location, then a reception enclosure will be a perfect choice.
It offers couples ample room to add details like venue name, address of the venue, the details of the time when guests should arrive, and all the details which are not possible to include wedding invitation.
Accommodation Wedding Card Enclosure
In a big event like weddings, it becomes necessary for couples to make proper arrangements for the guests to stay, and that's where accommodation cards come into being.
Through the accommodation, wedding invites you can let your guests know all the information about the hotel that you have already made arrangements for their sojourn in a particular room at a specific property.
You can also go for an accommodation insert card and share details like hotel names, address, phone number, website, and other essential details with your guests from out of town.
Transportation Card
A transportation insert card is a perfect choice to let your guests know about all the possible modes of transportation available on the day of the wedding or reception.
If you do not want to spend money on a transportation card then you can also write the one accommodation or a map wedding insert card.
The transportation card includes details of any courtesy shuttle if available to the wedding venue, etc. And it reads "Transportation will be as long as from the wedding to the reception."
In these types of wedding invitations, you can share details like local transportation options, parking facility availability, public transport modes, and any other details related to transportation.
Dress Code Wedding Insert Invitation
In recent times, it becomes a trend to wear a dress code in a wedding celebration. Couples are more interested in having a thematic wedding. And for a theme-based wedding, a dress code is a must.
Couples who keep a dress code for their wedding should opt for this type of wedding invitation insert. It will help your guests to decide on what to wear on your special day.
You can also add a line to the end of the main invitation indicating black-tie, casual, or something of your choice. Now if you want to share the dress code in detail, then you can opt for a separate dress code wedding invitation enclosure.
Rain Wedding Cards Enclosure
Now the card that we will discuss here is something that comes into use in very extreme conditions. But, who knows what is finalized for the special day.
The rain wedding insert enclosure comes in use at the time of outdoor weddings. This type of wedding card includes a backup rain plan with the details of the alternate location or wedding day plan. Just in case if the rain pours.
RSVP Wedding Invitations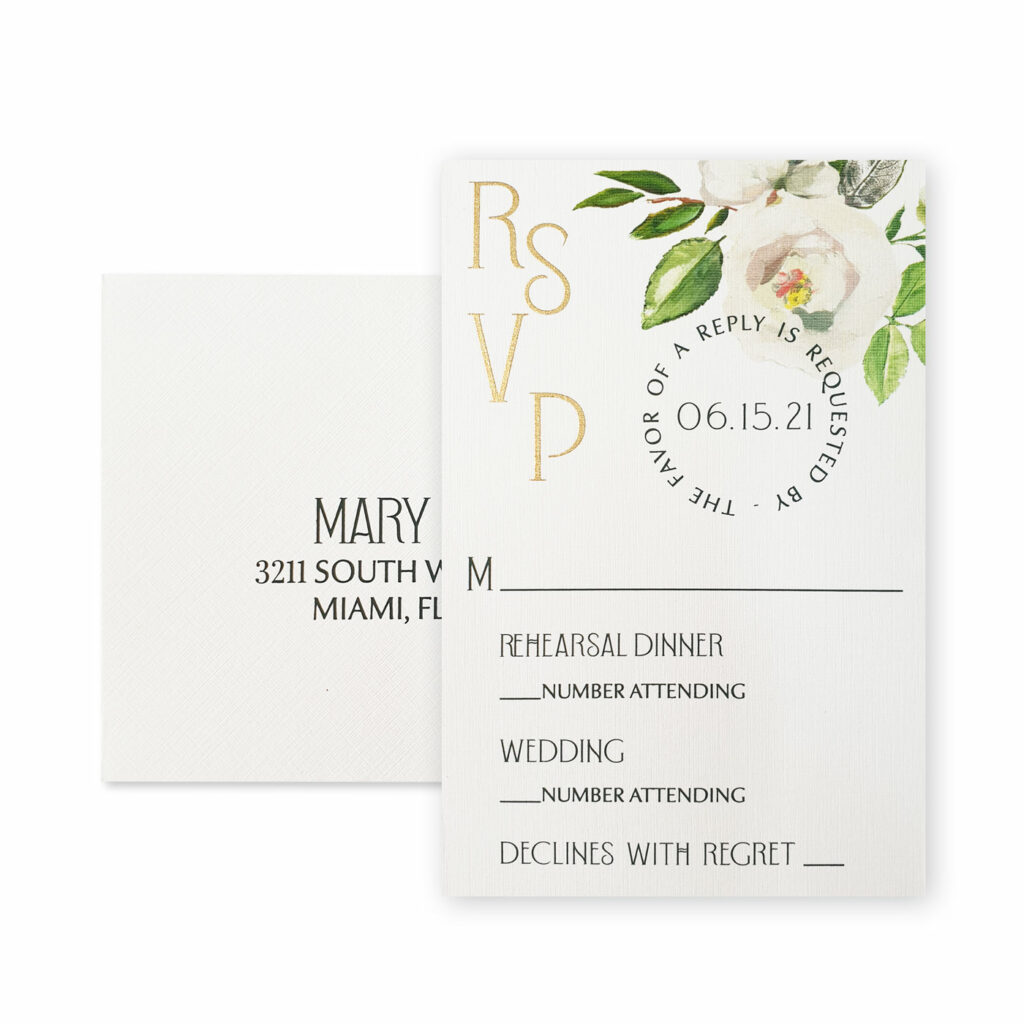 RSVP wedding invitation cards have always been an essential part of a wedding invitation suite. It allows wedding guests an option to reply in their presence. The RSVP cards have become a part of the wedding invitation suite.
There are many styles and designs are available online of RSVP cards, and you have a plethora of options at your disposal. Select one of your choices.
If you are seeking a suggestion, we would recommend a cute postcard. Make sure you include a self-addressed envelope, complete with postage that will accelerate the entire process.
Do not forget to give attendees a deadline so that you can get their response in a stipulated timeframe.
At Home Wedding Invitation Enclosure
After the wedding, your address would change. And with the at-home wedding card enclosure, you would be able to let your friends and family know how to contact you and how to address you after your wedding.
The wedding invitation suite includes the at-home cards as a prominent piece of wedding stationery. Through these cards, you can also send out other details such as your new phone number, your new address, email address, and a website if available.
Some Other Important Types of Wedding Invitation Enclosure are as Follow-
Ceremony Cards – These cards are mostly used for the intimate wedding, where you have only a few and close family members and friends. You can go for a separate ceremony invitation that will let your close guests know that they are invited to a specific ceremony.
Pew Invitations – These kinds of wedding invite enclosures help you let your guests know that their seats are reserved in advance in the seating area.
Website Address – These cards are quite popular in the current era among modern couples. It will help you put the website address on a small enclosure card.
Rehearsal Dinner – You can opt for separate rehearsal wedding invitations. If all the wedding guests are invited to in the rehearsal dinner. It will be cost-effective when you include small cards in the invitation package.