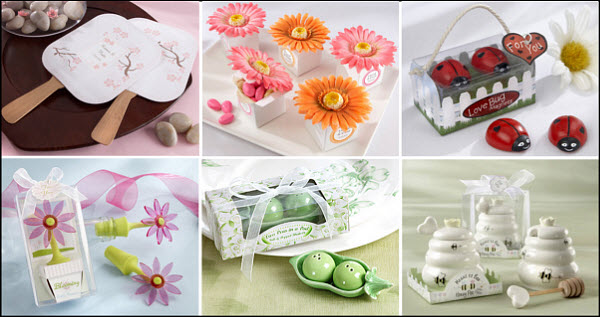 The practice of giving gifts to wedding guests and close relatives is considered as a very primeval and ancient. It is believed that these types of gift came into existence 16th century when emperors use to distribute gifts to their royal guest for attending the marriage of their son or daughter.
The gift first consisted of sugared almonds or delicate confections. In today's world this type of gifts given to wedding guests is normally known as wedding favors and is ritual practiced in various cultures all across the globe.
Wedding favors have become an essential part of wedding reception planning, especially in Canada and The USA. Wedding favors are miscellaneous in nature and complement the theme of the grand occasion. The Classic favors ranges from the traditional chocolates to scented soaps or even colorful candles. Nowadays, the bride and groom prefer to gift CDs with the favorite music, glasses filled with candies. These gifts are highly customizable as it is possible to print wedding date or names of the bride & groom.
Another popular way to please and invite the wedding guests by making food related wedding favors. It is very important to choose a wedding favors which reflects the theme of your marriage.  Another thing to remember is that never spend too much money on these types of gifts to impress the wedding guests. The following guidelines might help in choosing a gift for wedding guests:-
Creativity- In today's world, couples use creativity and present favors that are thoughtful. It is very to choose a gift which is very meaningful to you and your family and which complements your wedding theme.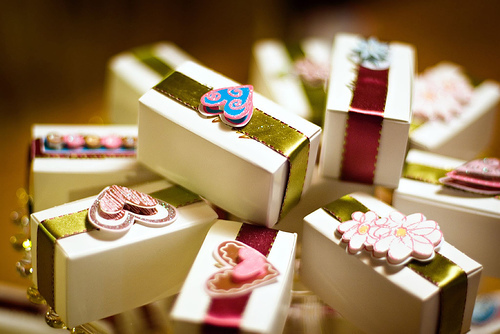 Budgetary Issues- Before choosing a particular gift you must check whether your budget allows you or not because people tend to spend large amount of money on buying wedding favors and lend up shortening their budget on other key aspects related to wedding celebration.
Ponder about presentation- The Wedding favors can also be the part of the table decorations and other decorations like flowers, cakes etc. You must always remember it is your way of saying thank you to all the guests attending your wedding.
Remember the Children– While planning a wedding favor never forget the children and keep separate gifts for them. You must always keep in mind the gifts for adult and children always differ and special favors to children make the event more joyous. One nice idea can be to present a bag of the favorite candy in an eco-friendly bag with a personalized label like "We love you", will always make children happy.
So, as you plan for your big day give proper and planned attention towards wedding favors, to make the occasion mirthful and filled with glee.