For any woman, her wedding day is the most special day of her life. It is the very day on which she can full fill all her dreams in the most special way. One of the most important parts of any bride is the dress and bridal hair accessories which altogether glam up the looks of a bride.
Though there are numerous of bridal hair accessories. For everybody part, there is a specially crafted accessory which adds an overall charisma to the bridal looks. Tiara is such a most useful accessory in bridal hair accessories, a small yet elegantly crafted headpiece which is worn by brides in various Christian countries like England, America, Paris, etc.
Before we discuss about this exquisite bridal hair accessories,
let's first understand something more about this hair gear.
What is Tiara? Who can wear these headbands? Explain the etiquette & protocols of wedding crown
To simply put, Tiara is a piece of jewellery which is worn by women, especially married women on the top of their head on any formal occasions. Tiara can also be called a small crown. In the ancient time, Tiara, unlike today, was not a piece of accessory. It used to hold great traditional importance of bridal hair accessories. Women in the ancient time who is about to get married or is already married wear a tiara.

This amazing headpiece has its roots in the classical antiquity. Tiara has been the part of mainstays of European royalty and aristocracy.  The headpiece has been an evident part of ancient European formal dress and jewellery. It is very important to know about Tiara that this largest piece of jewellery is not only imposing but also an inseparable part of formal dresses of ladies.
Gradually with the time, the way and occasion of wearing this bridal hair accessory turned into a fashion. What was once the important part of every formal event has today becomes an accessory for bridal wear.
What are different kind of tiaras that match with the royal wedding dress?
Unlike the historical time, the tiaras today can be worn without any protocols. But it is interesting to know that the designs of tiaras are inspired by jewels of simple flower garlands just like as your floral invitation card. Though one can simply opt out this classic piece of jewelry from their wedding ensemble but if you have decided to include tiara to give your nuptial a taste of royal wedding, the following are the kinds of tiara styles you should opt.
Before you finalize the style of the tiara, we must suggest you that you should always choose tiara according to your wedding dress and not vice-versa. Therefore, the selection of suitable bridal hair accessories becomes trickier.
Let's start with the different style of tiaras you can choose:
Wishbone – Bridal hair accessories comes in two styles, first with a single row and second is the double row. In either style, the rows curve up to a small rise and craft a point just above the crown's head.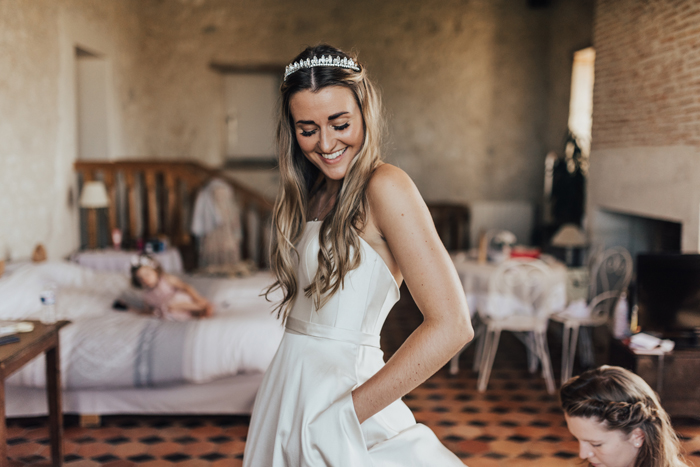 Headband –  For all brides who love to keep their look minimalistic, the headband is one of the subtlest tiara styles and looks charming when it sits flat against the head. A bride should wear it with loose hair.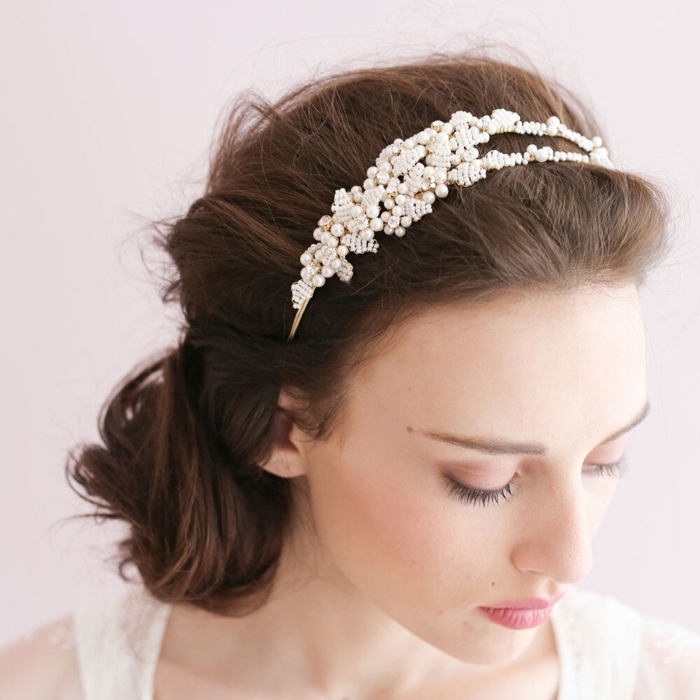 Regal bridal hair accessories
Evident to its name, the regal styled tiaras are the most formal style of headbands. This style of the tiara is boast of more height and so brides with long face cut must avoid wearing a regal tiara.

Double Band Wedding Crown – This is the most favorite headpieces among the contemporary brides, the double band wedding tiaras looks like a classic headband. This kind of headband can be worn on various occasions and you can set it on your head according to your hairstyle.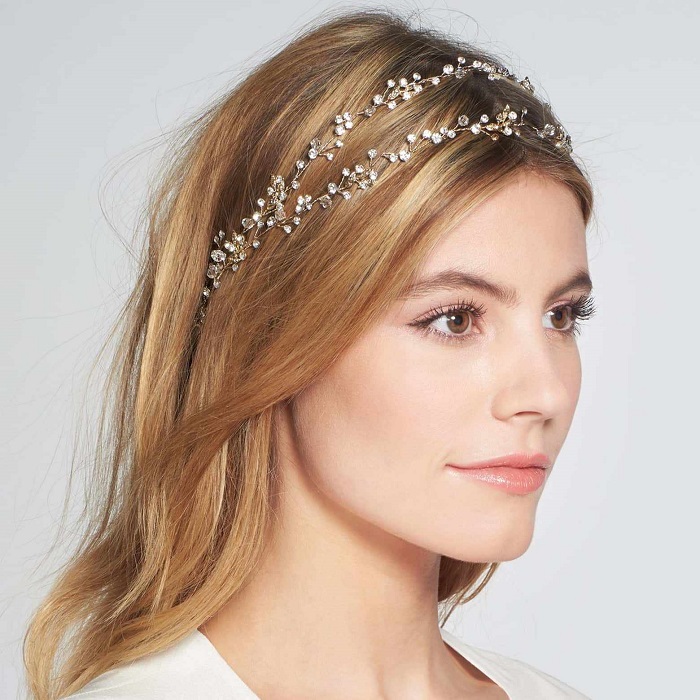 Wreath headband –  Listed among the most romantic headpieces, the design of the wreath headband is actually inspired by the Mother Nature. It resembles a floral wreath or vine. The wreath can go with numerous dress styles and looks perfectly elegant with Grecian goddess dress style.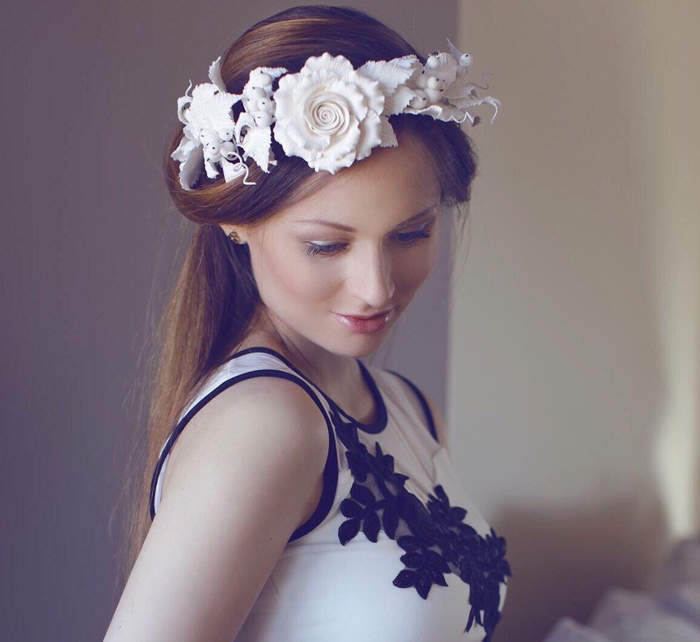 Bun Wrap Tiara –  Similar to hair vine, the bun wrap tiara was worn further back on the head. This kind of headband is specifically designed to complement a high up-do hairstyle.  The bun wrap tiaras are traditionally formal and make them the perfect choice for a dramatic cathedral venue.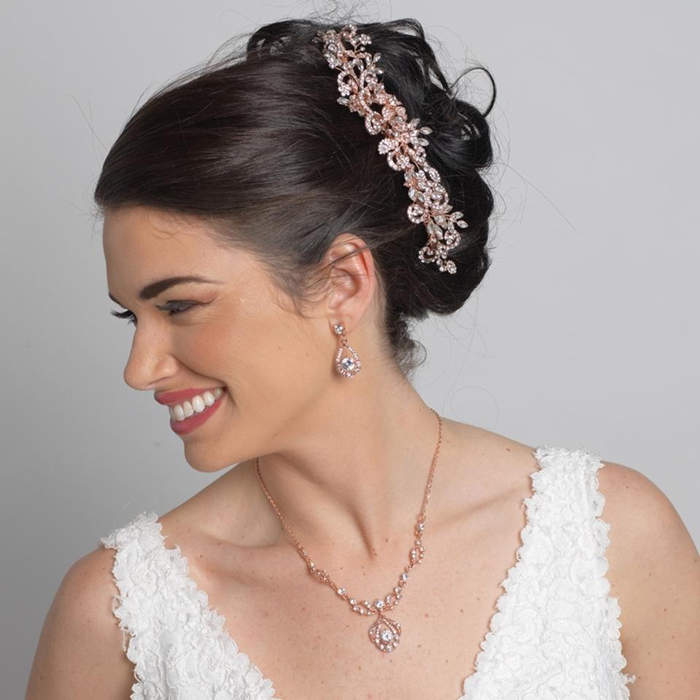 Most Beautiful Bridal Hair Accessories for Beautiful Brides
We have assembled some hand-picked bridal hair accessories. Discover these sleek and statement-making tiaras for your wedding day. We are sure that these bridal hair accessories will simply light up your look. From minimalistic to extravagant, there's a perfect tiara design for every hairstyle.
Let's have a look.
Vintage Hair Style Clip of Gucci –  It is specifically designed to sit near the crown. You can also wear it as the centerpiece.
Glitzy Secrets –  This is one of its kinds of art deco style tiara. It is designed to sit perfectly above the forehead.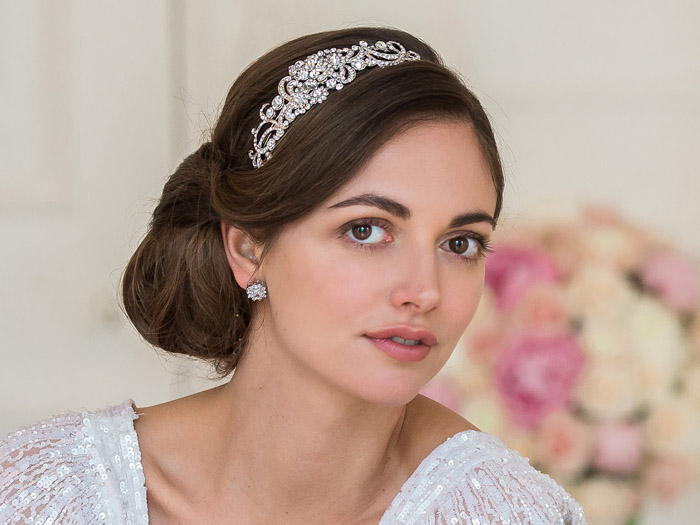 Rosantica – Rosantica gives the accent of elegance to your minimalistic bridal look. The small pearls along with the small crystals create wonder.