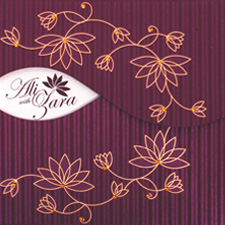 Muslim wedding is full of traditions and decorum, as per Holy Quran. It's not only a rendition of two souls as well as joining of two different families with their culture. It is considered as most sacred ceremony in one's life. Everyone wants to be impeccable on his or her wedding day, as it is considered divine and holy.
Muslim marriage is synonym of grand celebration, sheer grandeur and magnificence with traditional touch, making it an event full of joy and happiness. No bridal ceremony can be performed without invitation card, as it plays important role in inviting your loved one's for it. A beautifully crafted invitation card is denoted as the hallmark of well-designed wedding or bridal ceremony. Muslim bridal ceremonies are ardent religious and social, so invitations play an important role in giving final look for a dream marriage.
Generally these invitations are termed as "Walima" and "Nikah" cards. These are available in exotic designs with innovative style as per the theme. A unique card perfectly coordinated with designs and texture adds warmth to the bridal ceremony. Another important factor that plays vital role in choosing the wedding invitations is the budgetary constraint. It's very important along with designs; it must suit your budget also. We lot of options are available in the market for choosing wedding invitations but it might go out of your budget. In Muslim wedding cards religious symbols play an important role. So cards are designed keeping in mind the holy symbols. At the same time white and green color is treated very auspicious, so these colors are used in the background of the invitations making it perfectly correlated with the pious occasion. These cards depict the religiousness and forward the message in an elegant way, pertaining to the event or class.
So, where to go to suffice this relevant issue, an online portal 123weddingcards.com provides various highly customizable invitation cards to suit your requirement. In order to select the design of your liking with rich color and texture, this portal caters to all segments of marriage ceremony. The cards are beautifully crafted by efficient workmen keeping in mind the relevance and piousness. Different types of handmade cards with beautiful designs and eloquent colors are available in wide variety of range as per the budget. A whole range of designer cards, scroll invitations are viable options for Muslim bridal ceremony, making it complete in all respect.
It gives an option of choosing a card and placing an order for it. It provides delivery of the same right at your gate. The best part being, the extensive collection so that one can find a card to fit in his pocket easily as per the theme and occasion. Another arrow in there bow is 24/7 customer support team handling all the queries effectively, making the process of choosing to delivery of cards very easy.
Marriage invitations are the gateway to success of any dream wedding depending how it is planned and executed to make it a memorable event.