So, you've decided to tie the knot on the spookiest day of the year – Halloween! Congratulations on choosing a date that's as unique as your love story. But before you embark on your journey to wedded bliss with a dash of eerie charm, there are a few things to consider. This blog post will be your trusty guide through the crypts of Halloween wedding etiquette. We'll dive into how to inform your guests about the theme, what to expect in terms of costumes, and other important details that will ensure your big day is a beautiful success.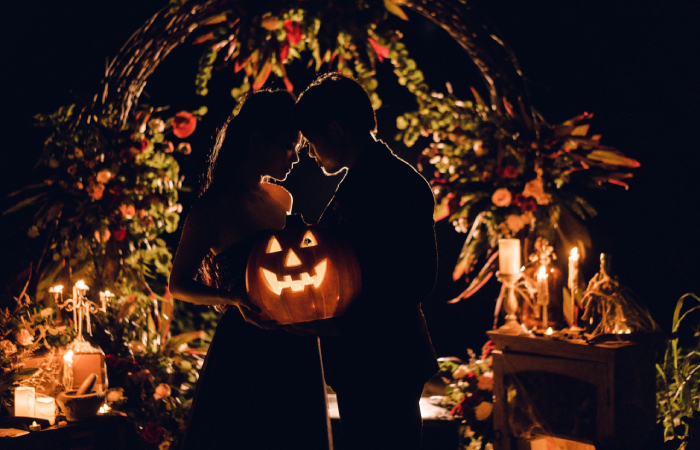 Setting the Hauntingly Romantic Stage: Halloween Wedding
Subtle Theme Hints in Invitations
Start by incorporating subtle hints of Halloween in your save-the-date cards and invitations. You can use spooky fonts, dark color schemes, and imagery like bats or cobwebs to give your guests a taste of what's to come. The goal is to create excitement without causing a fright.
Dedicated Wedding Website
Consider creating a dedicated wedding website where you can share all the eerie details. This is the perfect platform to tell your love story, introduce your bridal party, and drop hints about the dress code. You can even include a countdown clock to build anticipation.
Social Media Teasers For Halloween Wedding
Leverage the power of social media to tease your Halloween wedding theme. Share cryptic posts and use relevant hashtags to engage your friends and family. This is a fun way to build excitement without giving away too much.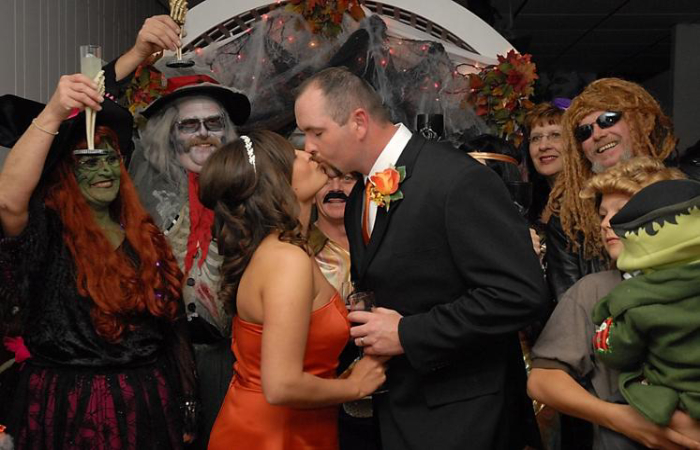 Halloween Wedding Costume: Guidelines for Dressing to Impress

Establish a Clear Dress Code
Start by establishing a clear dress code. This will help your guests understand what's expected of them. For your bridal party, consider matching costumes that tie into your theme. Discuss options with your closest friends and make sure everyone is comfortable with the choice.
Guest Costume Expectations
When it comes to your guests, be flexible. Some may be thrilled to don elaborate costumes, while others might prefer a more subtle approach. Make it clear that costume participation is optional, and suggest a range of costume ideas that align with your theme.
Costume Contest Fun
To add an extra layer of fun, consider hosting a costume contest at your reception. Offer prizes for the best, most creative, and spookiest costumes. This will encourage your guests to get into the Halloween spirit without feeling pressured.
Costume Swap Station
Set up a costume swap station for those guests who may not have planned. Provide a variety of masks, hats, and accessories to help everyone feel a part of the theme, even if they didn't come prepared.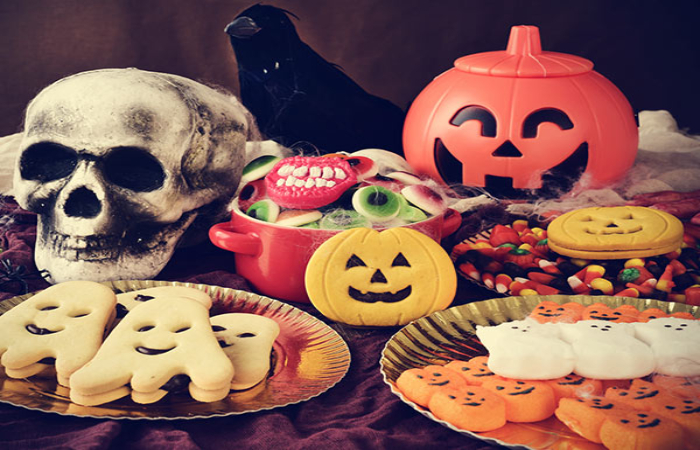 Tricks and Treats: Other Important Details
Timing is Everything
Consider the timing of your wedding carefully. A Halloween wedding can be a full-day affair, with a ceremony in the evening and a reception that lasts into the witching hours. Make sure your guests are aware of the schedule so they can plan accordingly.
Spooky Decorations
Transform your venue into a haunted wonderland with spooky decorations. Incorporate elements like pumpkins, candles, and spider webs to create a bewitching atmosphere. Just be sure to inform your guests about any particularly spooky decorations so they're not caught off guard.
Trick-or-Treat Stations
Embrace the Halloween spirit by setting up trick-or-treat stations at your reception. Provide guests with goody bags filled with candy and Halloween-themed favors. It's a delightful way to incorporate the holiday tradition.
Respect Guest Boundaries
Not everyone is a fan of surprises, especially when it comes to spooky ones. If you plan any surprises, like a flash mob dance or a sudden appearance by a costumed character, make sure to prepare your guests in advance.
Guest Comfort
Lastly, remember that Halloween can be quite chilly. If your celebration involves outdoor activities, provide blankets, space heaters, or even a bonfire to keep your guests warm and comfortable.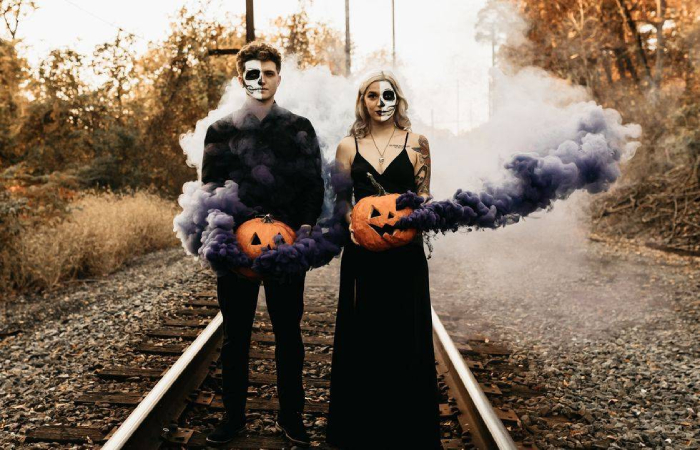 Conclusion: A Halloween Wedding to Remember
In conclusion, hosting a Halloween wedding can be a spine-tingling adventure filled with love and laughter. By effectively communicating your theme, setting costume expectations, and paying attention to important details, you can ensure that your wedding day is as magical as a ghostly apparition.
So, go ahead and embrace the whimsy of Halloween. Your guests will appreciate the effort you put into making your wedding a unique and unforgettable experience. After all, love is the greatest magic of all, and there's no better day to celebrate it than on All Hallows' Eve.
In the end, your Halloween wedding should be a reflection of your love and personality. Don't be afraid to infuse your unique style and creativity into every aspect of the celebration. It's an opportunity to create a day that you and your guests will remember for a lifetime, filled with the magic and enchantment that only Halloween can provide. So, let your love shine as brightly as a jack-o'-lantern's grin on your special day. Happy Halloween wedding planning!