Walks down the aisle at your wedding is the most precious memory. You have daydreamed about it all your life, and when it's happening for real, all you can feel is tears of happiness streaming down your cheeks. It is a happy moment. To make it more special, here is your takeaway playlist to rely on.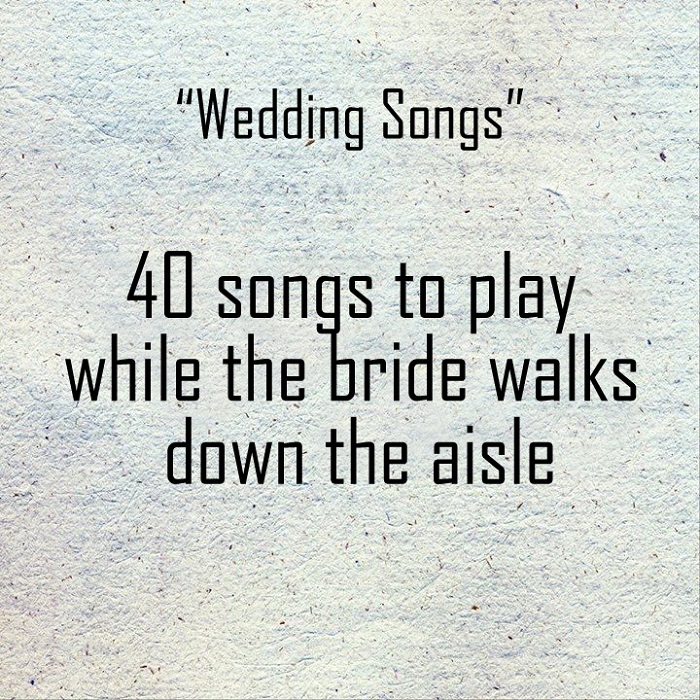 Here is The Playlist for Walks Down The Aisle

1. Let's Get Married by Jagged Edge.
The perfect song for the perfect wedding!
2. Here Comes The Sun by Beatles.
With soft beats, this song secures a place in our list of 40 best songs to play while the bride walks down the ramp. After all, she is the sun, isn't she?
3. God only knows by The Beach Boys.
An old song sung in 1966, it continues to conquer our hearts with its simple yet loving lyrics.

4. Marry You by Bruno Mars.
This composition will surely make the crowd go 'aww'.
5. Marry Me by Soft strumming of the guitar in the background.
"Love has finally shown her my way. Marry me. Today and every day." Too cute! Isn't it?
6. From This Moment On,"
by Shania Twain feat. Bryan White. Because from now, you're one!

7. Better Together by Perfect for your dream girl
With a simple style, this song reaches right to the heart.

8. My Best Friend by Tim McGraw
More than the music, I love how it's simple and sweet lyrics catch you off guard. Your bride is "more than your lover." She is your "best friend," so this one's for her!
9. Turning Page by Sleeping at Last
Surely a turning point in your life, and a new chapter in the book of your life.

10. Me and You by Kenny Chesney.

On your wedding, it's all about you!"Thank the stars above, that we share this love. Me and you."
11. Grow Old With Me by Mary Chapin Carpenter
It's a pledge to remain together forever and count the grey hair! With a slow tempo, this song is different in a good way and a great choice if you don't want something pompous.
12. Love Like Crazy by Lee Brice
Loving like crazy is what makes it go a long way and this song is perfect if you love her "like crazy!"
13. What a Wonderful World by Louis Armstrong.
It is a wonderful feeling to get married. And it's a wonderful new world. If that's how it's for you, this one is the perfect song!
14. Over the Rainbow by Israel Kamakawiwo'Ole.
Your wedding looks like a dream, right. This song will fit right in, then!

15. When You Say You Love Me
by Feel her love while she walks down to you.

16. Make You Feel My Love performed
by Confess your love, while she walks down to you.
17. You Are the Best Thing by Ray La Montagne
Because she's the best thing that's happened to you!
18. A Thousand Years by Christina Perri
Now. Then. Always. For "a thousand years
19. Photograph by Ed Sheeran.
He creates magic. Dive in the magic of love while she walks down the aisle.
20. Hallelujah by Pentatonix.
21. Thinking Out Loud by Ed Sheeran
If thoughts were words, what would yours be while she walks down to you?
22. Reign of Loveby Coldplay.
23. Marry That Girl by Dirty Magic Cards.
24. The Book of Love by The Magnetic Fields.
A new love story.
25. One Love by Bob Marley
26. Somebody to Loveby Vitamin String Quartet
27. Forrest Gump Theme, by Alan Silvestri
28. Can't Help Falling in Love by The Piano Guys
29. Happy by Pharell Williams.
"Sunshine she's here." A perfect song to radiate your happiness.
30. Giving Myself by Because love is all about giving.

31. All of Me by "Coz all of me loves all of you
Love your curves and all your edges. With your perfect imperfections.
32. The Wedding Song (There Is Love)by Noel Paul Stookey
33. Isn't She Lovely by Stevie Wonder?
She is the loveliest. Take in her beauty as this song plays in the background.
34. How Sweet It Is by James Taylor.
Your wedding cake or love? Well, both. Searching Error.
Searching Error
35. Heart beats by José González.
36. Can't Help Falling in Love by Ingrid Michaelson.
Love is when falling feels like flying…
37. Love by Matt White.
All 'bout love!
38. Love of My Life by Sammy Kershaw.
Your magnificent wife.
39. When You Say You Love Me by Josh Groban.
How does she look when she says it? Gorgeous, like a beauty!
40. Dreamgirl by Dave Matthews.
Dreams do come true. How else would you have got your girl?
Happy wedding!
Join us with social:
Join our Facebook Account
Join our Twitter Account
Join our linkedin Account
Join our pinterest Account
Join our Instagram Account