Wedding invitations are the basic elements that form the first impression of the wedding. And this is why it should be something unique and 'out of the box' to leave a lasting impact.
Wedding cards, just like stylish gowns and dresses follow a trend too. Here are Top 13 Trendy Modern Indian wedding invitation cards in 2019 that are in vogue:
1. Florals never go out of fashion and since Indians are religious beings, flowers are an essential part of daily life too. Wedding invitations with a pastel background and classy vine embellishments at the borders make up for a great design. Complementing this, the written matter goes up in rich gold print.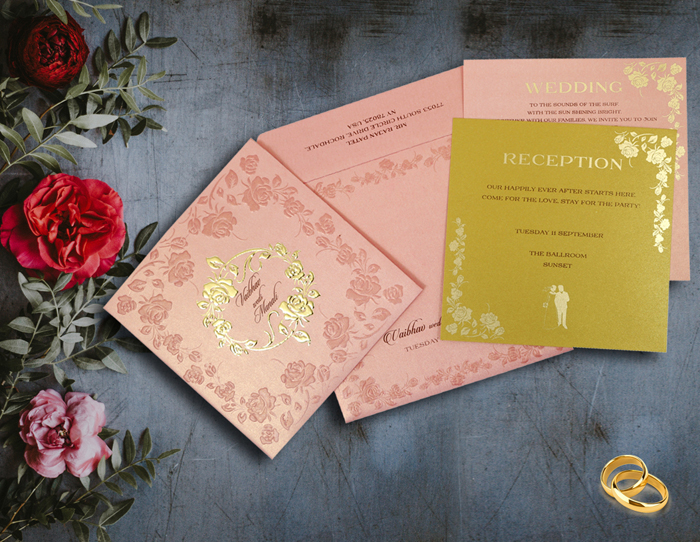 Card Code: IN-1787
Card Price: $0.90
Buy it now: https://www.123weddingcards.com/card-detail/IN-1787
2. Let your wedding Invites complement each other just like you do. Design an invite, follow a pattern and make two versions of the same card. Use contrasting colors that gel well together like jet black and rose pink, sun yellow and grass green or riveting reds and royal blues.
3. A trendy Indian wedding invitation made from reusing old papers, cards, images, ribbons, wraps, etc., set you aside from others. Plus, what's better than this to contribute to a healthier environment?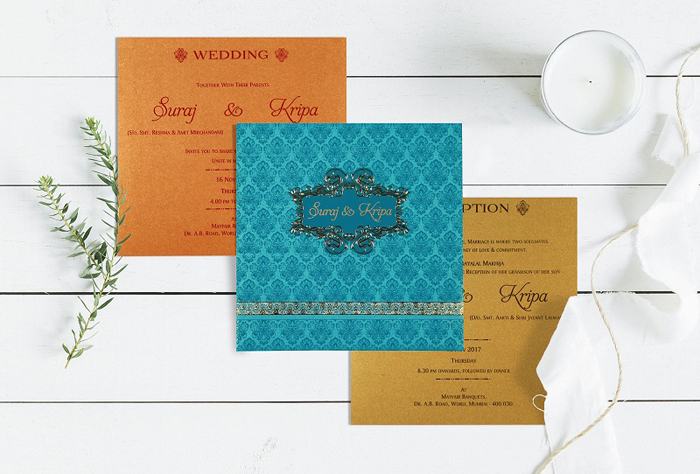 Card Code: D-1729
Card Price:  $0.75
Buy Now: https://www.123weddingcards.com/card-detail/D-1729
4. If you are not willing to spend a hefty amount of money, yet have a perfect wedding invitation, here you are. Plain pastel background of yellow ochre with the details of the wedding in contrasting blood red print will give a soft and sophisticated look at the same time.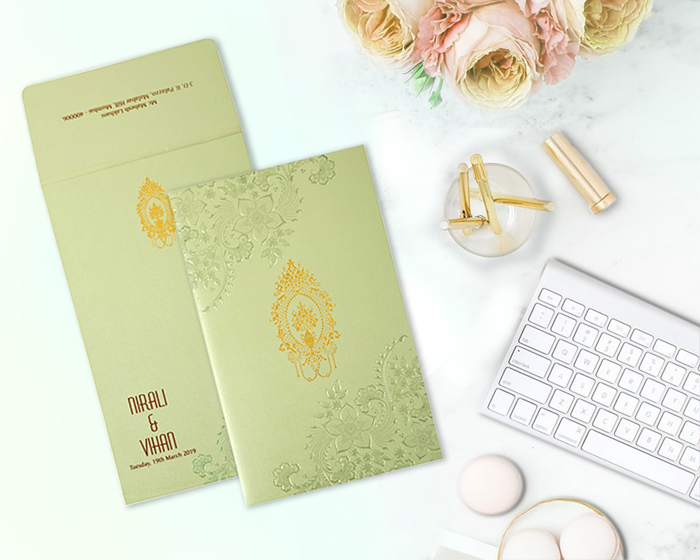 Card Code: W-1905
Card Price: $0.90
Buy Now: https://www.123weddingcards.com/card-detail/W-1905
5. Pop up art is a thing these days. A wedding invitation with cute little pop-up cutouts of a groom and a bride is top-notch creativity.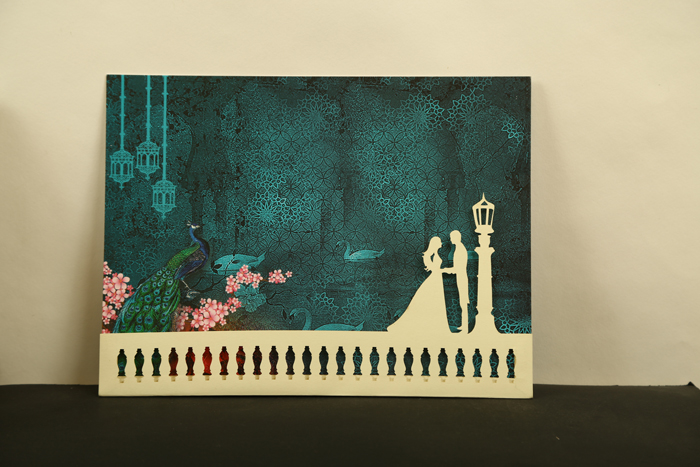 6. The world is moving back to handmade art and calligraphed wedding invitations are a brilliant piece of finesse. With a wide variety of fonts ranging from uncial to copperplate, these wedding invitations are no less than a treasure!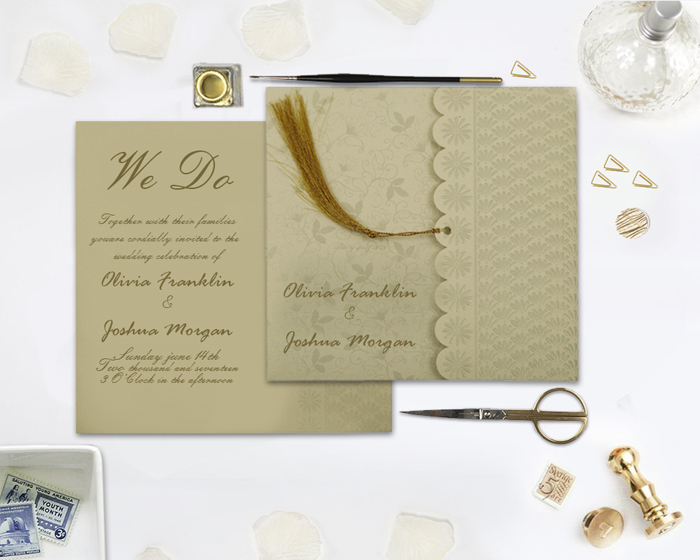 Card Code: S-1887
Card Price: $0.90
Buy Now: https://www.123weddingcards.com/card-detail/S-1887
7. Create some suspense with lift-the-flap wedding invitations. Print the header on the outside with the details hidden inside. Grace the flaps with rich border flourishes.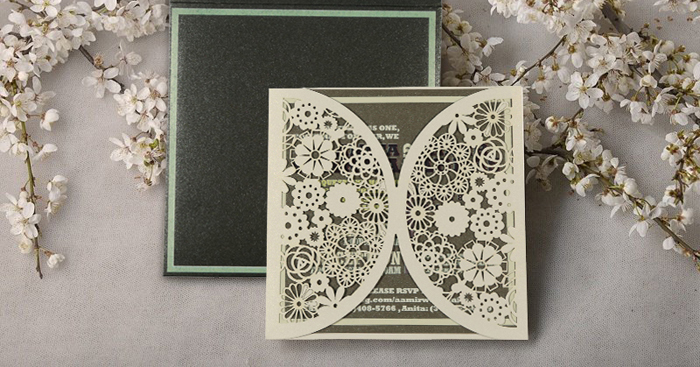 Card Code: C-1594
Card Price:  $1.95
Buy Now: https://www.123weddingcards.com/card-detail/C-1594
8. Do something out of the box and have an unparalleled invite printed on a series of placards. This is known as a playing cards invitation. Swap the king and the queen with the groom and the bride for an exotic touch!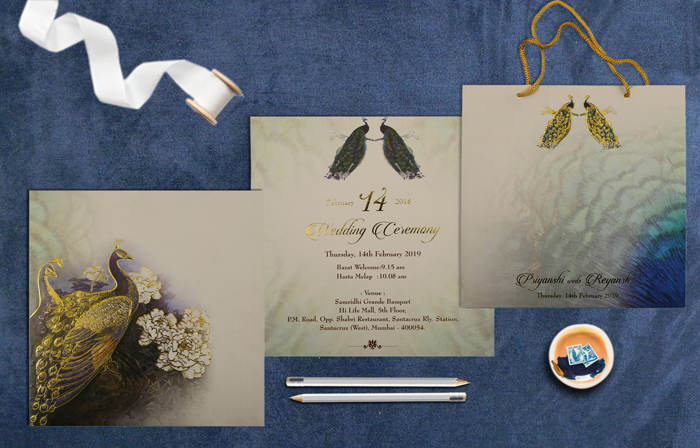 Card Code: SO-1842
Card Price: $3
Buy Now: https://www.123weddingcards.com/card-detail/SO-1842
 9. Quirky wedding cards are always the thing. Indianize your cards with cute caricatures of the bride and the groom.
10. Personalize your invite with some of your reminiscent pixel memories. Let your guests feel the tinge of your everlasting love.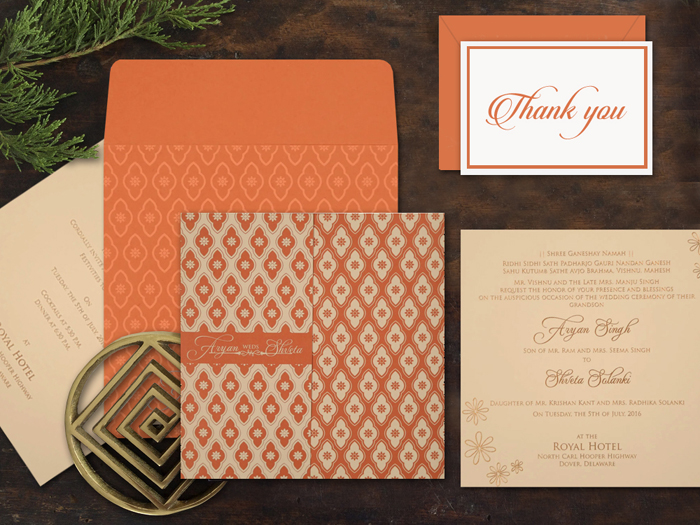 Card Code: S-8263D
Card Price: $1.50
Buy Now: https://www.123weddingcards.com/card-detail/RU-8263D
11. Always on Instagram and WhatsApp? Well, then lay out your invite in the form of a chat box, filling in the details in the text bubbles. Or show a group chat screen and title it with an off-the-wall hashtag like #WeddingOfTheYear!
12. Are you a Potterhead who is all set to tie the knot? If yes, a wedding invitation laid out on the theme of Harry Potter will be the best fit. Everything from the unique spooky font to little embossed cartoons of Harry, Ron, Hermione, Dumbledore or Hagrid will take you back to your good ol' days.
13. Are you planning a destination wedding? Let your Top 13 Modern Indian Wedding Invitation Cards in 2019 unravel the magnificent wonders of the destination with the native painting form as the theme. Lakes of Udaipur, Jaipur's Hawa Mahal, or the sprawling Kerala backwaters.
Here comes the end to the list of But not the end of your magical creativity. Mix and match the patterns and hues to come up with a version as unique as you!
Happy wedding!!